Top Gun: Maverick: Why Doesn't Val Kilmer's Iceman Talk?
The Reason Iceman Doesn't Talk in "Top Gun: Maverick"
Watch out! This post contains spoilers.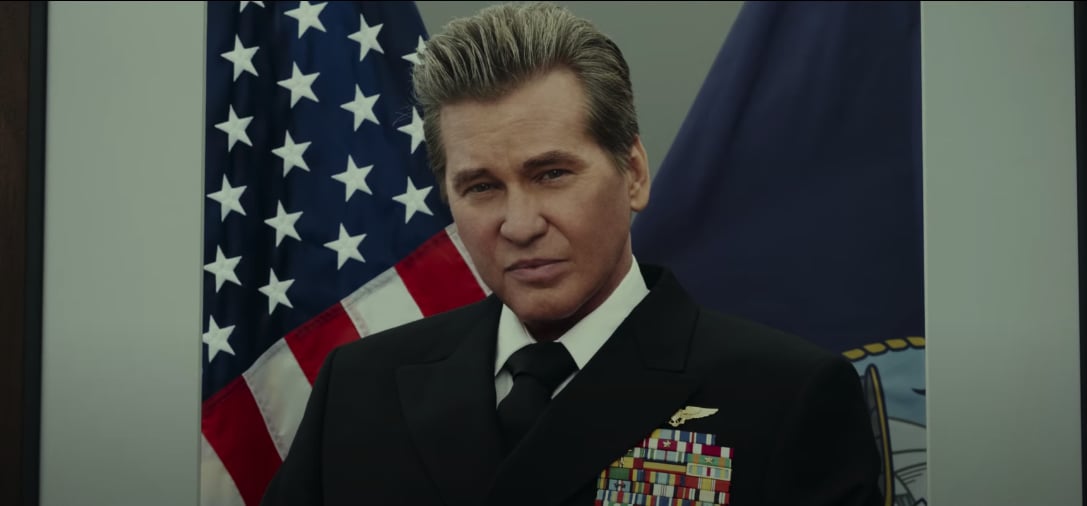 Image Source: YouTube user Paramount Pictures
It has been over three decades since the blockbuster action film "Top Gun" first reached audiences in 1986. Thirty-six years later, a sequel to the beloved film hit the big screen with a storyline that ties in both original characters and new faces.
At the front and center of "Top Gun: Maverick" is Captain Pete "Maverick" Mitchell (Tom Cruise), a US Navy pilot who is ordered to train a group of youthful yet experienced test pilots to carry out a dangerous mission, all while romancing a bar owner (and daughter of an admiral), Penny. Among Maverick's group of pilots is Lt. Bradley "Rooster" Bradshaw (Miles Teller), the son of Maverick's friend Goose, who died in a flight accident.
Outside of Cruise, the film brings back some original cast members including actor Val Kilmer. Kilmer's reprised role of Lt. Tom "Iceman" Kazansky had many fans excited for his return to the big screen, though many have wondered why his character hardly has any lines. Here's the reason behind the actor's mostly nonspeaking role in "Top Gun: Maverick."
What Happens to Val Kilmer's Iceman in "Top Gun"?
In the original "Top Gun," cocky Iceman attends the Navy Weapons Fighter School, better known as TOPGUN, with Maverick. While at TOPGUN, Maverick and Iceman fiercely compete to be seen as the best pilots in the school, and their rivalry eventually puts them in a dangerous situation. By the end of the movie, however, Maverick helps Iceman defend himself against several enemy fighter jets, and the two come to respect one another. "You can be my wingman anytime," Iceman tells Maverick at the end of the film, to which Maverick responds, "Bullsh*t, you can be mine."
What Is Iceman's Role in "Top Gun: Maverick"?
Iceman and Maverick remained friends in the 30 years since their initial reconciliation at TOPGUN. Now Iceman is an admiral and the head of the US Pacific Fleet. As Maverick butts heads with Rear Admiral Chester "Hammer" Cain (Ed Harris) over his execution of some flight practices, Iceman assigns him to TOPGUN and the two meet once again, though he appears much different than before.
In a vulnerable scene between Maverick and Iceman, it is revealed that the latter has terminal cancer, which interferes with his ability to communicate.
Why Doesn't Val Kilmer's Iceman Speak in "Top Gun: Maverick"?
The inspiration behind Iceman's grim diagnosis in "Top Gun: Maverick" was actually influenced by Kilmer's real-life health battle, and it's the reason why he has few lines in the film.
Kilmer was diagnosed with throat cancer in 2014. According to The New York Times Magazine, the actor discovered a lump in his throat which not only made it hard to swallow but also caused him to bleed. As a part of his treatment, Kilmer received chemotherapy and two tracheotomies, which caused irreparable damage to his throat and made it difficult to speak. Kilmer is now cancer-free, but he speaks through an electric voice box.
How Was Val Kilmer's Voice Re-Created in "Top Gun: Maverick"?
When it came time for production of "Top Gun: Maverick" to start, Cruise was determined to have Kilmer join him again on screen, whether he could talk or not. In a 2021 interview with People, "Top Gun" producer Jerry Bruckheimer said the actor pushed to get Kilmer on board. "He said, 'We have to have Val, we have to have him back. We have to have him in the film.' And he was the driving force. We all wanted him, but Tom was really adamant that if he's going to make another Top Gun, Val had to be in it."
Kilmer worked with Sonatic, a tech company, to generate a voice he could use in the film. According to Fortune, the company made a voice model of the actor based on old recordings of him speaking, which were then put into an engine to create an artificially intelligent model to mimic Kilmer's voice and even his emotions while speaking. Once Sonatic nailed the perfect voice, "creative teams were able to input text and fine-tune the performance," and that is the voice viewers hear from Kilmer in "Top Gun: Maverick" when Iceman communicates with Maverick through a computer.
Though Kilmer's role in the film is small, the inclusion of the actor despite his troubles with speech and communication speaks volumes to just how much his onscreen presence means to a nostalgic yet refreshed piece of art like "Top Gun: Maverick." Watch the trailer for the film below, which is in theaters now.