Tessa Thompson's Valkyrie Will Be Marvel's First LGBTQ+ Superhero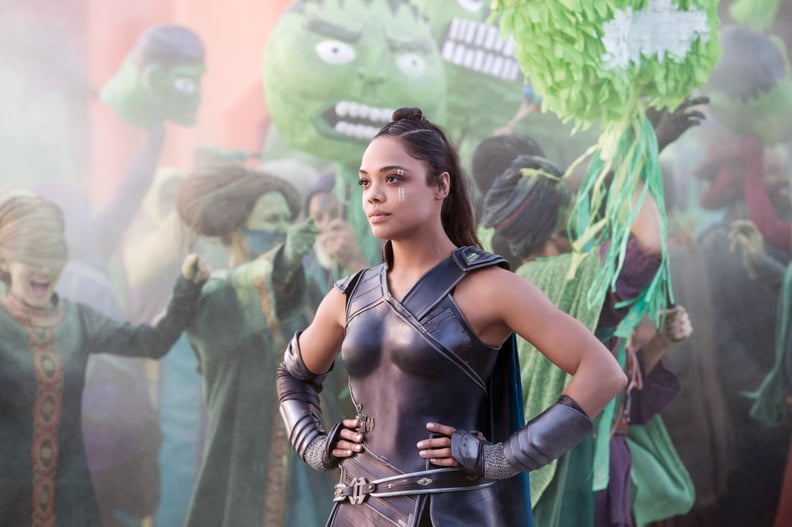 Marvel Studios
Marvel Studios
Tessa Thompson is making Marvel history. While answering questions about an LGBTQ+ storyline in "Thor: Love and Thunder" during San Diego Comic-Con in July 2019, Marvel Studios head Kevin Feige confirmed to iO9 that Thompson's character, Valkyrie, will be the MCU's first LGBTQ+ superhero.
"The answer is yes," Feige said about Thompson's storyline. "How that impacts the story remains to be seen with that level of representation you'll see across our films, not in just "Thor 4".
Thompson first hinted at Valkyrie's sexual orientation during the unveiling of Marvel's Phase Four lineup, when she commented on the status of the superhero's love life. "First of all, as new King [of Asgard], she needs to find her queen, so that will be her first order of business," the 38-year-old said. "She has some ideas. Keep you posted." Feige's confirmation came shortly after.
Who Is Valkyrie?
Valkyrie made her debut in "Thor: Ragnarok" in 2017, and the news about her upcoming storyline in "Thor 4" is doubly exciting for many because Thompson is bisexual. Though the orientations of many MCU characters have been questioned in the past, Marvel representatives have since clarified that Valkyrie will be its first openly LGBTQ+ character.
Valkyrie is the sole survivor of a band of female warriors called the Valkyrior, who were defenders of the throne on Asgard. She first appears in "Thor: Ragnarok," which shows the Valkyrior's annihilation at the hands of Hela, Thor and Loki's sister. Valkyrie then leaves Asgard, and winds up on Sakaar, where she works selling gladiators to the Grandmaster. Eventually, she recruits Thor and returns to her home planet to defeat Hela's army, and develops a close friendship with Thor along the way.
In "Thor 4," her love story seems poised to take center stage. "Unfortunately, there's not a lot of time invested in love stories in Marvel movies in general," Thompson told Inverse on Jan. 24. "I think that will be a little different on the new Thor, which is exciting," she continued. "And getting to play a character that historically is not written for somebody that looks like me, all of that felt exciting."
To go along with the development of Valkyrie's story, Natalie Portman is set to play the first female Thor. "Thor: Love and Thunder" will arrive in theaters on July 8, 2022.