A Very Brief Summary of the Complex Political Story Behind Vice
Christian Bale is starring in a critical darling this year, though you might not recognize him immediately. In Vice, the transformative actor turns into a familiar political figure: Dick Cheney, the domineering vice president who served alongside former President George W. Bush. Featuring a stacked cast that includes Amy Adams and Steve Carell, the dramedy biopic has already picked up several nominations at the Golden Globes.
Vice dives into the story behind Cheney, whom many a political analyst have dubbed the most powerful vice president in American history. So who was this shadowy figure? Here's what you need to know about Cheney's long political career — he's uncannily similar to Scandal's twisted Cyrus Beene.
Cheney failed out of Yale twice before eventually earning a bachelor's and master's in political science at the University of Wyoming. After deferring the draft a few times and flirting with getting his Ph.D. at the University of Wisconsin, he became incredibly politically active in the '70s. His early career résumé included interning for Congressman William Steiger, working for Donald Rumsfeld, and then picking up several positions at the White House, eventually assisting Richard Nixon. Under Gerald Ford, he led as chief of staff. The ball kept rolling for him, and he later became a Wyoming representative for several terms. In 1989, George H.W. Bush appointed him secretary of defense, a position in which Cheney helmed the invasion of Panama and Operation Desert Storm.
Cheney took a short break from politics in 1995, becoming the chairman and CEO of Halliburton. Under his leadership, the Fortune 500 company was criticized for not being transparent with its accounting practices and for allegedly artificially inflating its stock prices.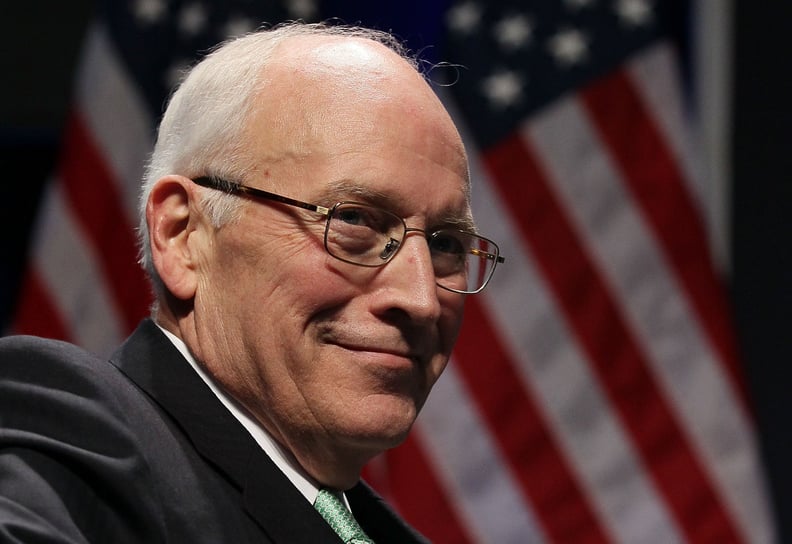 But he put this behind him. At the beginning of 2000, Cheney led Bush's Vice President Search Committee, and as history would have it, Bush then asked Cheney to be his veep. On July 25, Cheney stepped down from his position at Halliburton and signed onto Bush's campaign. After the controversial election, Cheney took matters into his own hands and began a transition into the Oval Office before waiting for the high courts to sort out the divisive election results. This would be his relationship with the president — he'd handle the details while Bush made the decisions.
After the terrorist attacks on Sept. 11, 2001, Cheney said in an interview on Meet the Press, "We've got to spend time in the shadows in the intelligence world. A lot of what needs to be done here will have to be done quietly without any discussion, using sources and methods that are available to our intelligence agencies." A day later, President Bush signed a secret document, which then CIA counsel John Rizzo called "the most comprehensive, most ambitious, most aggressive, and most risky Finding or MON [Memorandum of Notification]" that he'd ever been involved in. Cheney strongly influenced policy around the war on terror, building the basis for Guantanamo, pushing for waterboarding and other harsh interrogation methods to be authorized, and going around laws on domestic surveillance. By the end of his second term, Bush, according to political analysts, gradually became more wary of his second in command.
Vice will pull the covers from Bush's legacy and bring us a closer look at Cheney's role as a political puppeteer. If you're a fan of Bale's recent forays into the biopic genre with projects such as The Big Short and The Fighter, mark your calendars for Christmas Day to see him bring to life one of the most influential and calculating politicians of our time.