Was Blue Ivy in Beyoncé's "Be Alive" Oscars Performance?
Blue Ivy Stole the Show During Beyoncé's Oscars Performance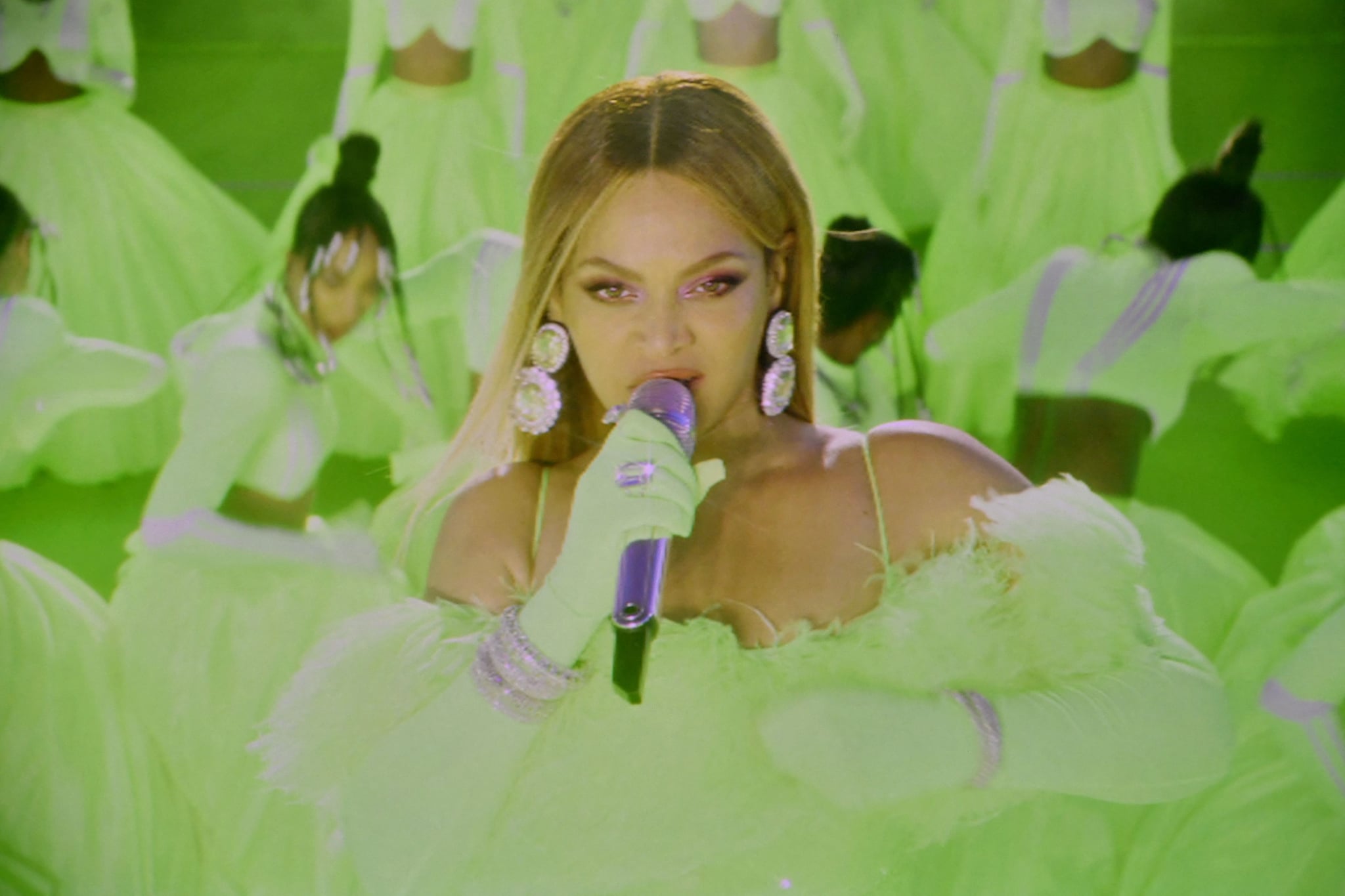 Beyoncé opened the 2022 Oscars in grand fashion, starting the night off with a rousing performance of her Oscar-nominated song "Be Alive" from the movie "King Richard." Clad in what can only be described as tennis ball-green, Beyoncé belted out the song from the movie about Serena and Venus Williams and their father, Richard Williams.
Though Beyoncé wasn't actually in the building, she performed from somewhere meaningful: the Compton, CA, tennis court where the Williams sisters' story began. She was surrounded by tens of similarly dressed, all-women dancers for the performance, and one of those dancers looked awfully familiar. Twitter lit up with fans wondering if they actually caught Blue Ivy Carter performing with her mother front and center, and it absolutely was. You can see Blue dancing front and center below.
Did y'all see BLUE IVY getting in her eight counts?!! 😍💙 #Oscars #Oscar pic.twitter.com/Ub6tlKcDpO

— Keonté Smith (@IamKeonte) March 28, 2022
I know y'all saw Grammy award winner blue ivy dancing DOWN

— Nicolas is happy (litte mermaid era) (@niggaolas) March 28, 2022
Blue Ivy was in the group of dancers!! #Oscars

— 𝙱𝚎𝚌𝚌𝚊 💋 (@MJFINESSELOVER) March 28, 2022
BITCH IS THAT BLUE IVY PERFORMING TOO?!!! #Oscars pic.twitter.com/pTOt21YwBw

— dark white american princess (@yungbakuheaux) March 28, 2022
Blue, who has joined her mom in several projects, made her Oscars debut looking cooler than we could ever hope to be in sleek sunglasses. She blended right in with the pros surrounding her — as she should. After all, she's already a Grammy winner, so the Oscars are pretty much no big deal for her. She danced, she posed, and she showed off everything she's learned from her famous mama. As usual, Beyoncé fans on Twitter can't get enough of Blue taking after her mom and taking part in this performance. We may have thought our eyes were playing tricks on us at first, but we're actually not surprised at all that Blue Ivy shared the stage with Beyoncé. Some fans even joked that Blue allowed her mom to take part in *her* performance. We're not mad at that hot take!
Blue Ivy is so generous to let Beyoncé share the stage with her

— fluorescent beige btch (@shana_masala) March 28, 2022
"Be Alive" is nominated for best original song at tonight's award show alongside Billie Eilish and Finneas with the "James Bond" theme, "No Time to Die," Van Morrison's "Down to Joy" from "Belfast," Reba McEntire's "Somehow You Do" from "Four Good Days," and Sebastian Yatra with "Dos Oruguitas" from "Encanto." This is Beyoncé's first-ever Oscar nomination.