American Horror Story Is Pulling Out All the Stops For the Apocalypse Finale
Just when you thought things couldn't get more insane on American Horror Story: Apocalypse, it seems like the show is pulling out all the stops for the finale. All season long, fans have been theorizing hard about the return of three Coven favorites who have, up until now, been absent. They are, of course, the biggest players from the season in question: Fiona Goode, Madame Delphine LaLaurie, and Marie Laveau. And it wouldn't be out of the question for them to pop up! After all, Jessica Lange already returned for an episode, and Kathy Bates has had a huge role in the original season. And as for Angela Bassett, she seemed ready to jump back in during a recent interview.
Well, guess what, witches? We may have just gotten confirmation that all three of these queens are coming back. The first sliver of evidence comes from the preview for the season's final episode. In one flash, you can see Michael violently pushing Constance up against the wall. Some of the footage from the teaser has been recycled from earlier in the season, yes, but this is one scene that did not appear in the "Return to Murder House" episode.
This means Lange will almost certainly appear in the finale! And, I mean, if she's already on set as Constance Langdon, it would be pretty easy for her to throw on a black dress and cast some spells, right?! Maybe it's wishful thinking, but I feel like it would be remiss not to include Fiona, one of the most iconic characters from Coven, in a season that's basically amounted to Coven Part Two. And as for Bassett, I'm pretty sure you can spot her, in all her glory, during a split second shot from the very same preview.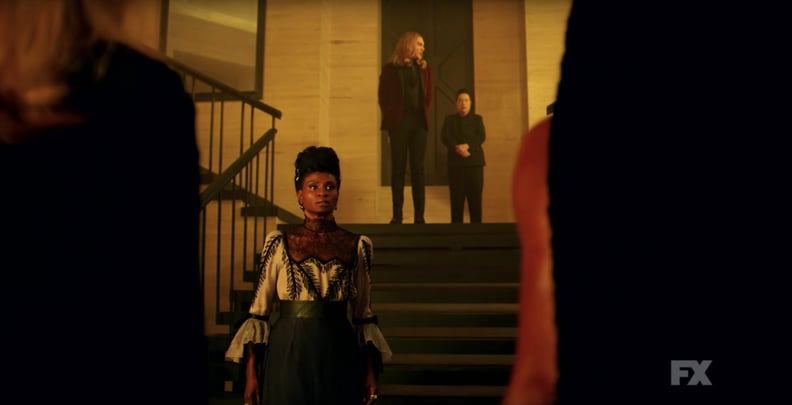 Tell me that's not the gorgeous, perfectly toned arm of my immortal voodoo queen! Tell me those aren't her glorious butt-length tresses! It's really seeming like Cordelia might bring back some of the biggest guns to defeat evil for good. Who knows, maybe she even gives Papa Legba another ring after a change of heart. And as for Bates? I mean, we know she's in the episode, too, so it wouldn't be out of the question to expect an appearance from Madame Delphine LaLaurie. (Then again, I guess she's not technically even a witch, just a horrible racist white woman who was cursed with immortality by Laveau. I digress!)
To make matters even more suspect, we have the final nail in the coffin: a note so subtle Instagram post by the AHS creator himself, Ryan Murphy.
"They Know What They Need To Do," Murphy wrote in the caption. Well, considering Miss Mead is on Michael's side, this would definitely add weight to Delphine coming back. As for Lange, Murphy could be talking about Constance, it's true. Constance would be instrumental in defeating Michael if some kind of time reversal thing happened. And, well, Bassett hasn't appeared, so this basically double confirms her appearance. And, I mean, he refers to them as such a unit, I'd have a hard time believing he's talking about Constance over Fiona.
So there you have it. Seems like AHS is really about to bring it home with a mind-melting conclusion.