The Bachelorette: Who Got Tayshia's First Impression Rose?
The Bachelorette: Spencer Makes Tayshia's Heart "Skip a Beat" and Nabs First Impression Rose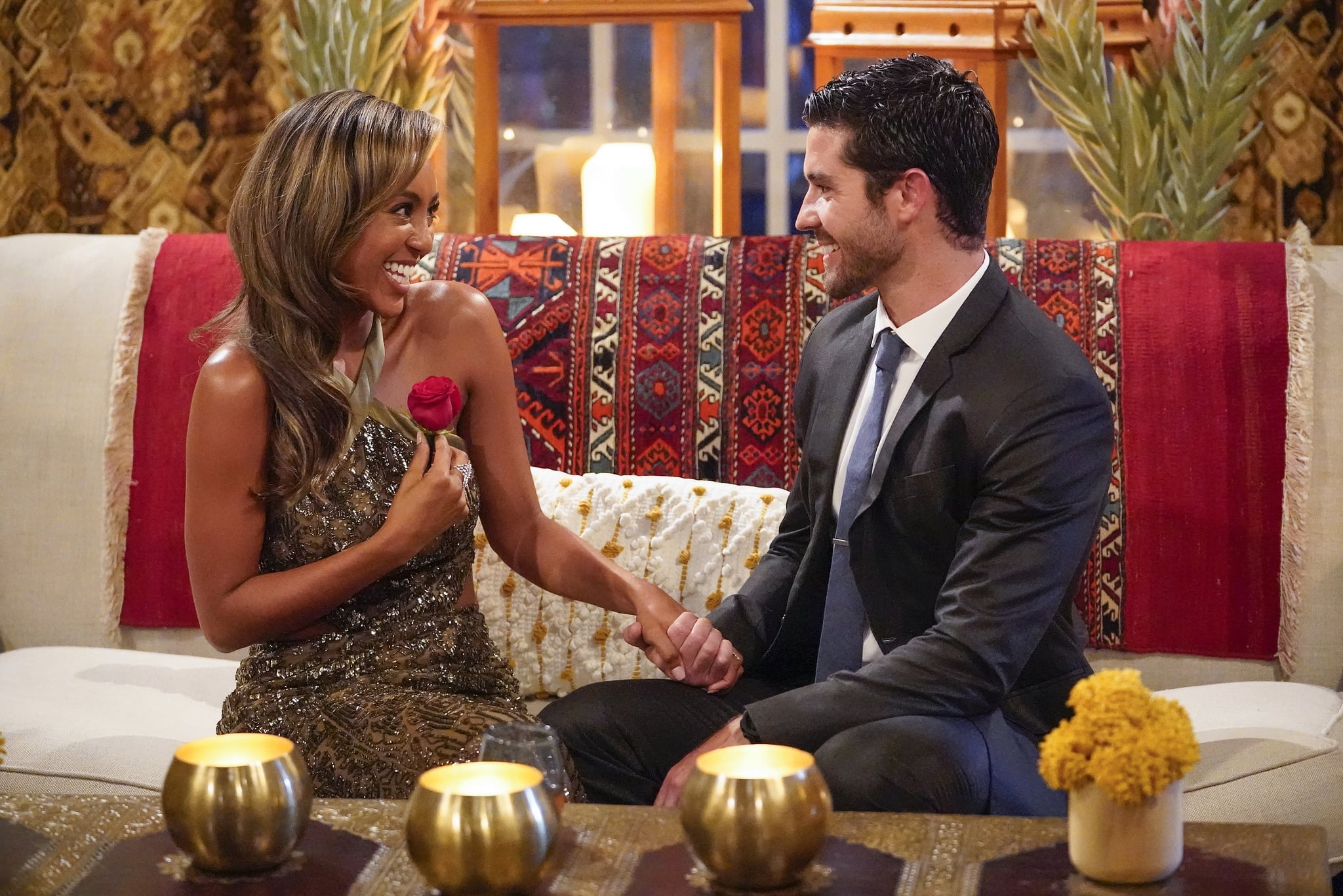 Tayshia Adams's official first episode of The Bachelorette kicked off on Nov. 10 and it was just as exciting as we'd hoped! Though fans had to say goodbye to Jason after the 31-year-old realized that his lingering feelings for Clare prevented him from moving forward with the new bachelorette, we got to meet four new contestants vying for Tayshia's heart! One man, in particular, made his mark: 30-year-old water treatment engineer Spencer Robertson. Spencer charms Tayshia from the moment he steps out of the limo, with the bachelorette confessing, "He is hot. Like, hot, hot, hot."
When Spencer makes his way into the house where the other men are anxiously watching the new arrivals, he makes his mark on them as well, asking, "Which one of you scared away Clare?" It's clear to see that he's not here to make friends. But the chilly reception he gets doesn't faze him, and as soon as Tayshia makes her way back inside, he nearly body-checks Jordan to pull her away for a one-on-one.
Regardless of Spencer bringing a "stanky-ass energy in the room," according to Zac, he manages to successfully charm Tayshia. She pulls him away to give him her first impression rose and the first kiss of the night!
While Tayshia seems taken with Spencer from the beginning, he doesn't make any effort to get along with the other men in the house. He roughhouses with Riley during Tayshia's first group date, landing himself a busted lip. It scores his team a win, so I guess it was worth it! But later that night, Riley confronts Spencer about his foul play, telling him, "I think I owe you for my cracked ribs." The tension in the air is thick, and Spencer doesn't help matters when he shoots back that the two of them are even but tells Riley, "If you need any more, let me know."
Kenny, who has been the foul-mouthed voice of reason this entire episode, attempts to bring things to a simmer by pointing out that whether he means it or not, Spencer tends to "kind of come off like a dick." He adds that "we're not all here to be friends, but we do all have to live together." All valid points, Kenny!
Spencer reveals in his confessional that he believes the other guys are just jealous of how well he's doing with Tayshia. He uses more sports-related lingo to convey his determination to score "the ulimate W." Which I assume is Tayshia's heart and not a Bachelorette football jersey. We'll just have to see how long that lasts!