Still Wondering Why You Recognize This Westworld Hunk? We Have Answers
The season two premiere of Westworld provides a lot of good answers about where the show is going this year — but as is typical with this HBO action-drama, for every answer it gives, it raises two new questions. But one of the great reveals of the episode, titled "Journey Into Night," is that Ashley Stubbs, head of security at the Westworld park, is still alive after being attacked by Ghost Nation hosts at the end of season one.
Stubbs is played by Luke Hemsworth, and, yes, he is related to the famous Hemsworth brothers. He is the older brother of actors Chris and Liam, all of whom are Aussies who have gained much worldwide fame. Of course, the two younger Hemsworth brothers are a little bit more famous than their older bro, but Luke is definitely on his way with Westworld.
Prior to this gig, Hemsworth was mostly known for a recurring gig on Neighbours, an Australian soap opera on which both his brothers have also appeared, and for playing the title role of Wild Bill Hickok in the 2017 western Hickok (below), which costarred Kris Kristofferson and Bruce Dern. But Westworld is definitely his biggest role to date.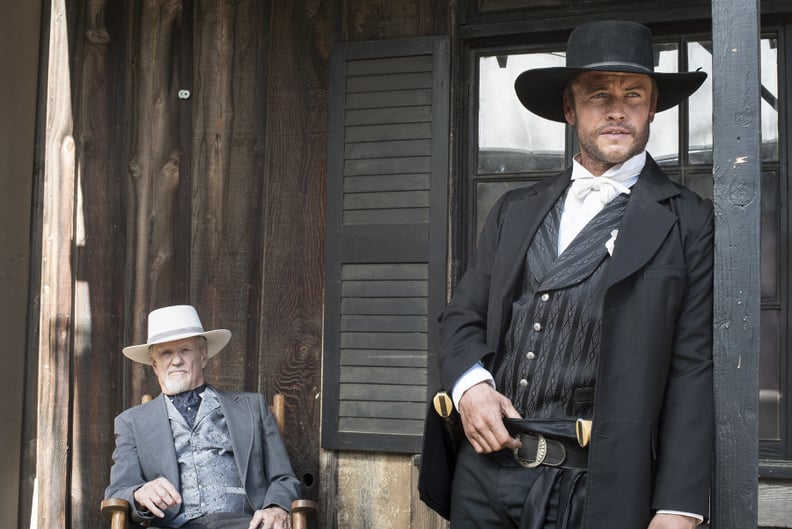 Hopefully his appearance in the season premiere portends good things to come for his character. He is seen two weeks after "the incident," i.e., when Dolores shoots Ford and all hell broke loose. We don't yet know what happens to Stubbs in the ensuing two weeks, but we're assuming that some of the blanks will be filled in at some point. Still, things don't look great for any human running around the park right now, so let's hope this Hemsworth makes it to season three. Plus, we definitely need a reunion between Stubbs and behavior tech Elsie Hughes. Hemsworth and actress Shannon Woodward had some good chemistry in season one, and we'd like to see them interact again.
A recent interview Hemsworth did with Comicbook.com definitely gives us hope in that regard.
"We shot a whole lot of stuff last year which never made the cut with me and Elsie," says Hemsworth. "And I think we're kind of destined to cross paths in more ways than one. That will be explored in the second season."
Excellent.