Dexter's Michael C. Hall Goes From Serial Killer to Amateur Detective in Netflix's Safe
Rejoice, Dexter fans: Michael C. Hall is back! After making his mark on TV for years in Showtime's serial-killer thriller, he's returned to the small screen to star in Netflix's Safe. This time around, the 47-year-old actor has traded in his army green thermal shirts and pleather aprons for an English accent to play Tom, a harried British surgeon and widow whose teenage daughter goes missing.
Throughout the new mystery series, we see Tom struggle to create a sense of normalcy for his two daughters as they all cope with the death of their mother. His oldest daughter, Jenny (Coronation Street's Amy James-Kelly), isn't taking kindly to the tragic disruption in her life and is taking out her frustrations by sneaking around behind her father's back with a new boyfriend. When said boyfriend invites her to a wild party held in their gated community, the night ends with both his and Jenny's disappearance. A distressed Tom then goes on a mission to find his daughter, and his quest to discover her whereabouts involves unearthing a few secrets that the people closest to him would've preferred stay under wraps.
Safe isn't Hall's first time back on the small screen since Dexter, pictured ahead, wrapped back in 2013. He lent his voice to the animated miniseries Justice League: Gods and Monsters Chronicles, as well as Star vs. the Forces of Evil in 2015. He's also appeared in movies like Christine alongside Rebecca Hall and in Game Night with Jason Bateman and Rachel McAdams.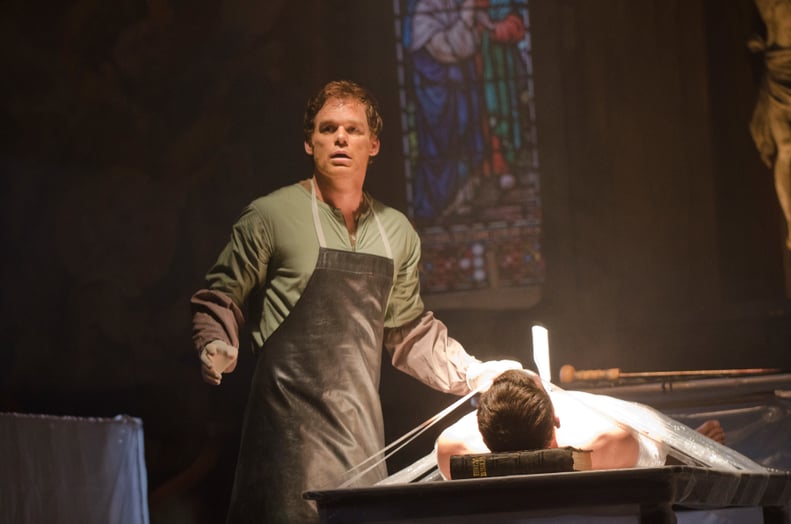 His role on Safe marks Hall's second collaboration with Netflix, the first being his guest-starring role as President John F. Kennedy in season two of The Crown. There's still no word on whether or not the streaming giant will renew the mystery or if it will be a one-season deal, but here's hoping we see more of Hall (with or without that accent) on Netflix originals in the future.