Why I've Decided to Stop Watching Reruns of Friends — For Good
I remember the first time I watched Friends. It was 2008, four years after the show's final episode aired. I was 12 years old and at my neighbor's house; both of our parents worked full-time, so we were each other's company after school. We gathered in her basement, and she pulled out a red box that read Friends — The Complete Series.
It became a routine. Every day after school I biked down to my neighbor's house, grabbed a snack from the kitchen, and claimed a spot on the couch in her basement. We played as many episodes as we could before my mom called me home for dinner. As a naive preteen, I watched wide-eyed. I couldn't relate to some of the show's themes surrounding sex, marriage, and work. Regardless, I smiled along with the laugh track, pretending to understand the humor.
I moved away from my small Connecticut town in the Fall of 2014 to attend college in the heart of Washington DC, starting a new chapter in my life. A few months into my freshman year, Netflix started streaming Friends, and I began to rewatch the series. Stuck in a foreign place with new people, I craved the comfort the show brought me: the tight-knit friend group, quick conflict resolution, and lovable characters (I'm looking at you, Joey). But as my perception of the world grew through my studies and eye-opening experiences, my love for the show became tainted. I finally understood the themes I couldn't before and began to criticize the storyline.
Revisiting the series in 2019, I've discovered problematic themes throughout its 10 seasons, from Joey's constant sexualization of women to the narrative surrounding "Fat Monica." Read on to see why Friends, acclaimed as one of the greatest sitcoms, hasn't exactly aged well.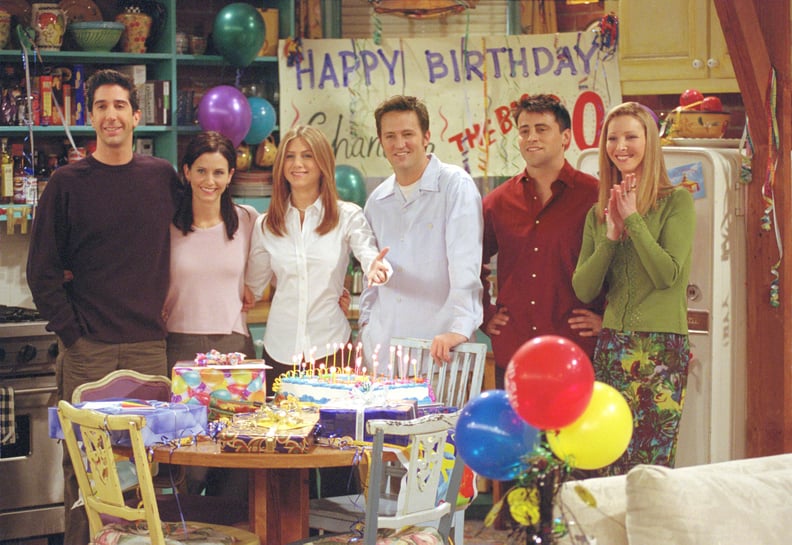 The Cast's Lack of Diversity
Friends takes place in New York City, one of America's most diverse cities, and at the time of the show's premiere, white people accounted for only 40 percent of the city's population according to the 1990 US Census. But instead of drawing upon experiences from people of different backgrounds, Friends focuses on the white experience, rarely touching on the subject of race. In fact, throughout all 10 seasons and 236 episodes, only two named characters are people of color: Julie (Ross's girlfriend in season one, played by Lauren Tom) and Dr. Charlie Wheeler (Ross's other girlfriend, who didn't appear until season nine, played by Aisha Tyler).
In addition to focusing solely on the white experience, the series also puts straight love stories at the forefront. The only reoccurring queer characters in the show are Carol, Ross's ex-wife, and her partner Susan, whose relationship was always addressed as a joke, as the couple was often referred to as "lesbian lovers," never as just a couple. And since we're on the subject of the jokey, offensive way queer relationships are treated on the show . . .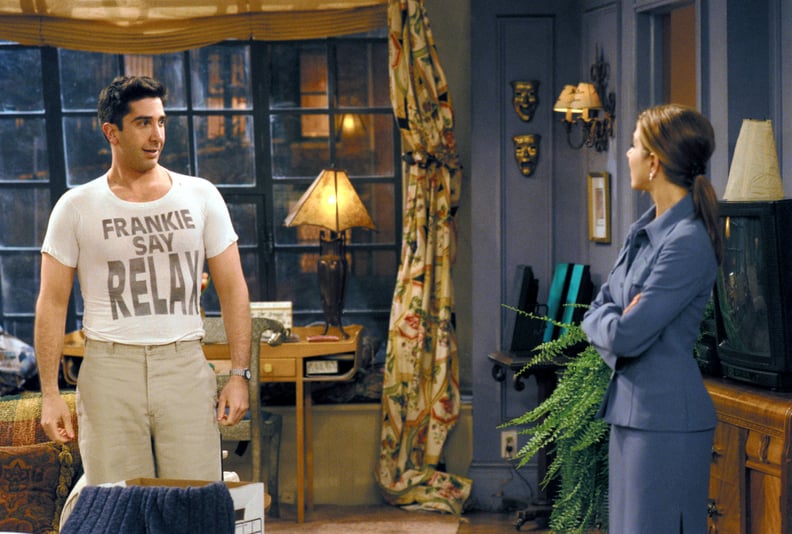 Fear of Being Queer: Bounded by Gender Norms
The characters in Friends follow the stereotypical behaviors associated with being either male or female. If any character dares to behave outside the bounds of their assigned gender norms, they're punished, mocked, and assumed to be gay. It's a constant punch line in the show and one that I cannot stand.
Take the whole "Chandler might be gay" narrative. The characters mock him any time Chandler's feminine side surfaces. In season one, all of the "friends" and his coworkers accuse Chandler of "having a quality" of being gay. Monica seems to be Chandler's biggest accuser, bullying him anytime Chandler shows his appreciation for something that is deemed feminine. As a result, Chandler becomes paranoid that his actions aren't masculine enough and checks himself with self-deprecating humor. Maybe Chandler's homophobia is a result of his relationship with his transgender dad (a whole other issue), but whatever it is, I'm not here for it.
Chandler isn't the only character that conforms to gender roles: when Ross's ex-wife gives their child a Barbie, Ross doesn't understand how his son, Ben (Cole and Dylan Sprouse), could enjoy playing with a doll that is stereotypically intended for girls. To combat this, and ultimately get his son to conform to gender norms, Ross forces Ben to play with a G.I. Joe, a "manly" toy. When Joey gets a female roommate, Janine (Elle Macpherson), she begins to redecorate their home. Joey starts to enjoy the new additions to the apartment until Chandler claims that Joey is turning into a girl — I'm sorry, what? — shaming Joey into taking down the decor.
The Problem with Fat Monica
Monica is thin, attractive, and witty. But her teenage self, dubbed "Fat Monica" and played by Courteney Cox in a fat suit, embodies all of the negative stereotypes of an overweight character. She's seen licking the sugar from powdered doughnuts off her fingers, stuffing her face with chocolate, and generally portrayed as being awkward and socially inept (i.e., she can't talk to men).
Used as a reoccurring source of comic relief, the audience laughs at her, not with her. The "friends" constantly joke about Monica's past, never letting her forget that she used to be Fat Monica. Throughout the series, Ross recounts childhood memories to fat-shame his sister, from Monica crushing a horse because of her weight, to Ross's reoccurring nightmare about Monica eating him.
It's not until Fat Monica loses the weight and becomes just "Monica" that she is finally seen as a human instead of a laughing stock by her friends. In the episode "The One With All the Thanksgivings," college-aged Chandler meets Fat Monica for the first time. Monica starts to crush on Chandler until she overhears him making fun of her and being disgusted by her weight. The following year, Monica loses weight as "revenge" and suddenly, the veil has lifted! Chandler can finally see Monica as an attractive woman, not a fat child. In a later episode, Monica even says that Chandler wouldn't love her if she never lost the weight, Chandler replies that he's "not that shallow." No, Chandler, you definitely are that shallow.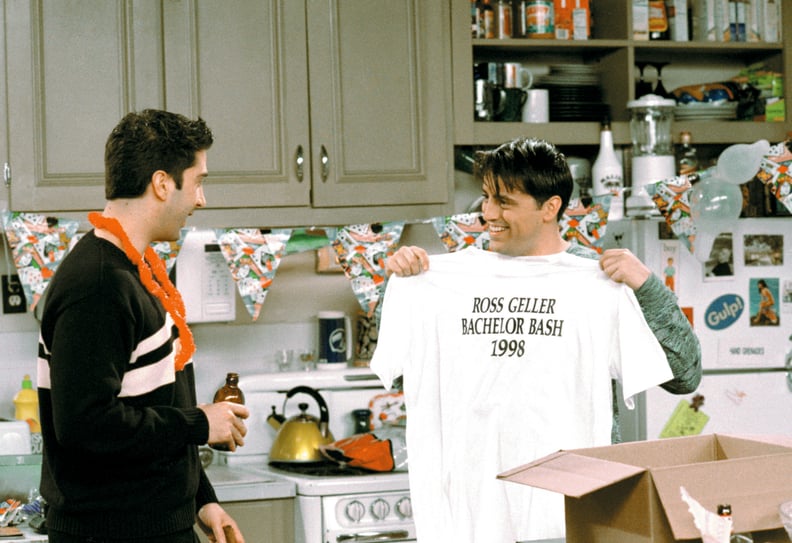 Predatory Behavior
Let's just face facts: Joey is a womanizer. It's his character's main quality. In almost every episode, he talks about how many women he's slept with, and Joey's girlfriends rarely appear in more than one episode. He sees every woman as a sexual conquest, as an object for sex. It all starts with his classic catchphrase, "How you doin'?" and ends with him abandoning the women after getting what he wants. From Rachel's little sister to future 18-year-old Emma (Ross and Rachel's child) via a video message, Joey spares no woman and regularly comes off as predatory.
What makes this quality even worse is that all of his friends just go along with it, never criticizing Joey's behavior. Even when Joey fantasizes about having a threesome with the female characters, out loud, in front of them, Monica, Rachel, and Phoebe (and the audience) laugh it off. He even searches for a female roommate with the sole intention to sleep with them; Joey's only requirements on the apartment posting are female, nonsmoker, and nonugly.
The characters also don't understand the concept of consent. We see this issue arise with Ross more than once. When Ross catches a glimpse of Rachel walking around her apartment naked from his window, he immediately assumes that Rachel wants to sleep with him. In reality, she was just enjoying being home alone. This is echoed in another moment when, in college, Ross thinks it's acceptable to kiss Rachel when she's asleep.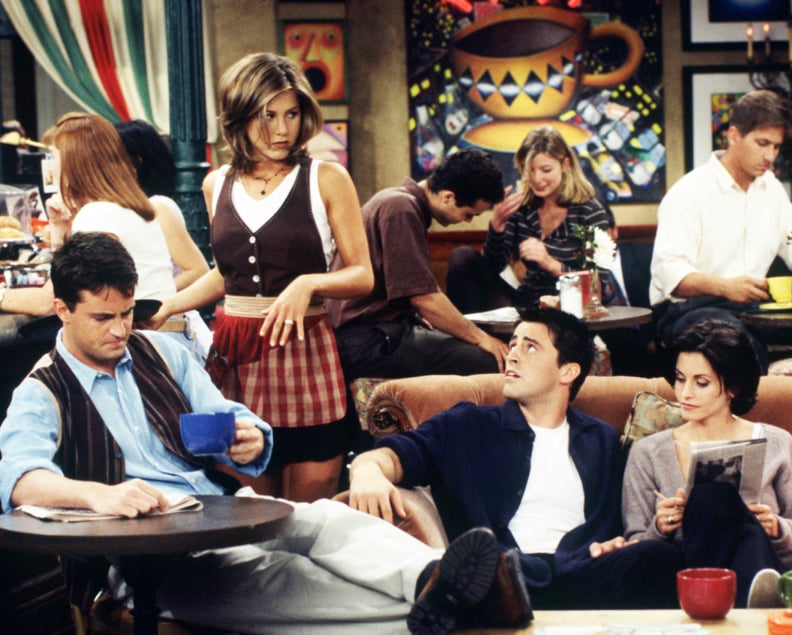 Is It Time to Say Goodbye?
Fast-forward 10 years, and I've rewatched the series more times than I can count. The characters' familiar faces, the routine storyline, and the inseparable friend group served as my source of comfort throughout college and into my adult life, playing in the background as I prepped dinner. Watching Friends instantly took me back to that basement after school spending time with my own friends. Friends is very much a product of its time — the show premiered in the '90s, long before these issues were widely addressed and acknowledged in pop culture. Does that mean it's time to say goodbye?
Lately I've found myself struggling to enjoy the show, and instead of reveling in the nostalgia, I focus on its problematic elements, questioning how a storyline filled with blatant sexism, body-shaming, and homophobia could be heralded as the best of its time. TV has changed along with the times, and the nostalgia factor could only keep me holding on for so long. I'm no longer that 12-year-old girl watching with her friends after school. I'm a woman in 2019 who views Friends from a different lens, a critical one, able to recognize its flaws and out-of-place stale jokes no matter how loud the laugh track is.