Bless This Mess Is the Most Wonderful Comedy You're Not Watching
I've always had a soft spot for half-hour comedies. Whether it's Seinfeld or Schitt's Creek, there's something intensely comforting about watching a group of characters crack jokes and overcome challenges in a tight 22 minutes. Now that we find ourselves universally in need of something warm and fuzzy, I have a recommendation for a show that's gone painfully under the radar for too long: Bless This Mess on ABC. If you just came here looking for a recommendation, there it is. Go watch it on Hulu now. If you need more convincing, read on.
Bless This Mess kicked off on ABC during the Spring TV season last year, meaning it didn't get the mega-marketing push that is granted to a lot of Fall TV releases. It's a fish-out-of-water story starring Dax Shepard and Lake Bell as Mike and Rio, two New Yorkers who move to Nebraska to take over the farm once managed by Mike's family. Of course, as soon as they arrive in the town, the couple realizes their rural dream is more like a nightmare — complete with decaying crops, prickly neighbors, and a home that has fallen into total disrepair. (A "castle made of garbage," as Rio's mother calls it.)
What makes the show more than a run-of-the-mill comedy is its tremendously endearing cast and whip-smart writing. If you don't know Dax Shepard — first of all, get outta town — he's a TV vet, having starred in Parenthood and The Ranch as well as films like CHIPs and Baby Mama. (He's also the host of the popular Armchair Expert podcast!) Lake Bell — no relation to Shepard's real-life wife, Kristen Bell — has been on everything from Boston Legal to Childrens Hospital, though I will always be low-key rooting for a revival of her first marquee project, the canceled-too-soon 2005 mystery series Surface.
You can tell Shepard and Bell have run in the same circle of comedians IRL because they bounce off each other like ping-pong balls. It's always a good sign when you want to be friends with the main characters in a show, and they seem so genuinely joyful to be on a show together that you can feel their comedic chemistry through the screen.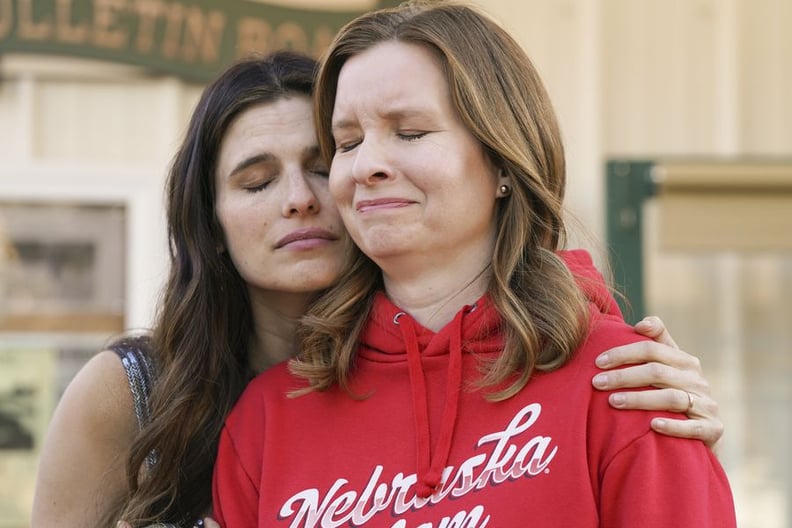 Then there's the murderer's row of a supporting cast: David Koechner (Anchorman) and Lennon Parham (Veep) as Mike and Rio's competitive neighbors, Ed Begley Jr. (Better Call Saul) as a local man who may or may not be squatting in their barn, and Pam Grier (The L Word) as the friendly sheriff. These are all actors who writers could dream of guest-starring on an episode of a show, let alone have them play recurring characters. The actual guest stars include Nicole Richie, Rita Moreno, and Michael Ian Black.
Bell is actually a cocreator on the series along with Elizabeth Meriwether, the talented writer behind New Girl. Meriwether is an expert at writing funny, flawed characters who get into low-stakes conundrums — exactly the kind of soul food you need right now. Yes, you could get into any number of thrillers on Netflix, but life is suspenseful enough at the moment. You need a quaint comedy about "best hen" competitions, greased pig chases, and how to deal with snake infestations. (There are a great many subplots about animals.) You need a show that's going to make you root for the underdogs and feel like you're a part of a quirky community.
Season one is only six episodes, meaning it'll take less time to watch than the average Marvel movie. Season two, which airs Tuesdays at 8:30 p.m. on ABC, is also available on Hulu the next day. If you're in the market for a light watch and you're already bummed that the aforementioned Schitt's Creek is ending, this is the show for you. Please watch it — my heart needs a season three.