Wicked Book Spoilers
The Book Version of Wicked Is Way Darker Than the Musical — Here's What Happens
Watch out! This post contains spoilers.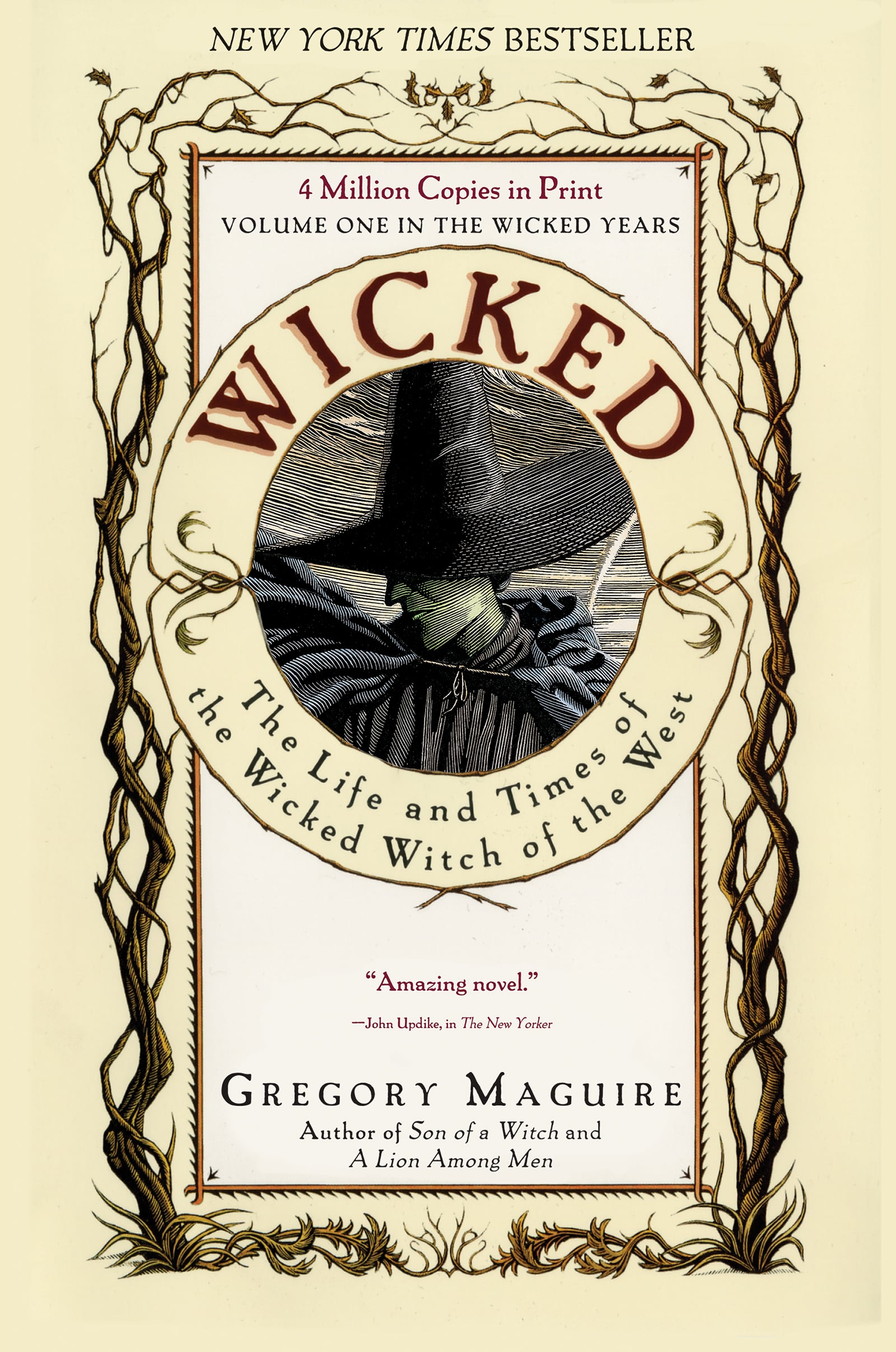 Wicked has been one of Broadway's biggest hits for almost 20 years, but did you know it was based on a book by Gregory Maguire called Wicked: The Life and Times of the Wicked Witch of the West published in 1995? Now, the musical is being adapted into a movie starring Cynthia Erivo and Ariana Grande. That makes it the perfect time to take a look back at the novel!
Set in the land of Oz long before Dorothy's arrival, Wicked traces the life of the Wicked Witch of the West: who she was, what her life was like, and how she earned the moniker of "wicked." The upcoming movie is based on the Broadway musical adaptation, which is very different from the book in tone and plot. If you're curious about the novel that started it all, here's what to know.
Who Are the Main Characters in Wicked?
The main character of Wicked, as you might guess, is the woman who will grow up to be called the Wicked Witch of the West. In Wicked, her name is Elphaba Thropp. When we first meet her, she's a green-skinned teenager heading off to college at Shiz University. Her roommate there is Galinda Upland, a socialite from a powerful family.
Elphaba and Galinda's social group also includes Boq, a Munchkin from Elphaba's hometown, and Fiyero, a prince from the Vinkus region in the west of Oz. Elphaba's younger sister, Nessarose, also joins them at Shiz eventually.
Their teachers at Shiz include Doctor Dillamond, a talking Goat and professor who is researching the strange and terrifying things happening to Oz's talking Animals, and Madame Morrible, the powerful headmistress. Of course, the Wizard of Oz himself also plays a role in the story.
An Introduction to Oz
At the very beginning of the story, we're introduced to the politics of Oz and some of its founding mythology. Most relevant to the story is the system of government in Munchkinland, where the Eminent Thropp (the highest-ranking member of the Thropp family) rules as a sort of hereditary governor. Melena Thropp is the granddaughter of the current titleholder, and she marries Frexspar, a traveling minister. Eventually, they have two daughters, Elphaba and Nessarose. Both have unusual appearances (Elphaba is green, while Nessarose is born without arms) and were conceived under questionable circumstances, but Frex favors Nessarose heavily and regards Elphaba with disdain.
The Shiz Years
The first portion of the story takes place during Elphaba and Galinda's college years at Shiz. Upon arrival, Elphaba and Galinda are forced to room together, much to their dismay. Galinda is initially a bit of a superficial mean girl and tries to embarrass Elphaba, but the two wind up becoming friends. They also befriend Boq and Fiyero, and although there are a few crushes exchanged back and forth, it's all fairly low-drama, and they form a close group of friends.
Elphaba works as Doctor Dillamond's research assistant, getting drawn quickly into Animal rights activism. When Dillamond is murdered just before he makes a breakthrough on research that would have shown genetic similarities between humans and Animals, Galinda changes her name to "Glinda" to honor Dillamond because he always mispronounced her name that way. The only witness to the murder is certain Dillamond was killed by Madame Morrible's servant, presumably on her orders and those of the Wizard of Oz.
Morrible offers Elphaba, Glinda, and Nessarose a chance to be "ambassadors" to the corners of Oz, hinting that they will eventually hold all the power in the land. Uncertain, Elphaba convinces Glinda to come with her to the Emerald City to plead the Animals' case before the Wizard. Elphaba is horribly disappointed, however, when the Wizard dismisses them. So instead of returning to Shiz, Elphaba bids Glinda farewell and decides to strike out on her own to get justice.
Elphaba's Rebellion
Five years later, Elphaba lives in the shadows in the Emerald City as part of a pro-Animal, anti-Wizard rebel group. Fiyero, now married, stumbles across her and recognizes her. Although she initially pretends not to know him, she eventually relents, and they forge a connection and, then, a love affair, despite her secrecy and his marriage. Unfortunately, it ends horribly when Elphaba is tasked with murdering Madame Morrible. Fiyero is kidnapped and apparently murdered by the Wizard's secret police, sending Elphaba into deep despair. Eventually, she's taken into a convent, where she lies unconscious for a year and is silent for six years after waking.
After leaving the convent, Elphaba travels to Fiyero's home in the Vinkus accompanied by a young boy, Liir. It's revealed that Liir is Fiyero and Elphaba's son, whom she gave birth to while she was unconscious. Elphaba is soon called away to talk with Nessarose, who has become a witch. After Nessa promises Elphaba can have her enchanted silver shoes after she dies, Elphaba returns to the Vinkus, only to find Fiyero's family kidnapped and gone.
The Wizard of Oz, From Another Perspective
Another seven years pass, and the plot catches up with The Wizard of Oz when Dorothy's house falls on Nessa and kills her. Glinda gives Dorothy the silver shoes, thinking they are too powerful and could ignite a civil war, which angers Elphaba. When she goes to the Wizard to try to get Fiyero's surviving daughter, Nor, released, the Wizard reveals that he's in Oz to acquire a powerful magical book, the Grimmerie, and learn its magic. On her way back to the castle in the Vinkus, Elphaba makes another discovery: the Wizard is her father.
Elphaba slips further into despair. When she learns that Dorothy and her friends are coming to kill her on the Wizard's orders, she becomes convinced that the Scarecrow is Fiyero in disguise. She tries to send her pets to lead the group to the castle, but they misunderstand it as an attack and kill the animals, which further sends her spiraling into madness. When Dorothy and company reach the castle, Dorothy tries to apologize for killing Nessa, but Elphaba refuses to accept. Elphaba accidentally sets her own skirt on fire, and when Dorothy tries to put it out, the water melts Elphaba.
In the end, things play out the same way they do in The Wizard of Oz, but for different reasons. The Wizard leaves Oz to avoid a coming coup. No one knows where Dorothy is, but many don't believe she left Oz. Political chaos reigns, but it's hinted that Elphaba may not be gone forever.