Exclusive: Read the Chilling First Chapter of Michele Campbell's The Wife Who Knew Too Much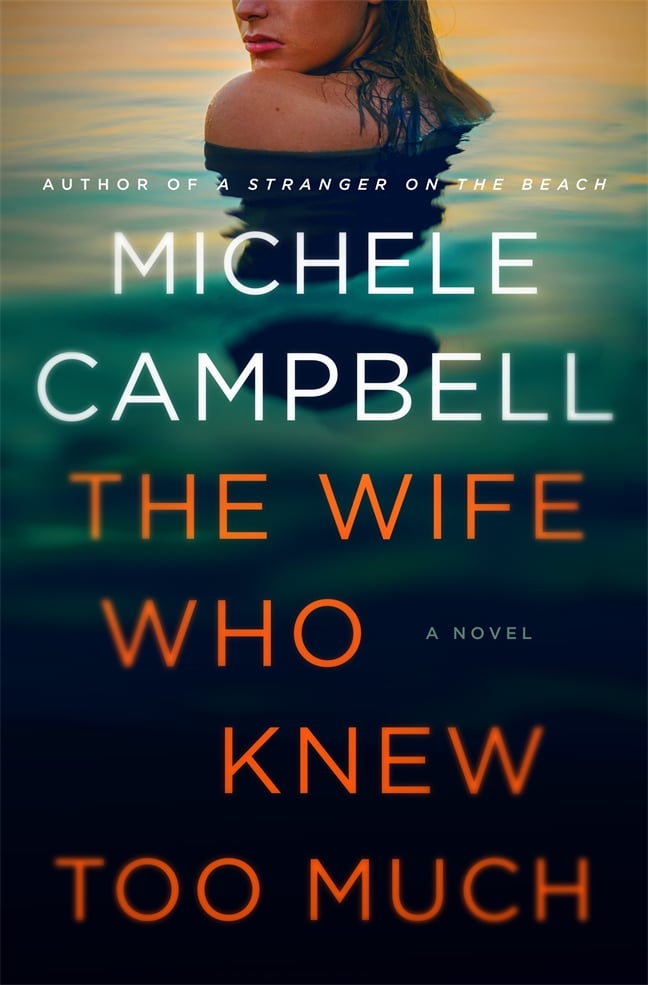 Michele Campbell's The Wife Who Knew Too Much doesn't hit bookshelves until June 2020, but since we're basically champing at the bit with anticipation for the upcoming thriller, she graciously shared not only a great look at the cover, but also an excerpt to give us a taste of what's to come. Are we blessed, or are we blessed?
The book has already drawn comparisons to the viral podcast (and TV series) Dirty John, and for good reason. The story follows Tabitha Girard, who's never been able to forget the passionate Summer fling she had years earlier with the handsome, preppy Connor Ford. When they end up crossing paths, however, Connor reveals his current wife, Nina — neurotic, wealthy, controlling — has taken her own life, and now they're free to pursue the love that sparked between them as teenagers. But this is a thriller, remember? So it doesn't take long for Tabitha to discover a startling, deeply unsettling secret that suggests Connor had something to do with Nina's death. Uh-oh.
Campbell, who's responsible for buzzy titles like A Stranger on the Beach and It's Always the Husband, clearly has another intriguing mystery on her hands. Dive into an excerpt from her novel, below!
Nina's Diary
July 4thOne
I'm writing this to raise an alarm in the event of my untimely death. This is hard to admit, even to myself, let alone to the world. My husband is planning to kill me. For obvious reasons. He's in love with someone else. And he wants my money.
I'm sitting in my office in the tower room at Windswept as I write. I look out over the ocean. The waves pound the beach as dark clouds sweep in from the east. A storm is coming. This house belonged to my first husband, Edward. On the day we met, I was twenty-three, working in an art gallery, barely scraping by. Edward was fifty and one of the wealthiest men in New York. People said I was a gold-digger. But they were wrong. Edward might not have been the perfect husband, but I loved him. When he got sick, I nursed him. When he died, I grieved him. A year later, I met someone else and fell in love. And I married again.
That was Connor, my second husband. On the night we met, he was thirty. I was fifty and one of the wealthiest women in New York. Connor didn't have a penny. People took that to mean he could only be after my money. I didn't see it that way. People were wrong about me. I assumed they were wrong about him, too.
But they were right.
I just finished meeting with the private investigator, and I'm writing this with tears in my eyes. A photograph sits before me on the desk, incontrovertible proof that the two of them are together -- and have been for a very long time. I don't know how far it goes, or what they're capable of, but I fear the worst. As Connor well knows, we have an airtight prenup. The prenup says he gets nothing if he cheats. I can divorce him and throw him out on the street. Everything I gave him—the cars, the clothes, the expensive watches, that boat he loves so much, the jet –I can take away. And I will. He knows I will. How far would he go to prevent that from happening? I hope I'm being alarmist, but I fear he'd go to extremes.
I'd throw him out right this minute, but I'm expecting three hundred guests. I'll be holding my annual Fourth of July gala tonight, here at Windswept. It was at that very same party two years ago that I first saw Connor. Infatuation at first sight. I should have slept with him and left it at that, but I'm too much of a romantic. Or just a fool. Well, I won't be foolish tonight. I'll be extremely careful. As soon as my guests leave, as the fireworks fade from the sky over the ocean, I'll confront him. I'll tell him it's over and kick him off my property. I won't do it alone. I'll take precautions. I hired security for tonight because of the party, and I'll make sure someone is with me, because I fear what Connor might do if he knows he's about to lose everything. I'll have to be careful. I'll have to be strong.
It's going to be so hard, though. I still love him. I love him so much that I have to fight the urge to give him another chance. To ask him to explain the things the investigator found. I can't do that. It would be a terrible mistake. It could even put my life at risk. I don't trust myself with him. That's why I'm leaving this diary where it's sure to be found. If something goes wrong, I want an autopsy. If I die unexpectedly, it was foul play, and Connor was behind it. Connor – and her.

Tabitha
Memorial Day WeekendTwo
The night Connor Ford walked back into my life, I was waitressing, just trying to make ends meet.
I was standing by the bar at the Baldwin Grill, waiting to pick up drink orders for my tables when I happened to glance out the window. A sexy black sports car with New York plates was just pulling into the parking lot, and I remember thinking, that guy must be lost. Don't get me wrong. The Baldwin Grill is the best place on Baldwin Lake, which is one of the prettiest spots in New Hampshire. It used to be ritzy back in the day. But not anymore. We draw a rowdy crowd in the summertime, folks from Mass, New York and Jersey who can't afford the shore. Lots of partiers and big drinkers. They come for the local micro-brews scrawled on the chalkboard and the big screen t.v. tuned to the game. The point being, we don't rate the jet set, and that sports car screamed money.
As I watched, a man got out. A tall, gorgeous man. And it was him. He glanced at the restaurant with an air of purpose and started walking towards the entrance. I couldn't believe it. My heart was pounding. I started to sweat.
Connor and I were together for just one summer, back when I was seventeen. It was a tumultuous summer for us both. We fell into each other's arms and stayed there, clinging for dear life, until they pried us apart. To this day, nobody else has ever reached me like he did. And not just because he was my first, or because he was a rich, preppy boy and I was a poor, townie girl dazzled by him. No, Connor got to me because he loved me the way every girl dreams of being loved. That shock of recognition of finding your soul-mate, combined with a passion burning so hot that it still made me blush to think of it. I'd been married and divorced, in and out of my share of half-assed relationships. But I'd never got over Connor. I'd always dreamed of the moment we would meet again. Sometimes those dreams end with us in each other's arms. Sometimes they end with me telling him off for letting his family come between us. Never once did they start with me taking his drink order.
But there he was, looking cool and gorgeous in dark jeans and a crisp white shirt. And here I was, pushing thirty, makeup melting off my face, my clothes smelling like food, as the love of my life walked through the door ten feet from where I stood. Naturally, I panicked. I backed into a customer, knocking his half-empty beer out of his hand and onto the floor, where it rolled around and splattered people's shoes.
"Oh my gosh, I'm so sorry. Let me take care of that," I said.
In the ensuing chaos, as I raced to get paper towels, mop up the mess and replace the poor man's drink, I lost track of Connor in the crowd. On this Friday before Memorial Day, the Baldwin Grill was jammed to capacity. You couldn't turn around without bumping into some beefy, red-faced guy who was sloppy drunk. Which made me wonder-- what the hell was Connor doing here, anyway? His family sold their lake house years ago when his grandmother died. The lake had gone downhill since then, while Connor had only come up in the world. He'd married a woman who was rich and famous, and their pictures were constantly in the tabloids. Shouldn't he be on a yacht somewhere with Nina Levitt, instead of at a second-rate sports bar, rubbing elbows with the common people?
Unless.
Could he possibly be looking for me?
"Hey, Tabitha, I just sat a hot guy in your section," the hostess called out as I passed by with my tray of drinks.
And I knew it was him.
I almost turned around and told her to give him to somebody else so he wouldn't see me like this. Let's face it, even if I wasn't waitressing, I'm not what I was at seventeen. But we were fully booked tonight, and short-staffed. There was nobody to cover my table. I'd have to face him, whether I liked it or not.
Out on the terrace, it was a party scene. The sun hadn't yet set, but everybody had their buzz on. Music blasted from the speakers. Motorboats raced across the water, and somebody was shooting off Roman candles from the dock. I saw Connor out of the corner of my eye. He was seated at a table along the railing, facing the restaurant, his back to the lake, scanning the crowd like he was looking for somebody. A woman, presumably. His famous wife must be joining him, and he'd saved her the chair with the view. A gentleman, as always. That gave my heart a wrench.
It took a while before I could get to him. I had two tables waiting for drinks, three ready to order, two with food sitting in the kitchen that I needed to get out, and two others ready to pay. I was glad for the delay, which gave me time to collect myself. When I couldn't avoid it any longer, I grabbed a pitcher of water and headed for his table. And found myself looking right into his eyes. Those hazel eyed I'd loved so well, the summer I was seventeen.
Excerpted from THE WIFE WHO KNEW TOO MUCH. Copyright ©2020 By Michele Campbell. Reprinted with permission of St. Martin's Press. All rights reserved.