Joe and Love's Marriage Is Put to the Test in the Wild You Season 3 Trailer
Season three of Netflix's You is dropping very soon. On Aug. 30, the streaming platform released a bloody teaser with a message about Joe (Penn Badgley) and Love's (Victoria Pedretti) future son, whom Joe has decided to name Henry. On Sept. 17, the official trailer finally dropped, and it already has our heads spinning. Why can't Joe break his old habits? Will baby Henry take after his father? Will Joe and Love get a divorce? We have so many questions. Luckily, You's third installment will be available in October, so it won't be long until we get some answers. In the meantime, get all caught up with everything there is to know about the upcoming season ahead.
01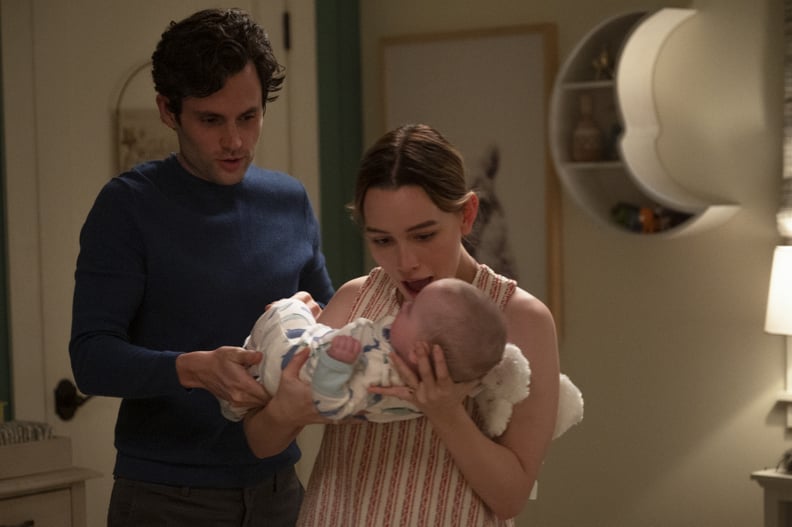 You Season 3 Plot
Netflix dropped the official trailer for season three on Sept. 17, and it looks like it follows Caroline Kepnes's third You book pretty closely, so start bracing yourself now. You Love Me follows Joe's new life in the Pacific Northwest after he becomes a father and is forced to leave his son behind with the Quinn family. As he begins to settle into life in the small town of Bainbridge, it doesn't take very long for him to fall in love with a new woman named Mary Kay DiMarco. Given how the previous two seasons turned out, we can all probably guess what happens next, right?
02
You Season 3 Cast
Of course, it wouldn't be You without Penn Badgley and Victoria Pedretti reprising their respective roles as Joe and Love, but there are a handful of new stars joining them in the third season, including Tati Gabrielle, Dylan Arnold, Scott Speedman, Shalita Grant, Ayelet Zurer, Bryan Safi, Michaela McManus, and Travis Van Winkle.
03
You Season 3 Release Date
Season three of You will officially be hitting Netflix on Oct. 15. The streaming platform announced the exciting news on Aug. 30 with an ominous video narrated by Joe, showing him decorating a cake for his future son, who will be named Henry.
04
You Season 3 Trailer
On Sept. 17, Netflix dropped the official trailer for season three, and it is wild. Not only are Joe and Love now married with a baby, but their attempt at being the "nice normal neighbors next door" in the suburb of Madre Linda doesn't go according to plan, especially after Joe becomes obsessed with the woman living next door. But you know what they say: old habits die hard.