Zoe Lister-Jones and Cailee Spaeny Talk How It Ends
Zoe Lister-Jones and Cailee Spaeny Found Freedom in an Apocalyptic Pandemic Comedy
Watch out! This post contains spoilers.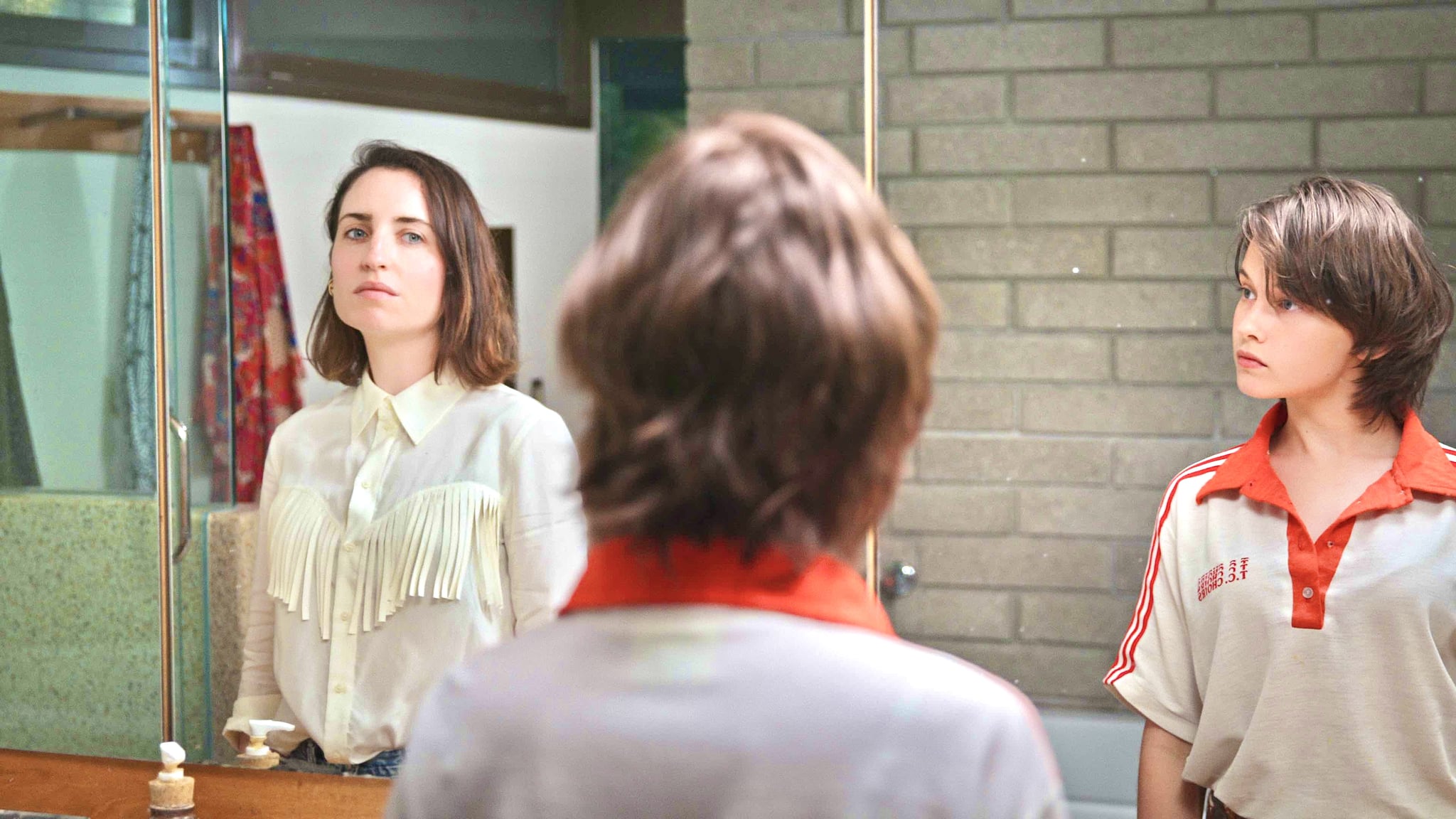 "I have never been loved by anyone the way that you have loved me, and I am so sorry that I haven't known how to love you back." Zoe Lister-Jones utters this beautiful line with such emotion, you might expect it to be part of a dashing romantic monologue. The reality is much better and more heart-wrenching. In How It Ends — which premiered at the virtual Sundance Film Festival on Jan. 29 — Lister-Jones's Liza explores her insecurities at the end of the world with her metaphysical younger self, played by Cailee Spaeny, by her side.
"We were living it as we were performing it."
Lister-Jones and her husband (and frequent creative partner), Daryl Wein, cooked up the apocalyptic project at the beginning of COVID-19 shelter-in-place. Although the film makes no mention of the pandemic, Lister-Jones told POPSUGAR the real-life parallels were intentional. "We were living it as we were performing it," she said. Inspired by their own therapy sessions, the couple navigated 2020's fear and uncertainty by imagining a different kind of apocalypse. As a meteor heads toward earth, Liza and her inner child hike through an uncharacteristically empty Los Angeles to tie up loose ends before one last party — a way to go out with a bang, if you will.
To pull off the movie's core premise, Lister-Jones needed to identify her perfect young counterpart. Enter: Spaeny. The 23-year-old actress's involvement felt like a natural extension of their last project together, The Craft: Legacy. Lister-Jones praised Spaeny as a "brilliant" and "versatile" actress, and since elements of The Craft were loosely based on Lister-Jones's adolescence, they already had experience bonding over her teenage self.
"We've obviously all had a lot of time alone to think about our inner demons and self-reflect maybe a bit too much."
Their deep discussions about emotional "hiccups and traumas" naturally progressed into a new project. As the world grappled with the shutdown, Lister-Jones and Spaeny took walks together at a six-foot distance and unpacked their feelings. "We've obviously all had a lot of time alone to think about our inner demons and self-reflect maybe a bit too much," Spaeny joked. This self-reflection included therapeutic quarantine conversations about "how to heal the inner child, what that means, and what work we need to do to be better humans." Light, easy chats, clearly.
"As creatives, it just made sense to pour [these conversations] into some sort of film," Spaeny said. "And it was pretty freaky actually. I was texting Zoe, 'Hey, I would love to make a film with you guys. I think we should do something in this time and get creative,' right around the time Zoe and Daryl were coming up with some sort of loose outline for the film. It really was seamless." Thus, a genuinely warm comedy about Armageddon came to pass.
In addition to Spaeny, Lister-Jones and Wein enlisted the help of friends and former collaborators like Olivia Wilde, Colin Hanks, Bradley Whitford, Helen Hunt, and Fred Armisen to join the cast under pandemic-appropriate guidelines. They filmed at a distance on sidewalks, on front porches, from balconies. The couple brainstormed which characters Liza should confront, and started reaching out to the "perfect" people in their lives accordingly. Lister-Jones explained, "It was really just phone calls to everybody personally and saying, 'This is a wild time to be creative, but this feels like it could be a lifeline for all of us if you're down to play.' And we were lucky that so many of them were."
How It Ends's soundtrack acts as another (unseen) character. "I've made so many playlists over the course of the quarantine that the movie was an extension of many of those," Lister-Jones said. "Music is such an important part of our lives and then the way that it can impact a film is so integral." The significance of music can be felt undeniably during a scene with Lister-Jones's real-life friend, musician Sharon Van Etten, who also agreed to write two original songs for the film.
In the scene, Liza and her younger self come across Sharon playing the guitar and singing in an empty street. She tells them the song is meant to be a duet and asks if they'll accompany her. Young Liza joins with little hesitation, but adult Liza is less willing to engage. When she finally does, she sings quietly while looking at her younger self proudly with tears brimming her eyes.
"We dream so big when we're younger and then the realities of life and roadblocks get in the way."
"I've always been interested in dreams deterred by age because it happens so often," Lister-Jones explained. "We dream so big when we're younger and then the realities of life and roadblocks get in the way. Gatekeepers tend to dilute those dreams in a way that can be heartbreaking for so many people. In that moment, I wanted to see the childlike excitement and confidence that so many of us lose as we grow up."
The catharsis only continues as Liza faces her divorced parents, confronts her sh*tty ex, makes amends with her estranged best friend, and ultimately, goes head-to-head with her inner child. The stakes of the film are felt heavily when Liza, quite literally, loses herself after a heated argument. "All your life you've been licking your f*cking wounds," young Liza shouts at her elder counterpart. "You haven't realized that I'm the biggest wound of all."
The hurt and heartbreak of unresolved teenage pain is palpable in Spaeny's performance, and the Lizas' eventual reconciliation is equally emotional. As a viewer, the scenes are incredibly relieving to see play out on screen. For the actors, that relief was felt exponentially. "We were both able to go to a place where anything went," Lister-Jones said. "I think in those scenes, it was so freeing, not just as a performer, but as a person, to be able to be working through things because they were very real for both of us personally. To just get to have the freedom to let it all out, it was like a therapy exercise that was being filmed in some ways."
There's no shortage of jokes or feel-good moments within How It Ends, but you'll be hard-pressed to find one thing: panic. For a film about the apocalypse, there's little fear or terror. People are throwing parties, drinking wine straight from the bottle, putting on scavenger hunts for their loved ones. The indulgences are sweet and the furthest thing from Purge-like horror. Instead, everyone has already resigned themselves to reality (except the one neighbor who still puts out his recycling bin on Armageddon Eve).
"Daryl and I were intending to create a mirror for what we were experiencing, and what we felt our friends and family experiencing, over the course of quarantine, which was this strange dichotomy between panic over this apocalyptic landscape and the super banal of being in sweatpants every day and watching Netflix," Lister-Jones said. "We were all pretty quickly resigned to this completely new and surreal way of life."
Rather than banking on the "pure chaos" expected from apocalyptic films, Lister-Jones and Wein chose to explore a "Zen-like quality" where people were already prepared for the end, "because it felt like that's what we were all doing." Lister-Jones said the film is ultimately about "connectivity and humanity," lessons she learned throughout nearly a year of pandemic life. "Once the things we took for granted were stripped away from our lives, it became so clear and crystallized what was important. And that's what this film is about."
Image Source: Courtesy of How It Ends