Beech-Nut Baby-Food Recall
Recall Alert! Glass Found in This Flavor of Beech-Nut Baby Food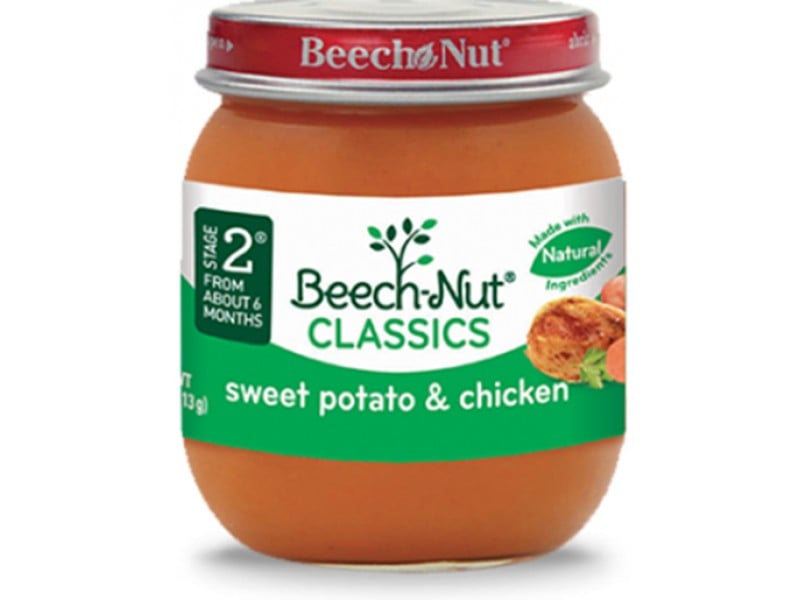 Beech-Nut Nutrition has voluntarily recalled approximately 1,920 pounds of baby food after someone found a small piece of glass in one of the products.
The USDA announced the recall on its website, stating the only products subject to the recall are the four-ounce glass jars containing "Stage 2 Beech-Nut CLASSICS sweet potato & chicken."
If you have purchased this flavor of the baby food, check the expiration: the recalled products have an expiration date of December 2016.
The USDA's Food Safety and Inspection Service has been notified of an oral injury associated with the glass found in a jar of the Sweet Potato & Chicken Beech-Nut product.
Beech-Nut has responded to the issue on its own website, stating, "At Beech-Nut, we strive to make baby food with the best ingredients nature has to offer — freshly prepared and packaged in clean, safe and environmentally-friendly packaging. So, when any product of ours falls short of those standards, we take swift action to correct it. Outside of this single report, we have no indication that any other jar of our Classics Stage 2 Sweet Potato & Chicken is affected, but as a company of parents and families we are acting with an abundance of caution."
Consumers with questions about the recall can contact the Beech-Nut Consumer Hotline at (866) 674-4446.
Just another reason to make your own baby food!