Celebrities in UNICEF "Imagine" Campaign Video
UNICEF Reimagines John Lennon's "Imagine" as the World's Biggest Sing-Along
Generations of activists have been inspired by John Lennon's "Imagine," but the song will take on a whole new meaning — and sound — as of today. To celebrate the 25th anniversary of the United Nations' Convention on the Rights of the Child (which was ratified by the General Assembly on Nov. 20, 1989), UNICEF is joining forces with Yoko Ono and producer and DJ David Guetta to launch the #IMAGINE project — the world's largest sing-along to bring awareness to UNICEF and its global mission.
The project is a multimedia happening with global stars like Katy Perry, Will.i.am, Idris Elba, Seth Green, Angelique Kidjo, Daniela Mercury, and Priyanka Chopra lending their voices to a black and white video recording of the legendary "Imagine." Lennon and Ono's voices can be heard in clips from old recordings. Through a free, downloadable app, individuals can record themselves singing "Imagine" next to their favorite singers along with their thoughts on a better world for kids. The recordings can then be shared with families, friends, and UNICEF. In late December, Guetta will compile all of the celebrity and individual recordings into a track that will make its debut on Jan. 1 simultaneously in Times Square and around the world.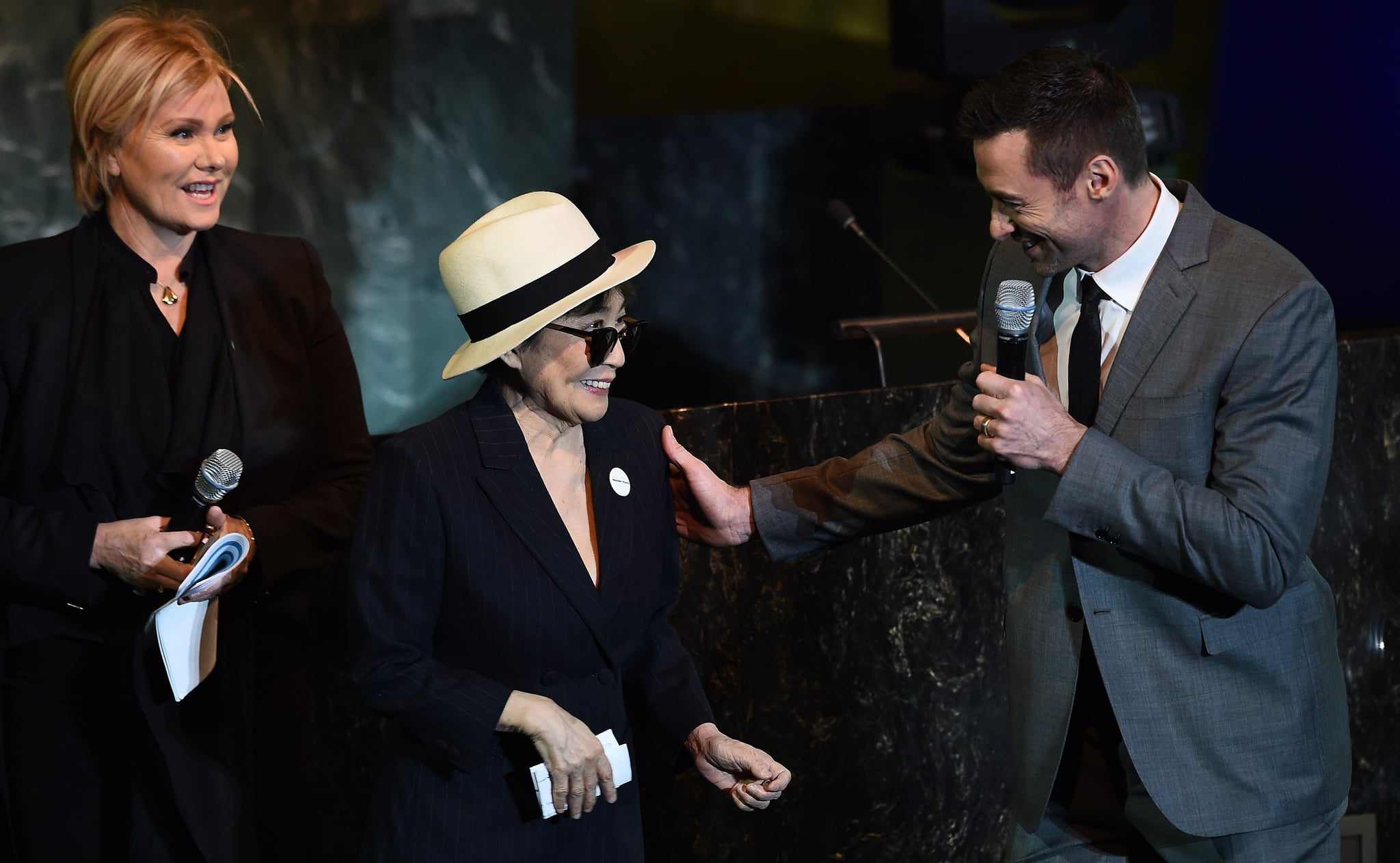 The project was announced with great fanfare at the United Nations this morning. Hugh Jackman and Deborra-Lee Furness were on hand to introduce Ono. Ono hopes that the recording will bring some light to the dark times the world is experiencing. Björn Ulvaeus, from ABBA, announced that the group's song "Chiquitita," which they performed on the same UN stage back in 1979, has generated more than $4 million in donations to UNICEF through the years. Starting today, any further money raised from the song will be donated to UNICEF programs for young girls.
To participate in the program:
Download the TouchCast app for iOS via Apple's App Store or at http://imagine.unicef.org.
Record your version of "Imagine" with Lennon and a host of celebrities simply by tapping the red record button.
Record personal messages describing what you imagine a better world for children would be like.
Share your recordings with friends with the hashtags #EVERYVOICECOUNTS and #IMAGINE.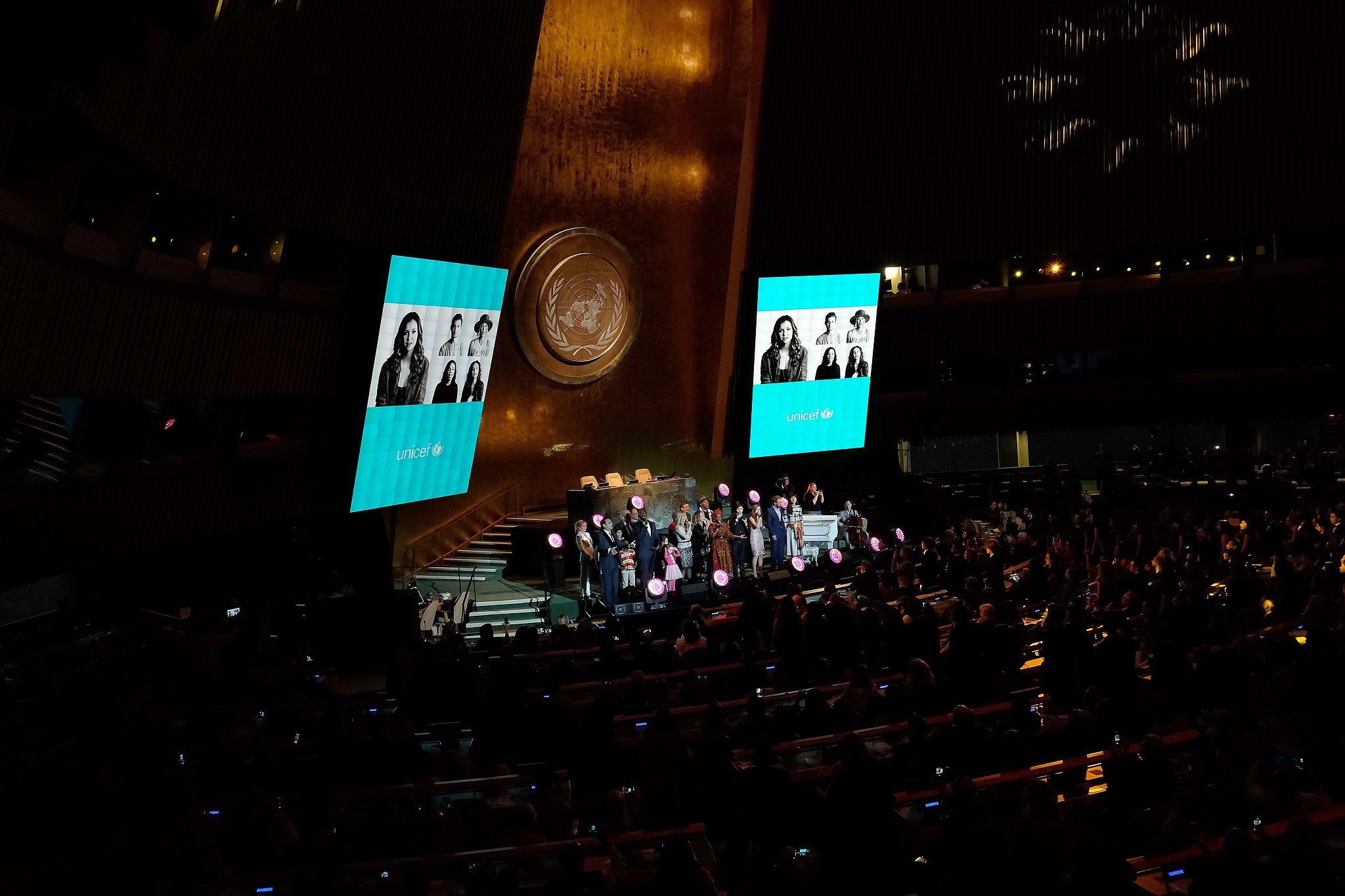 Appearing in the video, in order of appearance, are:
Regina Wilson — NY firefighter
Angelique Kidjo — Singer
Nicole Scherzinger — Singer
Cody Simpson — Singer
Sigrid Agren — Model
Danny O'Donoghue — Singer
Roarke — Singer
Idris Elba — Actor
Kate Nauta, Jenny Bapst, Francois Alexander, and Samantha Rex — Singers
Lance Bass — Singer
Dash Mihok — Film/TV actor
Priyanka Chopra — Actress/singer
Suki Waterhouse — Model
Craig David — Singer
Zelda Williams — Actress
Joan Sebastian — Singer/songwriter
Adam Lambert — Singer
Nasri — Singer
Maria Gabriela de Faria — Actress/singer
Ban Ki-moon — UN secretary general
Professional Performing Arts School Choir Members — School choir
Family School Students — International students
David Guetta — Music producer/DJ
Courteney Cox and Coco Arquette — Actress and daughter
Doni and Akai Floyd — Mother and daughter
Mari Malek — DJ Stiletto/model/activist
David Arquette — Actor
Isaiah Mustafa — Actor
Scott Foley — Actor
Sam Martin — Singer
Bianca Yuzon — Singer
Justin Bartha and baby

Asa

— Actor and daughter
Eric Christian Olsen — Actor
Antonella

Barba

— Singer
Rumer Willis — Actress
Katy Perry — Singer
Seth Green — Actor
Rebecca Da Costa — Actress/model
Butch Vig — Music producer
Antonique Smith — Actress
Will.i.am — Musician/entrepreneur
Taye Diggs — Broadway/TV/film actor
Patricia Arquette and Harlow Jane — Actress and daughter
Ben Barnes — Actor
Rob Kazinsky — Actor
Tokio Hotel's Bill Kaulitz — Singer
Dianna Agron — Actress/singer
Tony Lake — Executive director of UNICEF
Ore and Neave Segal — Sons of Edo and Ayelet Segal
Yuna Kim — Figure skater
Eden Espinosa — Broadway actress/singer
Sunidhi Chauhan — Singer
Nina Dobrev — Actress
Julian Morris — Actor
Poe — Singer
Sanaa Lathan — Actress
Amy Brenneman — Actress
Trevor Jackson — Singer and actor