Comfy Mom Halloween Costumes
How to Feel Like a Sexy and Comfortable Mama This Halloween
Blogger, mom, and costume enthusiast Brenda Janowitz talks about how anyone can be sexy and comfy in a costume this Halloween in this post originally featured on Mom.me.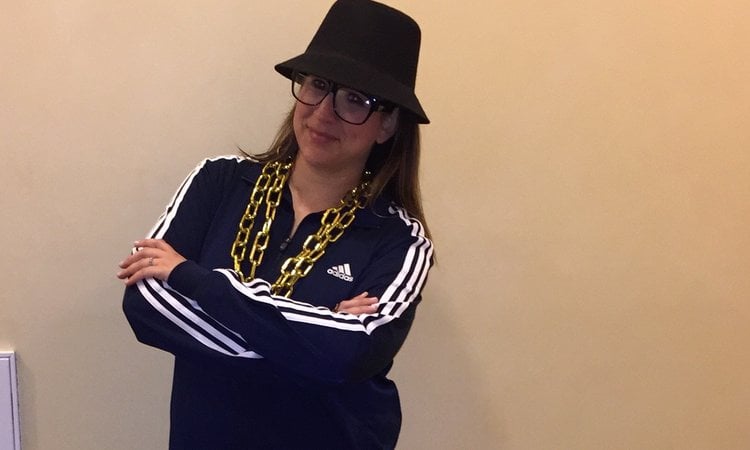 I love a themed party. The crazier, the better.
No matter what the occasion, I will dress up. That's why I was so excited to be invited to an '80s party a few weeks ago. My husband and I puzzled over what to wear — we wanted to go for a Zack Morris/ Kelly Kapowski thing, but we couldn't find the proper cell phone for Zack. It shouldn't be too difficult for a couple of '80s kids to come up with costumes, but there were just so many things to choose from: do I channel my inner Madonna? Should my hubby don MC Hammer pants? Do they still make acid wash jeans?
In the end, the hubs and I dressed up as Run DMC (as you do). I thought we were hilarious, and everyone else did, too. But then a friend leaned over to me and said: hard to feel sexy in an outfit like that, huh?
I laughed and told her that I might not look sexy, but I did feel comfortable. She was teetering around in impossibly high stilettos, and I was in my Adidas kicks. We both rocked out on the dance floor all night, but I was the one who was able to walk the next day.
It really made me think, though. Truth is, now that I'm a married mommy of two, I don't give as much thought to looking sexy anymore. When I was single, it was ALL I thought about. But now?
I just don't.
Back in my single days, it was all about finding a guy, finding a boyfriend, finding a husband. And the way to do that (or so I thought) was to wear the sexiest dress I could find. Tight jeans. Midriff baring little tops. Heels? The higher, the better.
Halloween was my favorite holiday. An excuse to wear as little as humanly possible, to push the envelope of sexy, all under the umbrella of a "costume." Fishnets? Itty bitty skirt? Dress that's practically see-through? Sign me up.
But last year? Last year I dressed up as a Teenage Mutant Ninja Turtle, because that's what my 3-year-old wanted to be. (And I don't mean the sexy Teenage Mutant Ninja Turtle. I mean, I wore a green sweater, green vest and turtle shell on my back while trick-or-treating.)
Things have changed for me. Now I'm married. Now I'm a mommy. And it's just not as important to me anymore to be considered "sexy." Don't get my wrong, I still love to get dressed up for weekend date nights; I never met a girls nights out I didn't get all dolled up for. When it's time to go out, I blow out my hair, I put on my makeup, and I love a good strappy heel as much as the next gal.
But comfort is important, too. I want to be comfortable in my shoes, literally, and I also want to be comfortable in my own shoes, metaphorically. I'm happy with who I am now. I'm secure in my marriage, happy in my marriage, and, these days, what passes for sexy is a totally different thing than what it was before the wedding. (Hint: now it's more about unloading the dishwasher and taking out the trash.)
My husband is one of those guys who thinks a girl with no makeup, hair in a ponytail, wearing jeans and a T-shirt, is the height of sexy. He did back when we were single, too, but it's only now — when I feel secure enough to take off the single-girl armor I used to wear all the time — that I actually believe him.
So, to the outside world, dressing up as Run DMC might not have been my sexiest costume choice, but I was comfortable. Comfortable in my Adidas sneakers and comfortable in my own skin. And if knowing who you are isn't sexy, then I don't know what is.