Cop Distracts Girl From Fatal Car Accident
The Heartbreaking Reason This Photo of a Cop Distracting a Girl at a Car Crash Is Going Viral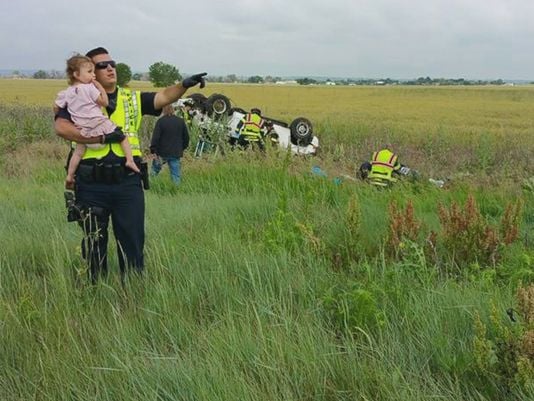 It was truly a heart-wrenching sight: after a family's SUV blew a tire on an interstate in Brighton, CO, it then flipped, ejecting everyone — both parents and four children — inside the vehicle.
When police officers arrived, the father was pronounced dead at the scene — a scene no child should have to witness. One cop, Officer Nick Struck, made it his job to distract one of the toddlers, a young girl, so she wouldn't have to see the aftermath.
"When you hear that there's children involved, I'll tell you what, everyone that responds to that scene, you get that pit in your stomach," Struck told 9News. "The first thing we do when we get on scene is we just try to, if we can comfort anybody, of course, we're going to go to the kids."
This photo — taken by a witness, Jessica Doug Matrious, who stopped to help the family — shows Struck holding the girl and pointing at something in the distance.
"My daughter, when she falls down and hurts herself, I sing 'Twinkle, Twinkle Little Star,'" he said. "So I started singing it to the little girl."
No one in the vehicle had been wearing safety restraints. The mother and a child were airlifted to the hospital, while the three remaining children were taken by ambulance.
Struck notes that the image, which has quickly gone viral, doesn't tell the whole story — that he wasn't the only hero that day: "I'm not a medical person, but I know how to give a hug to somebody, and you better believe every one of those officers on scene would do the same thing."