Source: POPSUGAR Photography / Sarah Lipoff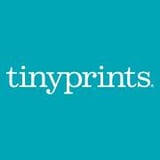 This cute costume is adorable for kids of all ages and can be adjusted to fit even the littlest trick-or-treater. All you need are a hot glue gun and a few materials from your local craft store for a Halloween costume that will live on in your kid's imaginary play collection. And it seriously costs basically nothing to make without tons of crafty steps.
What You'll Need:
1 yard felt
White chalk or pencil
Scissors
Black elastic
Hot glue gun
Directions:
To determine how much felt you'll need, measure your child from wrist to extended wrist. Then measure from the top of her head to the top of her tush. Use the measurements to select the right amount of fabric. For my 6-year-old, I needed a section 36 by 24 inches.
Fold the yard of black felt in half, which keeps the wings symmetrical. Now sketch out the swooping edges of the bat wings, starting from the bottom center and working up to the middle of the section of felt. Once you're happy with how things look, cut along the line.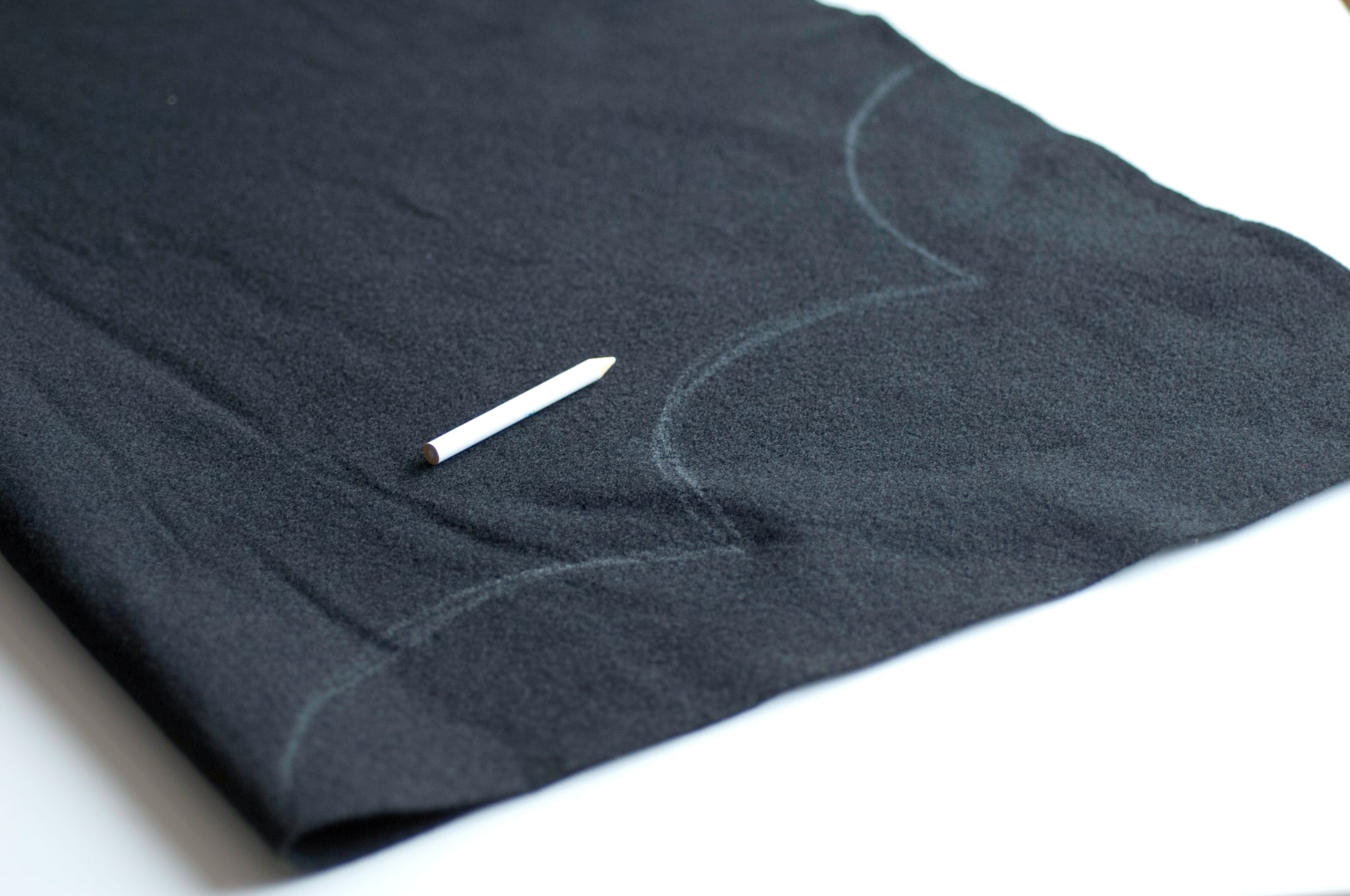 To create the sleeves for the costume, measure between your child's armpits, halve the number, then mark from the center of the top of the felt. Make a cut straight down around 6 to 8 inches. You can also measure the circumference of your child's arm to use as a guide for this cut to ensure the costume is a comfy fit.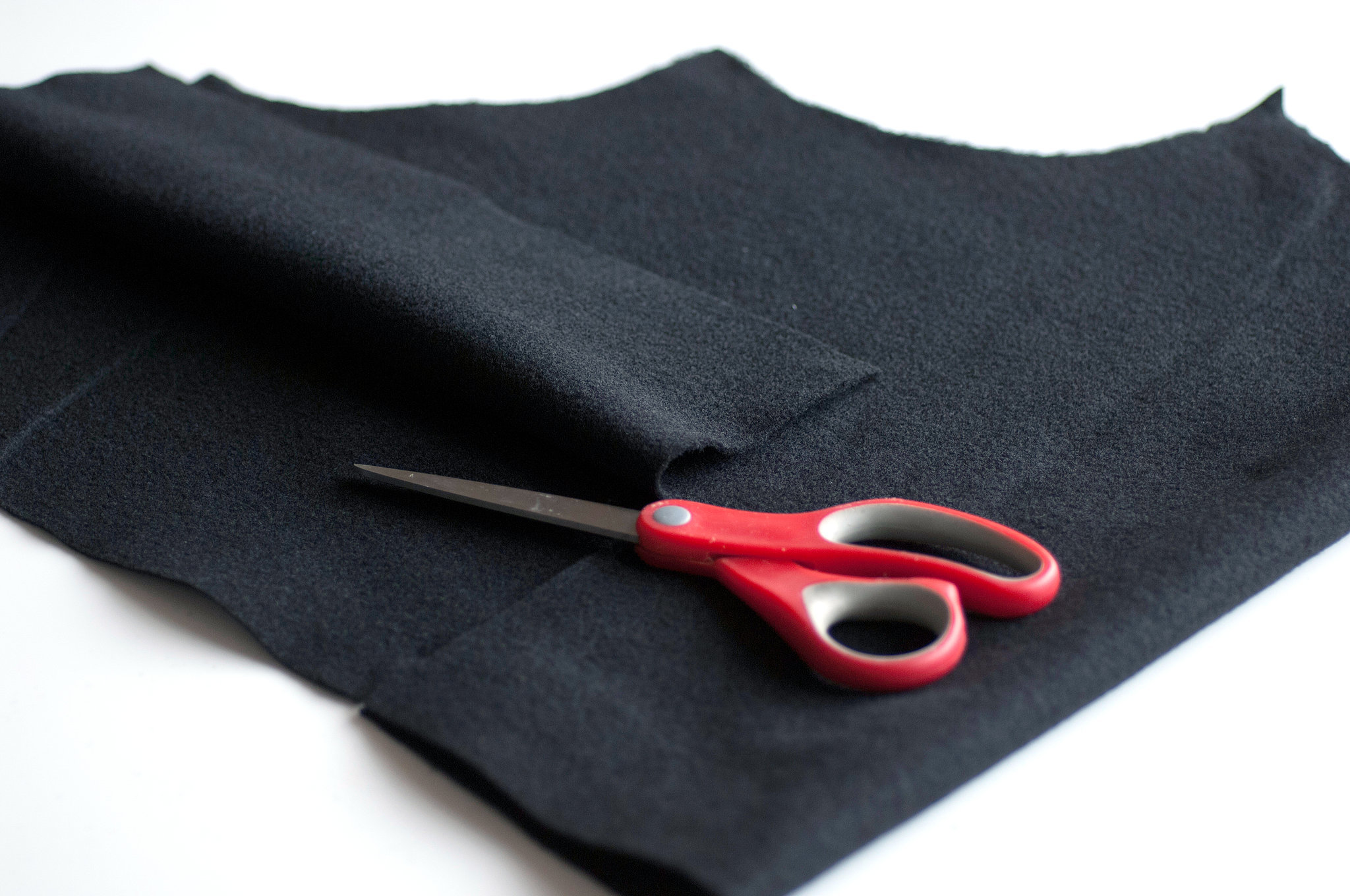 To finish the bat cape, fold over the top section of one side to create the sleeve. Secure with a line of hot glue. Repeat on the other side.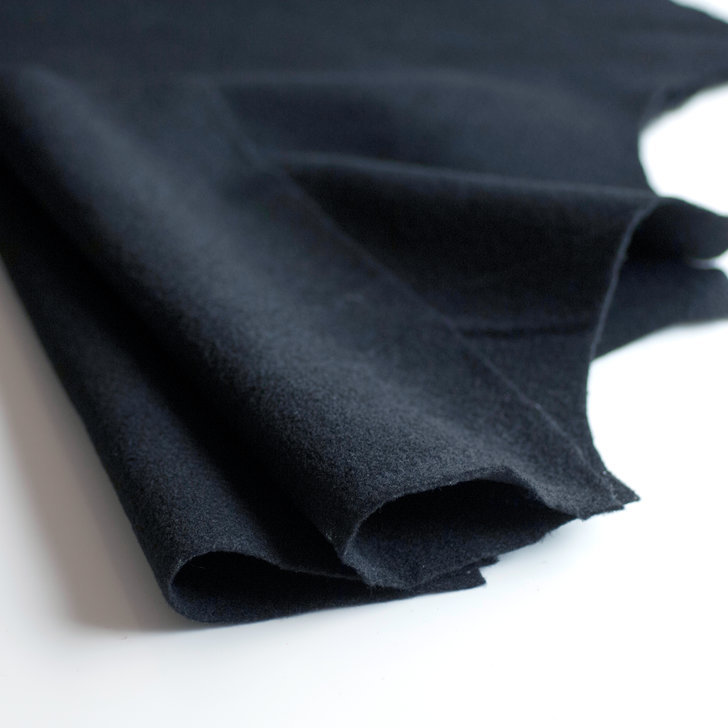 Use a scrap of the felt that was cut away from making the wings to sketch out a bat mask. Fold the felt in half, then draw the outline. Once you're happy with the shape, cut along the line.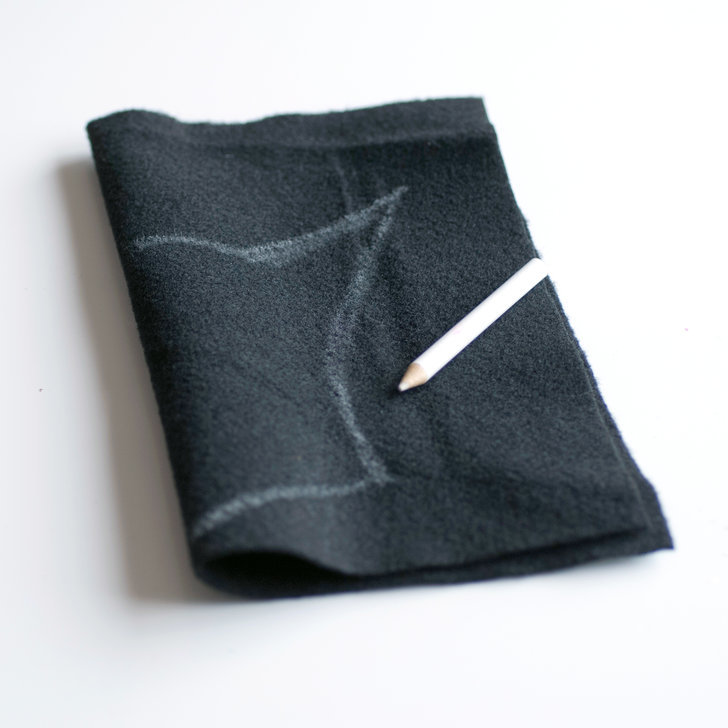 Measure a length of black elastic to fit around the mask and your child's head, then secure with hot glue. Have her put it on, gently using the chalk to mark where her eyes are, then remove and cut eye holes.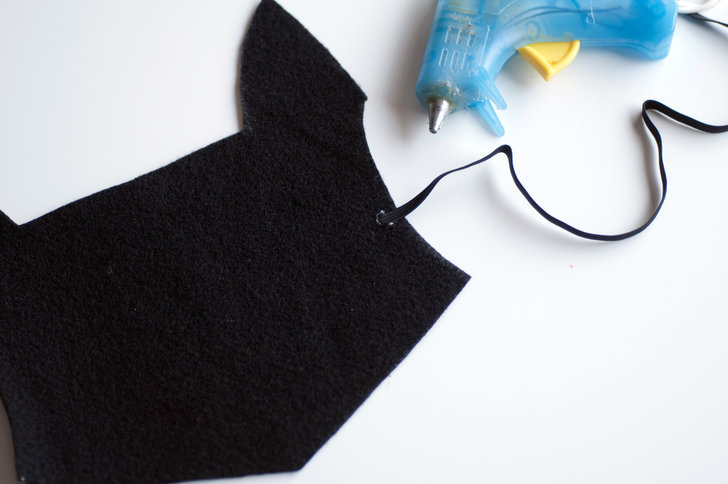 Have your child dress in black, then slide her arms through the bat sleeves. Toss on the mask, and you're ready for trick-or-treating!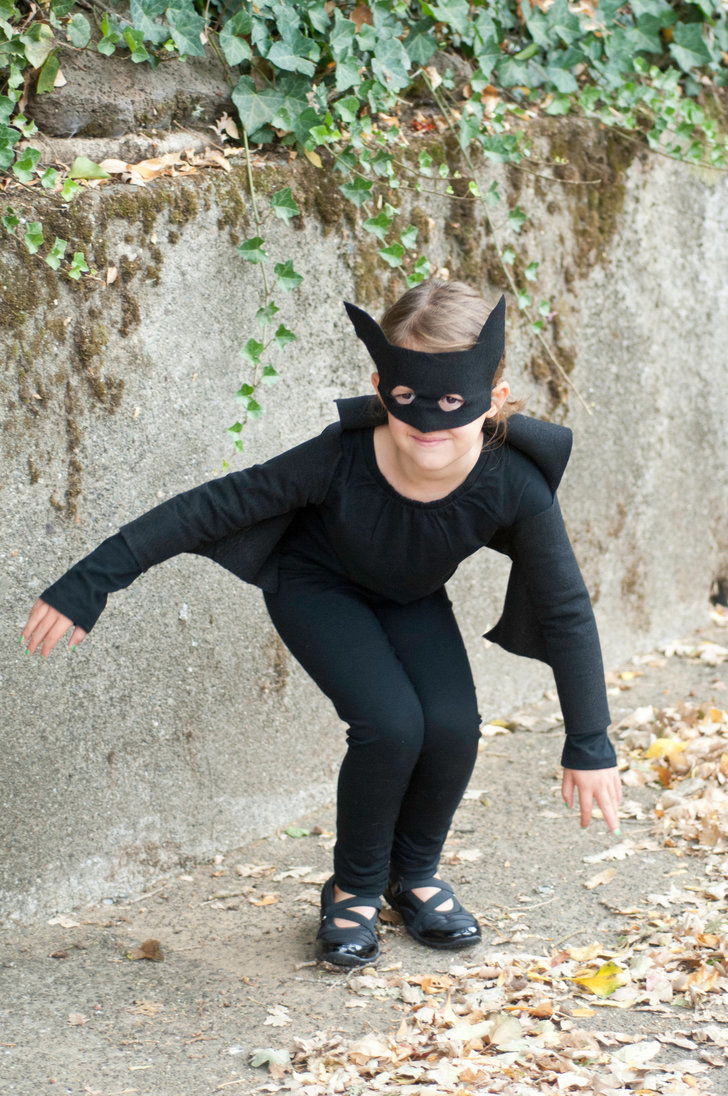 Since it is an all-black costume, once the sun goes down, add a few glow lights around her wrists and ankles so you can enjoy the night safely. My child got way into this costume, and I'm planning on using these pictures to make Halloween cards to send to basically everyone I know.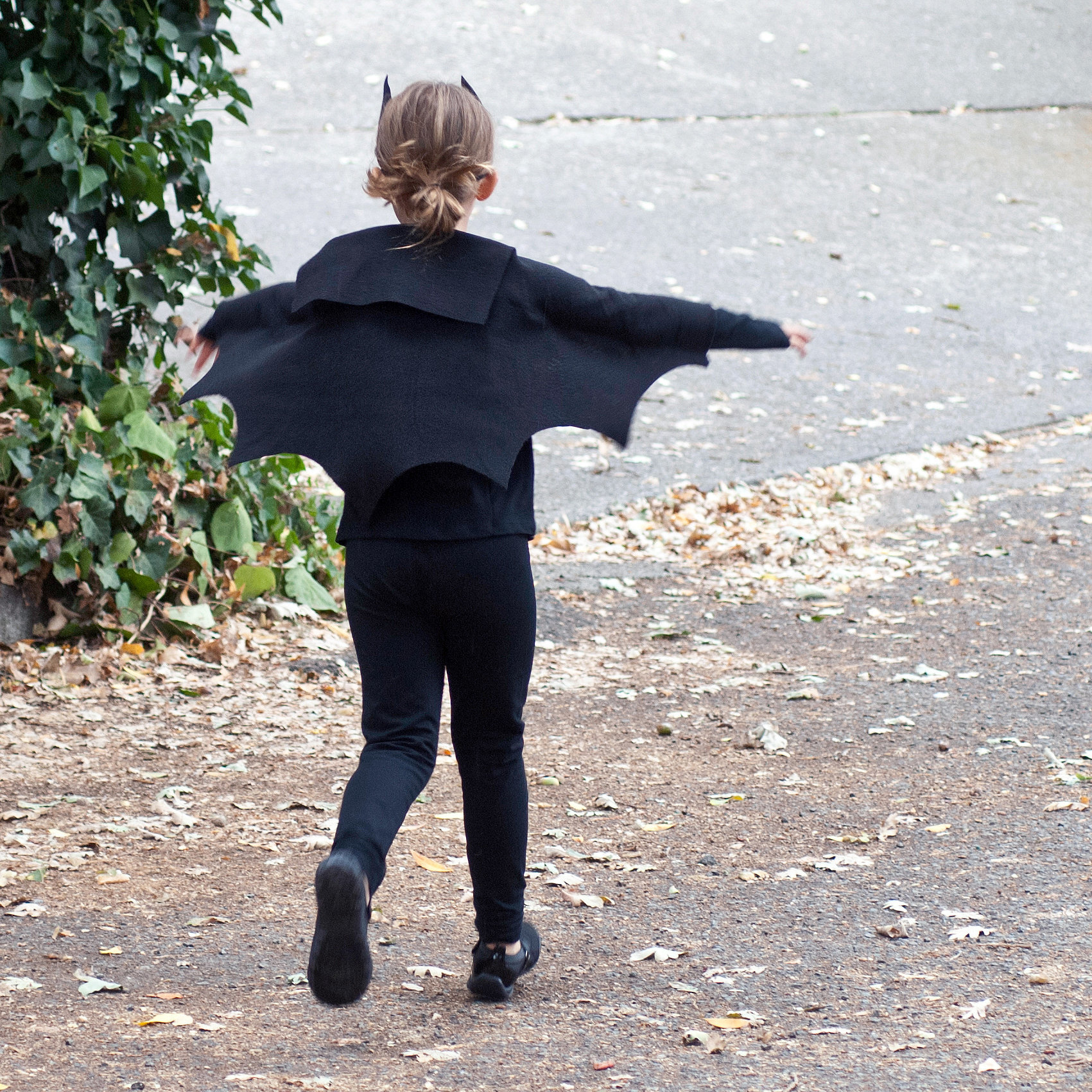 Happy Halloween!
More From Tiny Prints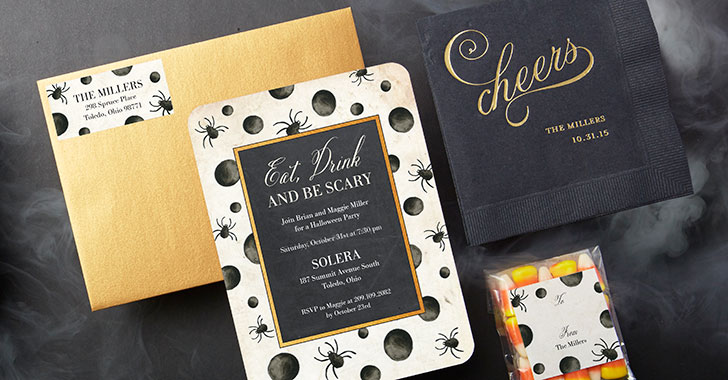 Celebrate Halloween with spooky Halloween photo cards and party invitations from Tiny Prints. Choose from a wide variety of designs, which incorporate all of your favorite Halloween themes including ghosts and cauldrons to pumpkins, bats, and witches. SHOP NOW.