Easy Homemade Ice Cream in a Bag to Make With Kids
Shake It Up: Homemade Single-Serving Ice Cream (in a Bag!)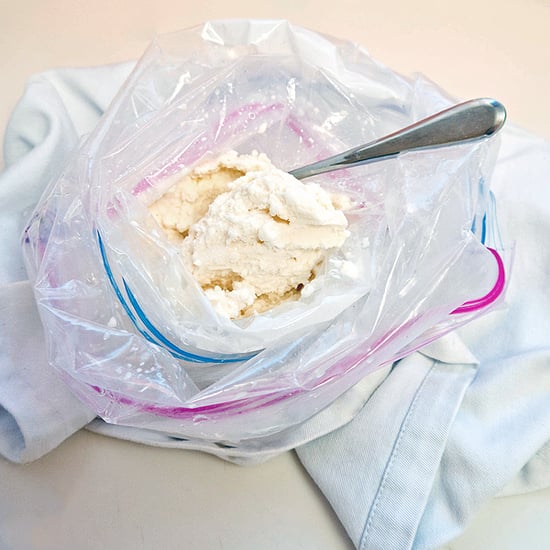 Did you know July is National Ice Cream Month? This may be the tastiest month of the year! While there may be plenty of tubs of ice cream in the freezer, everyone will be screaming for more after making this quick and easy single-serving homemade ice cream!
With just a few basic ingredients and a bit of shaking, the whole family will be enjoying individual bowls of ice cream that can be topped with everyone's favorite additions. Along with making a cold treat, kids are exploring science concepts as they watch the creamy liquid turn into a seriously tasty solid.
What You'll Need:
1 1/2 cups half and half
1 tablespoon sugar
1/4 teaspoon vanilla
1/2 cup rock salt
3 cups ice
1 gallon-size zip-top bag
1 pint-size zip-top bag
Dish towel
What You Do:
Start by filling the gallon-size zip-top bag with half the ice. Invite your child to sprinkle half the rock salt over the ice and then place the pint-size zip-top bag inside.
Now carefully measure and pour the half and half into the small pint-size bag along with the vanilla and sugar. Make sure the top is tightly sealed!
Pack the rest of the ice around the cream-filled baggie and then sprinkle with the rest of the rock salt. Zip the top, wrap in the dish towel, and get ready to shake.
While your child is shaking away, take a moment to chat about what role the salt plays in the homemade ice cream making experiment. Without the salt, the ice wouldn't dip below 32F, which isn't cold enough for making the ice cream. The freezing point of salt water is lower than regular water, so adding all that salt is an essential part of making the cold treat!
Enlist your youngster to keep track of the time and check the bag after one to two minutes of good shaking. Creamy ice cream should be awaiting inside!
Remove the ice cream from the bag of salted ice and enjoy — straight from the bag.