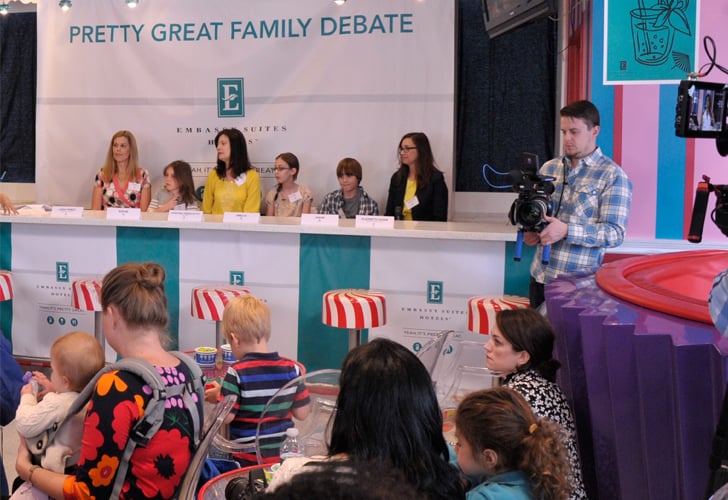 Whether you're a parent or a kid (or even a GROWN kid!) you know that family members don't always see eye to eye on vacation — or at home. That's why Embassy Suites Hotels, Hilton Worldwide's upper-upscale, all-suites hotel chain, recently hosted the "Pretty Great Family Debate," a conversation among parents and kids to determine win-win solutions for hot-button issues. Among them:
Hot Topic: Should sweets be a part of the everyday breakfast routine or a special vacation treat?
Win-Win Solution: The a.m. meal is fuel for the day, so it should be healthy and balanced as often as possible. Compromise by allowing a "cheat" once a week like chocolate chip muffins at Sunday breakfast or french toast as a surprise weeknight supper. When you're on vacation and staying with Embassy Suites, everyone in the family gets a free made-to-order breakfast — eggs and omelets the way you want them, cereal, pancakes, fruit . . . you name it, they've got it, so even the pickiest of eaters win!
Hot Topic: How old is old enough for a first cell phone?
Win-Win Solution: There's no "right" or "wrong" answer for this one, since circumstances vary. While Mom and Dad should always be entitled to the last word, perhaps parents and kids can work together to set a realistic timeline that works for their household and a contract outlining where and how the phone can be used. When everyone has a say and feels heard, everyone is satisfied.
Hot Topic: At Embassy Suites, two-room suites (bedroom and living room with sofa bed) are standard, providing parents and kids with two connected-but-separate spaces to spread out and relax. The question is: do you leave the door between the two rooms open or closed?
Win-Win Solution: Factor it into the itinerary. For the perfect balance of shared vs. independent time, set a schedule for when the door stays open (like during TV or game time) and when it gets closed (bed time for kids, quiet time for adults!).
Want to see and learn more from Embassy Suites' "Pretty Great Family Debate?" Check out the videos.