Facebook Rejects Photo of Sick Child
Father Told Photo of Sick Child Is Too "Scary" For Facebook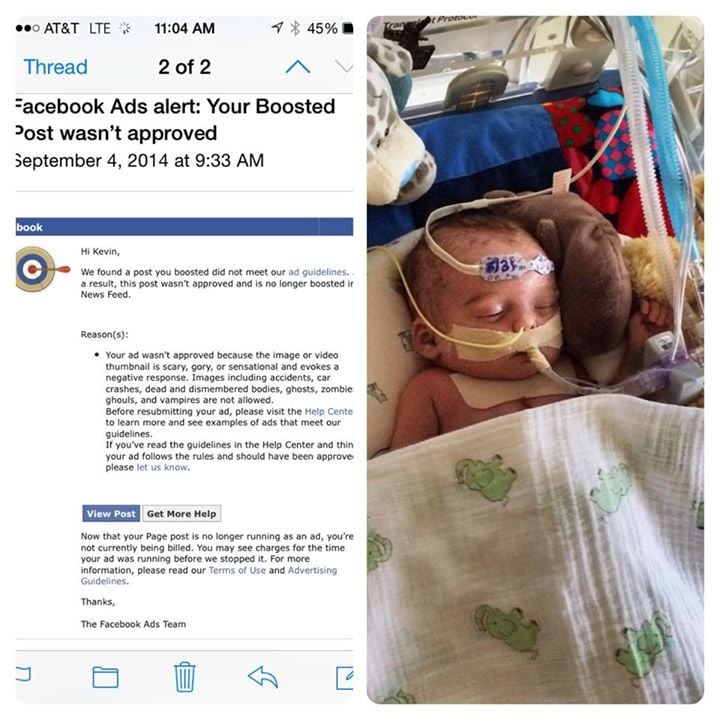 No parent wants to hear negative comments about their children's photos — especially when the pictures are being used for an important cause. But that's what happened when Kevin Bond shared a photo of his son Hudson on social media. After being told that his newborn son needed a heart transplant, the North Carolina dad created the Facebook page Hudson's Heart to raise awareness and, hopefully, money to help pay for the procedure. Bond even tried to spread the word beyond his family and friends by paying $20 to boost the post from his page. But shortly after submitting a request, the father received the following message from Facebook:
"Your ad wasn't approved because the image or video thumbnail is scary, gory, or sensational and evokes a negative response. Images including accidents, car crashes, dead and dismembered bodies, ghosts, zombies, ghouls, and vampires are not allowed."
Bond was shocked and saddened, telling a local news station that he cried while reading the company's rejection e-mail. He tried filing an appeal through a provided link and even reached out to Facebook directly, but had no luck in getting his message out to the millions of users.
"He's my son, I love him," Bond says. "To have someone reject a picture… [of] my beautiful son lying in a hospital bed needing help — that really cut me."
Facebook representatives eventually released a statement about the incident. To see what they said, read the full story on Huffington Post.
Source: Facebook user Hudson's Heart; Front Page