Girl With Autism's Letter to Her Mom
The Heartbreaking Reason a Young Girl Thought Having Autism Made Her "Bad"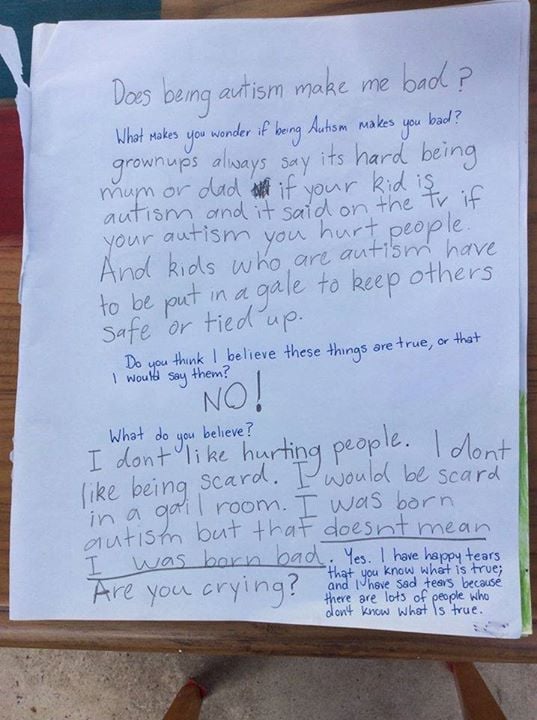 A 7-year-old girl with autism had a serious question for her mom, and she asked it in a heart-wrenching way — by writing back and forth on a piece of paper from under her teacher's desk at school.
Cadence, who often sits under the desk when she wants to feel safe, asked, "Does being autism make me bad?" and worried that she was hurting people. She even wrote about her fear of being restrained or tied up to "keep others safe."
Turns out, according to her mom, Angela, the little girl held onto these upsetting beliefs after "overhearing other well-meaning parents" and watching negative news reports in their native Australia about children with autism. Cadence's words reduced her mom to tears.
When the little girl wrote, "Are you crying?" to her mother, also huddled under the desk, Angela wrote back, "I have happy tears that you know what is true and I have sad tears because there are lots of people who don't know what is true."
Angela decided to not only share a copy of the moving letter on a Facebook page dedicated to her daughter's struggles with autism, called I Am Cadence, but she also had a strong message of her own:
"Cadence's sensory differences means she hears, sees and observes every detail around her — every conversation, every sight, every smell; as many autistic children do. . . . What 'messages' are children hearing — from ourselves, from other parents, at school, from media and in the general community? And what are the 'take home' learnings, spoken or unspoken, they are internalizing from these messages?"
The post has already been shared 1,200 times, and based on the commenters who've expressed plans to send it to their children's teachers and caretakers, it struck a chord for its powerful lesson that the words people use may deeply affect those children who hear them.