Mom's Letter to Party City Over Girls' Halloween Costumes
Mom Discovers the Depressing, Sexist State of Girls' Halloween Costumes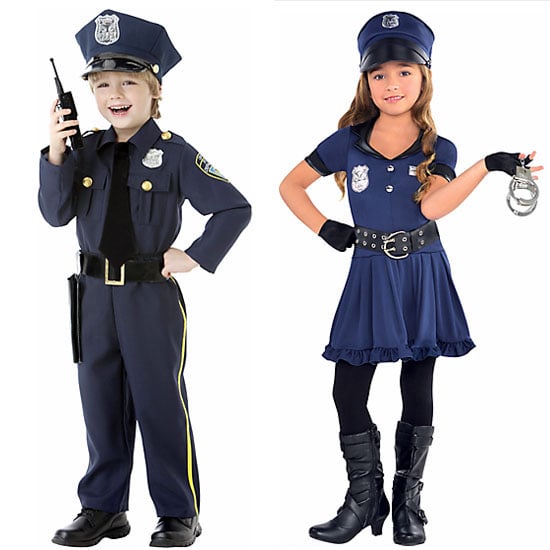 When mom Lin Kramer went looking for a Halloween costume for her 3-year-old daughter, she was disturbed by what she found. And, no, it wasn't that she happened upon a terrifying disguise — what she discovered was far more upsetting. While browsing the inventory on Party City's website, she was shocked at how the national retailer determined which costumes were suitable for boys and which were appropriate for girls.
In the "Toddler Costumes" section, she saw a glaring discrepancy in occupation-related offerings. In the boys' category, she counted 16 career-minded options. As for the girls? Aside from shockingly sexualized versions of vampires, that is? Only three — and that's if you include a cheerleader and a skirt-wearing cowgirl.
Disappointed, she penned an open letter to Party City on Facebook:
Her key example compared a girl's police officer costume — complete with a V-neck, fingerless gloves, and heeled boots — with a boy's cop costume, which looked like what a real-life cop (male or female) would wear on the job. The side-by-side of the two looks was telling.
And that was before even reading the costumes' descriptions. As Kramer noted, Party City used language like "cute cop" and "sassy and sweet" for the girl, but for the boy, noted it was a "realistic scaled-down police shirt."
These distinctions aren't just deeply troubling to Kramer. Parents of daughters likely face this form of gender stereotyping — never mind the oversexualization of young girls — every time they go searching for a Halloween costume, at Party City or elsewhere. And the saddest part is that this form of sexism is completely avoidable.
"Your company could easily include many, if not all, of the costumes you have in the boys' section as options in the girls' section as well," she wrote. "And surely, having observed female doctors when walking down the halls of a hospital, or female construction workers when driving down the street, or female postal workers when mailing a letter, it is reasonable to believe — both from a sociological and business perspective — that there are girls who might be interested in such costumes just as there are women who are interested in these professions."
We hope Party City gets the message — or else a lot of girls will be showing up on Halloween in a DIY version of their dream job, whether that's an astronaut, a teacher, or a regular, run-of-the-mill, pants-wearing police officer.