New York Rangers Sign 15-Year-Old Player
New York Rangers Sign 15-Year-Old to the Team — For a Good Cause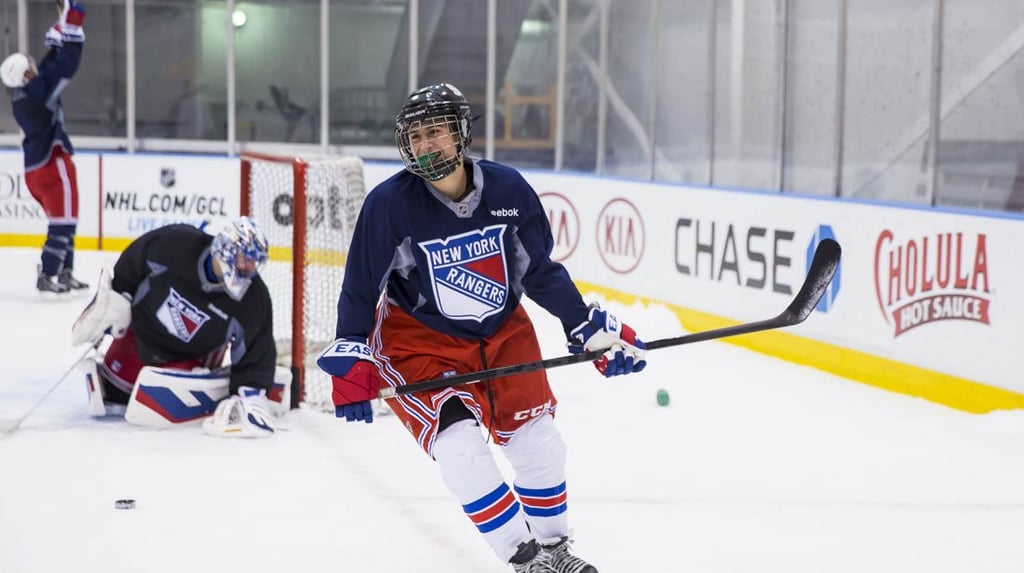 Fans of the New York Rangers may notice a new player in the lineup. Today the team signed 15-year-old defenseman Chris Falzone, who will take to the ice tomorrow night. But it isn't the teen's athletic abilities that earned him a spot on the New York hockey team. Rather, it's his ability to overcome the odds.
A few years ago, right before trying out for his high school hockey team, Falzone was diagnosed with cancer. At the time, doctors said he would never be able to play again, as his disease required chemotherapy and a hip replacement. But luck was on Falzone's side, as he was able to replace a surgery with a full-body cast. Throughout the treatment, hockey kept Falzone sane, strong, and hopeful. He would watch his beloved Rangers, despite being treated in Philadelphia Flyers territory, and used the sport as motivation to push through physical therapy sessions. In July 2014, doctors gave him the go-ahead to lace up his skates.
Now, Falzone's hard work is being rewarded. Thanks to the Make-a-Wish Foundation and Garden of Dreams Foundation, he will take the ice with the Rangers in their matchup against the Pittsburgh Penguins on Dec. 8. The game is part of Garden of Dreams Week, which is meant to "help raise awareness for the Garden of Dreams Foundation and to make dreams come true for children facing obstacles." The team shared the news of their new player during a press conference today.
#NYR Legend Adam Graves and new Blueshirt Chris Falzone sign his 1 day contract. @gardenofdreams #GDFWeek2014 pic.twitter.com/16LwP8V2fD

— New York Rangers (@NYRangers) December 8, 2014
New #NYR Chris Falzone will wear #14 with the Rangers! @gardenofdreams @MakeAWish #GDFWeek2014 pic.twitter.com/yhjU3WSJxs

— New York Rangers (@NYRangers) December 8, 2014
All we can say is go No. 14!