Nonalcoholic Fall Cocktails
5 Fabulous Fall Mocktails For Moms-to-Be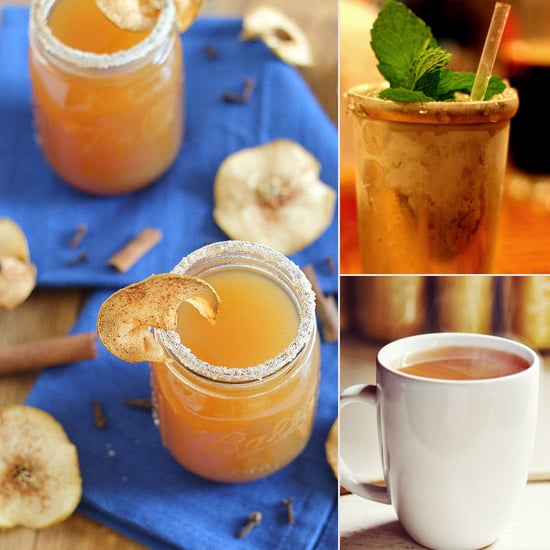 Just because alcohol's off the menu doesn't mean that moms-to-be can't get in on some festive Fall fun. We've found (or adapted) five Autumn-inspired mocktails that are sure to satisfy your thirst for a seasonal sipper. Added bonus? You can share these drinks with your kids. It's enough to make you want to throw a party . . . or at least invite a friend for a nonalcoholic happy hour!
Apple Cider, Cranberry, and Ginger Punch

Apple cider, cranberry, and ginger punch makes a beautiful drink (and the perfect complement to your apple orchard bounty), and you can add gin for liquor-drinking guests.

Pomegranate Blueberry Mocktail

Annie's Eats' pomegranate blueberry mocktail has a deep, rich color, perfect for the holidays. Add fresh or frozen blueberries to pomegranate soda, pomegranate juice, and white grape juice, and use lemon slices to garnish.

Keep reading for more Fall-ready mocktails!

Infused Maple Cider

Infused maple cider gets a boost from orange juice, cinnamon, and apples. Put it on to simmer before your guests come over, and the entire house will benefit from its inviting aroma. Add in some apple liqueur and maple-flavored whisky for your boozing buddies.

The Elixir

The mixologists at The Kitchn were lucky enough to score NYC hot spot Eleven Madison Park's secret formula for the elixir, a light ginger-lime mocktail.

Apple Cider With a Hint of Orange

The orange extract and sugared rim in this cider concoction are fun, tasty twists. While the original recipe calls for the addition of rum, simply eliminate it for a pregnancy-friendly bevy. Serve with homemade apple chips for an even sweeter touch.