Paper Graduation Dress up For Auction
Why This Girl's High School Graduation Dress Is Being Auctioned Off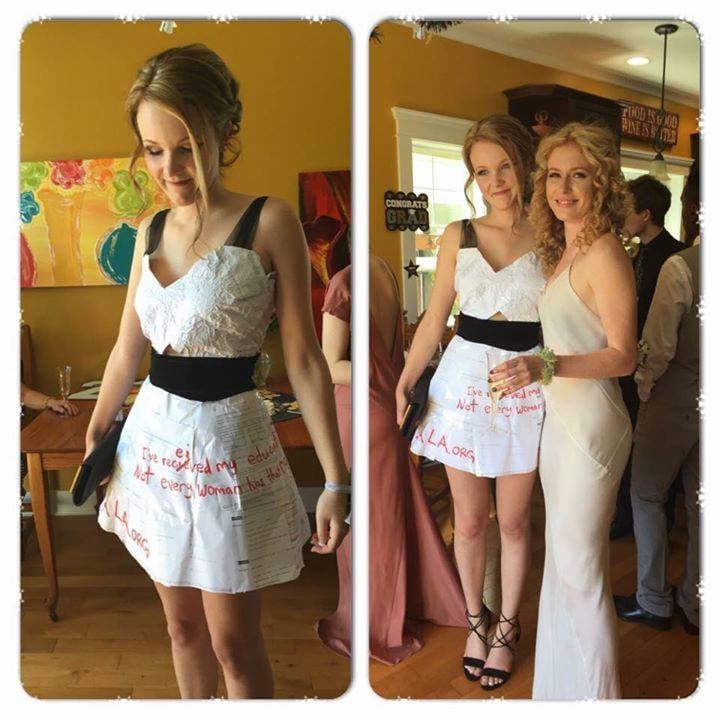 When people talk about statement-making dresses, this isn't exactly what they mean. Canadian high school student Erinne Paisley wore a paper dress – made out of her old math homework – to her graduation ceremony at Reynold's Secondary School. The reason? To raise awareness about the millions of girls around the globe who don't have access to education.
"I've always had a passion for activism, especially education and women's rights," Paisley wrote on an online auction site, where she's placed the dress with a starting bid of $100. "I decided to make my dress because there are 62 million girls around the world who do not receive an education and are not allowed to receive an education and that number is about double the population of Canada."
On the dress in red marker, she wrote: "I've received my education. Not every woman has that right. Malala.org."
Her goal is to raise funds for the Malala Fund, a foundation started by Nobel-prize winner Malala Yousafzai, who was shot by the Taliban for going to school.
"The only goal of this auction is to help raise more awareness and more funds for an incredible organization that helps young girls gain access to an education," she said. "Perhaps the dress could be used for a school demonstration or as a learning tool? Perhaps there is a group out there that focusses on teaching young girls about self esteem and equal rights who could use this dress as a launching point for discussion?"
The bidding is now up to $575.