Pumpkin Parmesan Pasta Recipe
Taste of Fall: Pumpkin Parmesan Pasta Bake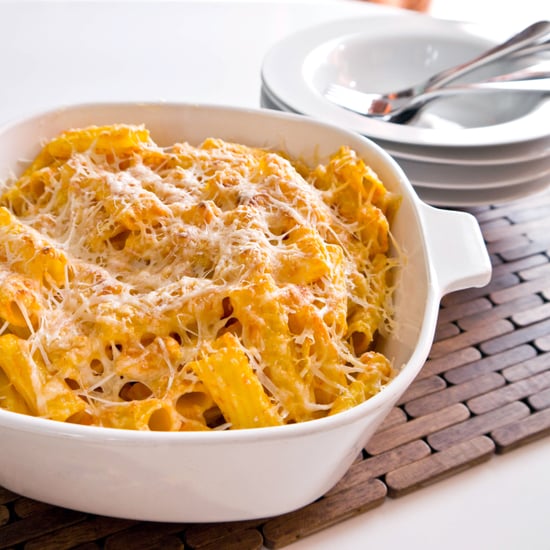 Pumpkins aren't just for carving or baking into a sweet pie. Celebrate the season with a pasta dish that's comforting, creamy, and full of flavorful pumpkin. And pumpkin is packed with healthy carotenoids and high in protein and vitamin A. Instead of covering up the pumpkin, enhance the flavor with a dash of Italian seasoning and keep the calories low by using milk instead of cream in this tasty pasta bake. Invite your tot into the kitchen to help mix, stir, and sprinkle, making this dish even more special.
Keep reading for the easy directions.
Pumpkin Parmesan Pasta Bake
From Sarah Lipoff, LilSugar
Ingredients
16 ounces rigatoni
1 small onion
1 clove garlic
1 tablespoon butter
1/4 teaspoon salt
1/4 teaspoon Italian seasoning
1 tablespoon flour
1 cup pumpkin puree
1 cup whole milk
1/2 cup shredded Parmesan cheese
Directions
Preheat the oven to 425°F. Fill a large stock pot with water and bring to a simmer. Add the pasta and boil until al dente.
Dice the onion and garlic.
Begin melting the butter in a small sauté pan over medium heat; add the onions and garlic and sauté for about five minutes, until onion and garlic are translucent and just starting to brown.
Open the can and invite your child to scoop and measure the pumpkin puree. Next, help her measure the salt, Italian seasoning, and flour.
Add the salt, Italian seasoning, and flour to the onions and garlic and carefully stir to incorporate. Next, add the pumpkin puree to the pan, stirring it together. (Offer adult assistance as needed when working near the stove with kids.)
Then, help your child carefully measure and add the milk to the mixture. Once again, give a gentle stir until incorporated and then remove from heat.
After straining the pasta, place it in a large casserole dish. Cover with the pumpkin sauce and stir until the pasta is coated. Invite your child to sprinkle the shredded Parmesan cheese over the pasta and then place in the hot oven for 10 minutes or until the cheese has melted.
Makes six large servings.
Information
Category

Pasta, Main Dishes

Cuisine

North American