Straight Friend Asks Gay Friend to Prom
Everyone Needs a Best Friend Like This Boy Who Asked His BFF to Prom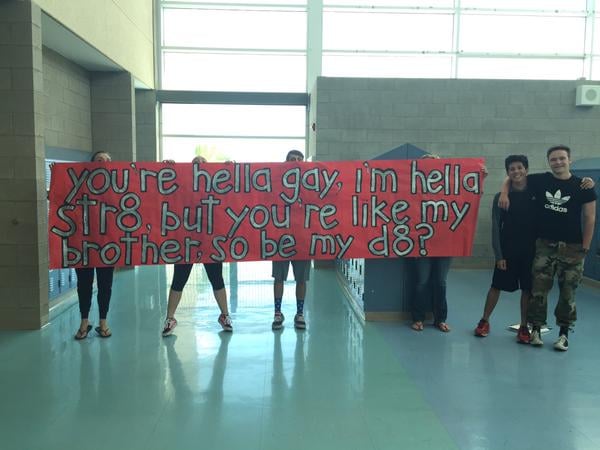 Being a teenager is already hard enough, but with the rise of promposals on social media — usually featuring teen couples holding large, pun-filled signs — there is even more pressure to deal with when asking your dream date to attend the iconic life event with you.
I DONT WANT TO DATE YOU I JUST WANT A GUY AS A DATE TO PROM. I ALWAYS HELP WITH DANCES ITD BE NICE TO GET ASKED TO ONE.

— 💙Anthony N. Martínez🐺 (@AnthonymNV) April 21, 2015
Jacob Lescenskii saw his best friend Anthony's Twitter plea for a male date to their high school prom and decided to ask him, despite their different sexual orientations.
Guess who just got asked to prom by @JacobLescenskii pic.twitter.com/eDrTRkX7fp

— 💙Anthony N. Martínez🐺 (@AnthonymNV) April 21, 2015
Obviously, Anthony was thrilled. He said "yes" and shouted from the top of the social media rooftops, sharing his joy with anyone who would listen.
And the Internet not only listened but also responded perfectly.
@anthonyseXC Every time I begin to despair for humanity someone lights a candle to push back the darkness. Have a great prom.

— Rillifane (@Rillifane) April 24, 2015
@jacoblescenskii just the coolest! way to make @anthonyseXC a happy guy! Mad Respect!! Have fun at prom!!

— Joe Bielawa (@joebielawa) April 24, 2015
Have a great prom, boys!