Stranger Takes Photo of Mom and 4 Kids in Grocery Store
Why a Stranger Offered to Take a Photo of a Sweaty Mom and Her 4 Kids in the Supermarket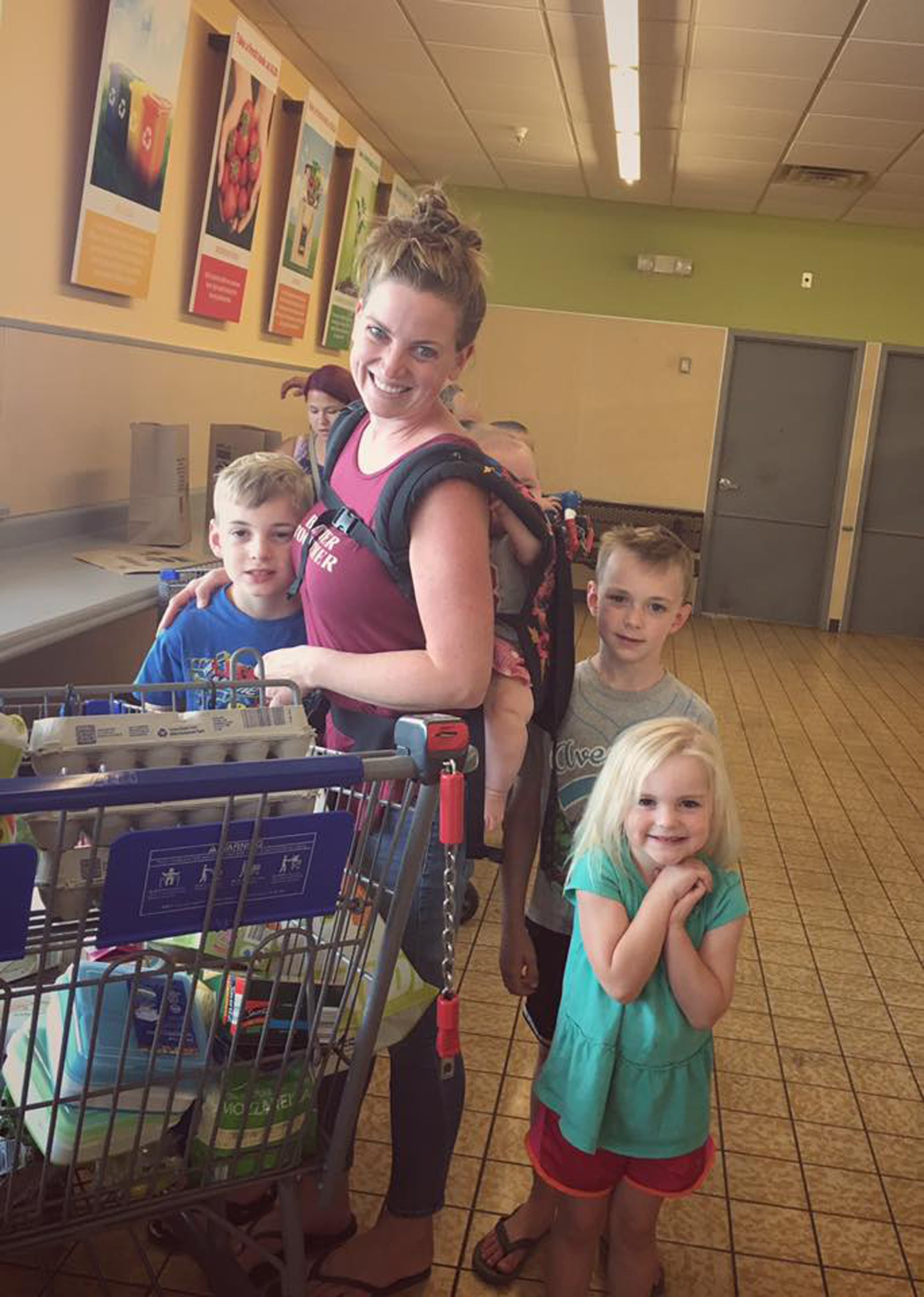 Jess Wolfe was in the midst of a semistressful trip to Aldi in which her baby was strapped to her back, her 3-year-old was begging for a doughnut to ease her stomachache, her 6-year-old was using ordinary objects as weapons, and her 7-year-old wanted to spend his own dollar on something in the store. While she was at the checkout, hoping to get out of the store quickly and with her brood in tact, a stranger approached her to ask a question.
"While I was bagging up my groceries (thanks Aldi) and trying to quietly keep from losing my ever loving sh*t, the lady next to me asked if I have one of those phones that takes pictures," Wolfe wrote in a post to Facebook. "Trying not to convey my annoyance to someone else adding to the million questions that make up my day, I replied that, yes I do have one of those fancy phones. She asked to take a picture of me with the kids."
At first, Wolfe was a bit confused. Why would this woman want to snap a photo of her and her kids in a grocery store together? The stranger explained that she wished she had more photos of her and her kids doing everyday things, so Wolfe, convinced, posed with her little ones and their shopping cart.
The mom ended her post with a note about what the kind woman — who totally changed the course of an otherwise ordinary day with her kids — had to say and why this photo is now so important to her: "She validated the fact that a simple grocery trip is hard. She told me that what I do matters. She doesn't miss what made the days hard, but she misses what made them sweet. I will always cherish this picture and the message that came with it."