UPPAbaby Stroller Recall
Stroller Recall Alert: Your UPPAbaby Gear Might Put Your Child at Risk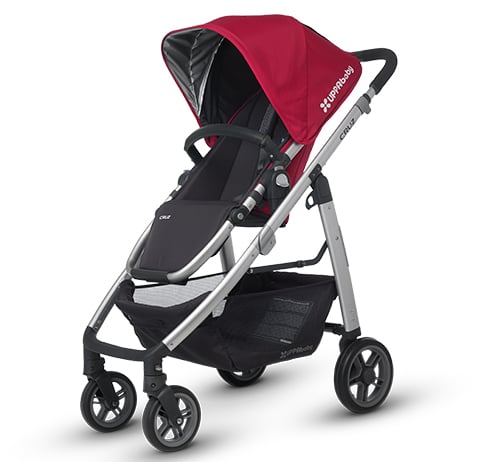 If you own the most recent model of an UPPAbaby stroller, your child might be at risk.
After the Consumer Product Safety Commission announced the recall of 71,000 strollers and accessories — specifically the 2015 Cruz and 2015 Vista strollers and the 2015 RumbleSeat — after the brand received 22 reports of "children biting off a piece of the bumper bar foam." Although no injuries have been reported, it poses a serious choking risk.
Thankfully, the remedy is relatively simple: "Consumers should immediately remove and stop using the bumper bar on these recalled strollers and RumbleSeats and contact the firm to receive a free bumper bar cover and warning label."
Unsure if your stroller is affected? A full list of model numbers is available on the CPSC government site. Otherwise, read on for a complete description of the recalled units, which retail at $500 for the CRUZ stroller, $860 for the VISTA stroller, and $170 for the RumbleSeat:
The CRUZ strollers have an aluminum alloy grey or black frame with a black fabric toddler seat with a colored fabric sunshade canopy and a black basket under the seat. The UPPAbaby name and logo are printed on the side of the canopy and "CRUZ" is printed in white lettering on the handlebars of the stroller. The VISTA strollers have grey or black aluminum frames, colored sunshade canopy and are made to hold one, two or up to three children. VISTA is printed in white lettering on the handlebars of the stroller and UPPAbaby is printed across the bottom diagonal rail of the stroller frame next to a black, fabric basket. The RumbleSeat is a separate seat attachment that can be attached to the stroller frame. RumbleSeats have manufacture dates stamped on the bottom of the seat from September 2014 through May 2015. The RumbleSeat comes in various colors and allows the child to ride rear facing, forward facing or reclined. All of the strollers and RumbleSeats have a foam bumper bar across the middle of the product for the child to hold.
If you'd like more information, contact UPPAbaby customer service by calling toll-free at (844) 540-8694 from 9 a.m. to 5 p.m. EDT Monday through Friday or by emailing contact@uppababy.com.