When Is Chili's $3 Margaritas Deal?
You Can Officially Get $3 Margaritas at Chili's For a Day, and Yes, We'll Cheers to That!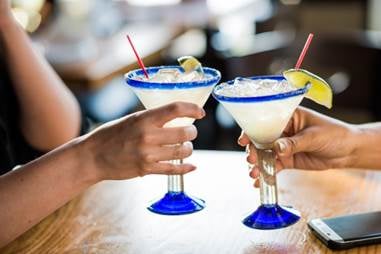 Gather round, tequila-lovers: Chili's is offering loyal patrons a pretty sweet deal for its birthday on March 13: Presidente Margaritas for $3.13 each.
If you're not familiar with exactly what this Chili's staple entails, that's OK, we're here to help. This delicious cocktail has been around since the '90s and consists of Sauza Conmemorativo Tequila, Patrón Citrónge Premium Orange Liqueur, and Presidente Brandy along with a healthy dose of sweet and sour mix to top it off before it's shaken.
And though it only takes one or two of these bad boys to get you buzzed — we'd be lying if we said they weren't strong — the timing is perfect. Because guess what day of the week March 13 is? A Tuesday. So gather your squad and head to Chili's for a full night of tacos, margs, and happy-hour apps to blow off some steam. Talk about a birthday celebration!