Why Breastfeeding Moms Shouldn't Be Hard on Themselves
1 Woman's Selfie Nails Why Breastfeeding Mamas Shouldn't Be So Damn Hard on Themselves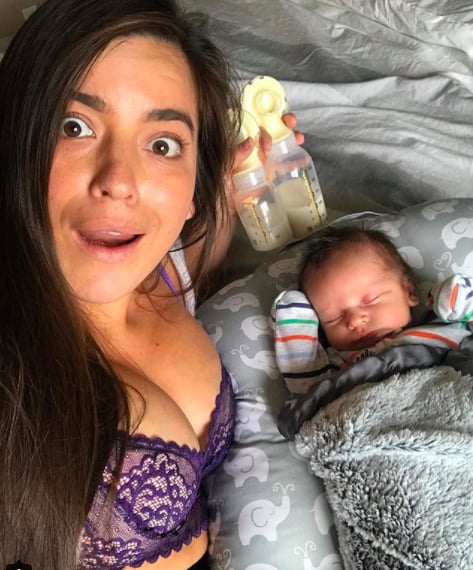 If mothers can agree on one thing at all, it's that each woman's breastfeeding journey is a personal one. Amy Kiefer, a mother of two from Wisconsin, decided to share her trials and tribulations in an Instagram post that's all too relatable for any woman who didn't feel the "magic" the second their new bundle of joy latched for the first time.
"Breastfeeding is NOT easy for this mama," she wrote. "If you're like me and have some early struggles with your little babes, the beautiful bonding part comes later. That is more than OK! Heck, you might never love it or feel that bonding thing everyone talks about, and then more power to you for sticking to the tough job!"
She also opened up about how your breastfeeding experience can vary tremendously from baby to baby — and that's perfectly normal. "With my first-born I had extreme, toe curling, face-crinkled (read: crying) nipple pain. Maxwell had tongue tie and my nipples were wrecked. We didn't breastfeed pain free until he was eight weeks [old] and reflecting back, I feel like a badass for making it through that mess."
Fortunately for Amy, the second time around the block went a lot smoother in the nipple pain department; however, another issue cropped up that she never thought she'd deal with in a million years: a milk oversupply.
"Our biggest problem is my freaking Pam Anderson boobs that super soak [the baby] during each feeding. Even with my best efforts (and lactation consultant recommendations), the girls have no quit. I know most people think it's a super amazing problem to have, but unless you've walked a mile in someone's mega boobs . . . you don't understand it. It is an enormously time consuming and uncomfortable issue that doesn't exactly fit into our two under two situation."
Oversupply is no joke, so keep preaching, sister.
She left her followers with a a few sweet words of encouragement that every mama needs to hear in moments of frustration. "So heck, you guys, don't be so hard on yourselves, your breastfeeding issues, or your supplies! Stop comparing yourself to other mamas and just ride your own breastfeeding ride. Cheer for each other, listen to each other, encourage each other and anyone else that is raising a little person . . . we got this wild and beautiful mess."