Why I Don't Cook Dinner For My Kids
I Don't Cook For My Family, but It's Not Because I Don't Love Them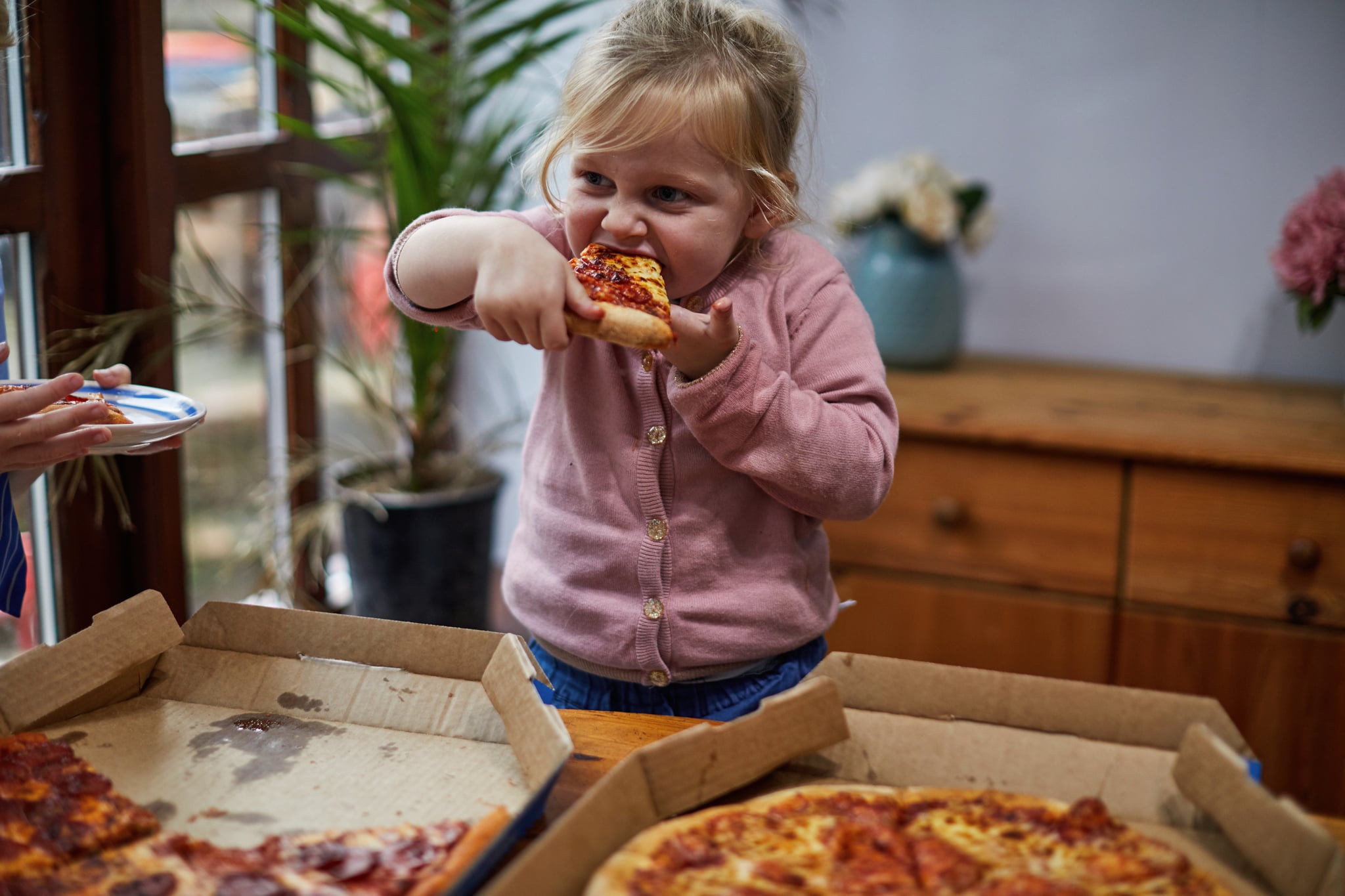 I am a stay-at-home mom who doesn't really cook for my family. It's not that I have never cooked for my four kids and my husband. In fact, I truly enjoy cooking . . . when I have the time. The thing is, I don't. And I've learned preparing a homemade meal every night doesn't make sense for where we're at as a family. Let me explain.
I'll start with the time aspect. My husband works far away, so he's not home in time to help out with our four young kids (ages 10, 8, 5, and 9 months) while I prepare a full meal. I've tried to pull it off by myself. I'll put my baby in his bouncer while I gather ingredients from the pantry and refrigerator. But by the time I have completed that task, he's already whining and wanting to get out. I'll enlist one of my older kids to watch him so I can boil water, saute veggies, and cut up fruit. They're great helpers! But it only lasts so long. They have homework, friends, and activities, which I'm usually running them to. The evenings are super busy, so I can only count on my mini babysitters to jump in and keep their little brother from pulling a chair down on himself or eating a Shopkin for a short time. Meanwhile, I'm running around the kitchen, attempting not to burn something. It's a lot — and just not worth the stress.
Let's say I do manage to get a home-cooked meal on the table. Wait, back up. Let's say I had time to get to the store to shop for what we'd need for a home-cooked meal. No, actually, let's say I was able to research a recipe to try. If all of that happened, it's a miracle! And then, the kids will look at what I have prepared and ask, "Um, what is this?" They might poke at the chicken parmesan, which I have attempted to sell as "pizza chicken". Two out of three (my little guy doesn't have teeth yet!) will try the vegetarian chili. But chances are, if it's a new recipe, my unadventurous eaters aren't feeling it. And now I've stressed myself out for a meal that goes mostly uneaten.
"If their mom is pulling her hair out over a quiche, who wins?"
I find it's far easier and less overwhelming to prepare things I know my kids will eat. This is mostly frozen pizza with a side of cut-up strawberries, for example. Or, quick grilled cheeses and carrot sticks. I might do chicken nuggets with apple sauce and garlic bread. Yeah, the kids eat meatballs, but you better believe they come from the freezer section! The reality is I just don't have the time to make homemade meatballs these days. When the children are older, and I can cook without the fear that my baby will hurt himself while I'm busy stirring sauce, I plan to do so. For now, I need to focus my attention on my kids and keeping them safe, on schedule, and happy. And if their mom is pulling her hair out over a quiche or suffering from severe guilt about having served boxed macaroni and cheese rather than homemade, who wins?
I still try really hard to serve healthy foods to my kids. I'll buy nuggets made with antibiotic-free chicken. I do the organic produce thing. They eat whole-wheat bread and hormone-free dairy products. But yes, I use the microwave far more than the oven. There are nights the kids end up with cereal for dinner. And sometimes I feel guilty when I resort to another pizza night. But the kids are happy! They are fed. And when I do have time to cook for my family, like on a weekend night when my hubby is around, I do. That way, the kids are still exposed to new foods, like crock pot lasagna or chicken pot pie. It just doesn't happen every night.
"But yes, I use the microwave far more than the oven."
As for me and my husband, it's tough because he gets home so late. I'm not the wife who has a hot, homemade meal at the ready. We eat takeout a lot, and other times it's survival of the fittest! I'll throw together a salad for myself and top it with tuna from the can. He gets home and heats up a frozen burrito. But it's real food, so that's a victory. The really tough nights are when I shove some chips and hummus in my mouth around bath time, and as I'm going to bed, realize that's all I had time for. And while life may be hectic and crazy right now, I know I'll miss these days. Sure, when my kids are grown up, I'll have time to really enjoy cooking all those yummy recipes I see on TV. And I'll enjoy eating them more! But the house will also be quieter and emptier.
To all the working and SAH moms out there who do prepare homemade meals for their families each night, I bow down to you! I don't know how you do it (share your tips!). Right now, I'm about embracing my reality, which consists of Texas toast Tuesdays (cheese melted on thick bread) and a good, ol' taco night once a week (taco shells, precooked, precut chicken, lettuce, and shredded cheese). If you're a microwaving-, ordering-out, pizza-delivery-mom like I am, I'll say this: don't stress! If most nights your kids are smiling, laughing, and enjoying a family dinner together, no matter where it came from, no matter if it's healthy-ish rather than perfectly nutritious, well, that's a beautiful thing if you ask me!