Why I Help My Kids With Their Homework
Sometimes, I Give My Kids the Answers to Their Homework — and I Don't See the Problem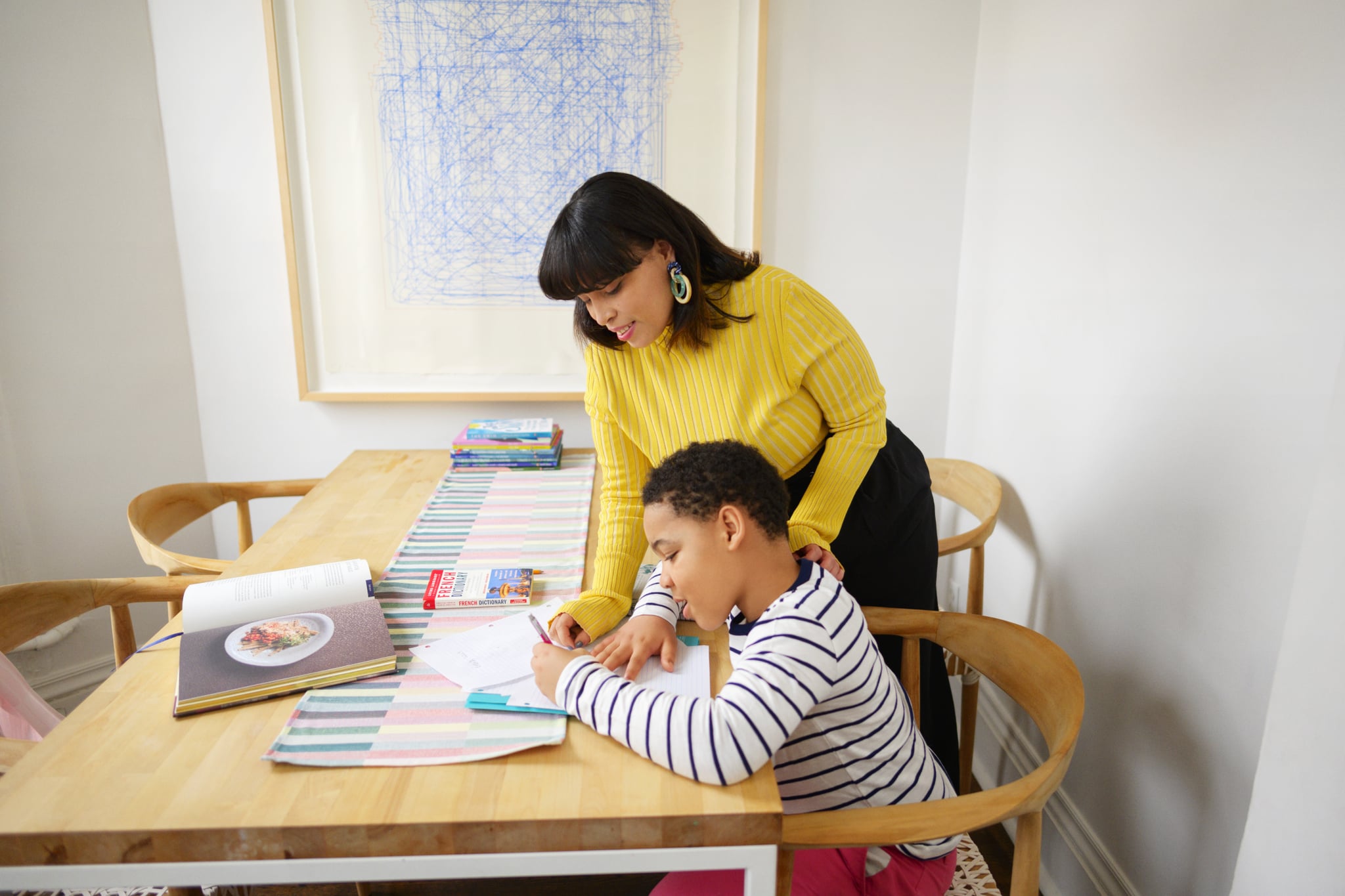 I sometimes help my grade-school-age daughters with their homework. I don't feel guilty about it, because there are nights when our family simply has other priorities. Like when my kids are exhausted (and seriously need to go to bed!), I might suggest a sentence for a vocabulary word. Or if I determine one of my girls would be better served by spending some time winding down, I'll 100 percent offer up an answer to a math problem. Keep in mind my daughter has probably done 10 problems on her own before I get involved. I never do my kids' homework for them. I'm not taking a worksheet into my office and returning it to them, completed. But I'm willing to lend a helping hand when they need it because I think it best serves the needs of my kids. I know it might not be the right move for every family, but it's what's best for mine.
Here's a typical scenario when I will help out significantly with homework: Let's say my second grader did her homework independently for the past two nights. Tonight, she's super tired and getting frustrated easily with the reading comprehension sheet. I'll sit down and read the passage to her. Then, I'll go over the questions and the multiple-choice answers. If she isn't sure of a response, I'll suggest why I think a given answer is correct and ask for her opinion. Then, I'll ask her to try the next question on her own. If she is still super frustrated, I'll write a note to the teacher and say we stopped doing homework so she could go to bed. At that point, a good night's rest will serve her far better than completing a homework assignment.
A different situation when I'd get involved with the homework is if it's a beautiful day. I always encourage my girls to play outside and get some exercise when it's nice, so they'll be swinging, jumping on a neighbor's trampoline, and riding their bikes . . . and often, we lose track of time. Now, it's late, and they still need to do their homework. In this instance, I'll give my kindergartner an idea to focus her on her spelling story, and maybe even help her write it, just so we can get it done. Likewise, I won't hesitate when my fifth grader asks me to confirm if an answer on her math worksheet is right. Typically, I prompt her to check her own work by doing the problem again. But sometimes, I think it's OK to offer up help, rather than repeat my go-to refrain of, "You tell me." Because I believe kids need to be kids — and that time outside in the fresh air is as valuable as reading, writing, and arithmetic.
If there's a test coming up or one of the kids has been struggling a little in a particular subject, it's no-nonsense time, and I expect my kids to focus and do their work themselves. And ultimately, my homework philosophy is that it's the kids' responsibility, not mine. But because they're still so little, and because, frankly, teachers can sometimes assign a lot of homework, I think it's perfectly acceptable for me to act as a resource. I'm here to monitor how much time and effort the kids are putting into their homework, for an appropriate result. Crying or getting super upset over math is going to turn doing homework into a negative experience. I've found it produces far better results and rebuilds their confidence if, when warranted, I help my child. And in some cases, yes, I'll just give them an answer or two if they spent an hour answering 20 problems on their own. Because, enough already! Time for Mom to guide you through the rest so we can move on with the night and get to bed.
Of course, given the recent college admissions scandal, it is top of mind that kids should learn early in their schooling that they're accountable for their own academic success. This will definitely inform how I approach any homework help I offer moving forward; you're not going to find me writing essays or completing science projects. But I'll still happily help for now, when the goal is to achieve life balance for everyone living under this roof (including myself, since I'm most impacted when the kids are overtired or underexercised!) to the degree that I can . . . without putting my name at the top of the assignment.
Image Source: POPSUGAR Photography / Evan Kheraj