Like most kids, 8-year-old Rhode Island native Dorian Murray has fantastical dreams of stardom and fame. Unlike a lot of his peers, however, Dorian has been battling rhabdomyosarcoma, a rare form of cancer that affects muscle tissue, since he was 4 — and it's recently become apparent that it's a battle he cannot win.
Despite his tragic circumstances, Dorian is intent on fulfilling his dreams of becoming famous . . . specifically in China.
The Facebook page Praying for Dorian — managed by his parents — recently shared an exchange that took place between Dorian and his dad, where the boy expressed his inexplicable and hilariously cute desire to be well-known in the country that has the "big bridge," i.e. the Great Wall of China. And, well, it ended up happening.
The Facebook post reached several followers in China, who then spread the word on China's popular social media site, Weibo. One Weibo user, Xu Jin, ended up going to the Great Wall with a sign in support of Dorian, using the hashtag #DStrong. She also sent Dorian and his family a souvenir medal that states, "I have climbed the Great Wall."
Many other Chinese residents have since followed Xu's lead, posing with pro-Dorian signage on the Great Wall. The #DStrong hashtag has even become a massive trending topic on Weibo, making Dorian kind of a big deal in China right now. Wish fulfilled!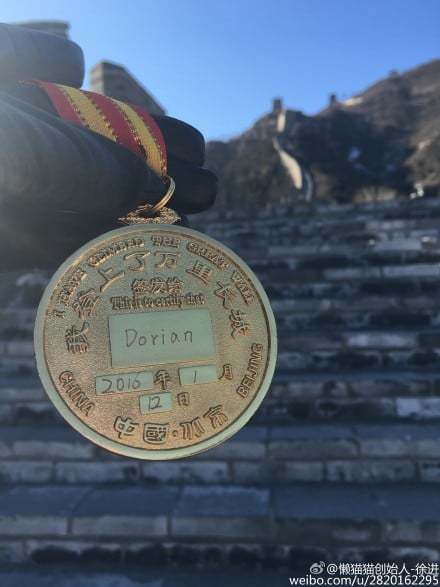 But that's not all! Dorian's story has grabbed the attention of various political leaders in his very own country — like Rhode Island Governor Gina Raimondo, pictured below, and Senators Sheldon Whitehouse and Jack Reed.
Dorian's amazing story not only illustrates the power of social media but human connection and empathy too — the kind that transcends borders.