As POPSUGAR editors, we independently select and write about stuff we love and think you'll like too. If you buy a product we have recommended, we may receive affiliate commission, which in turn supports our work.
Decorating your baby's nursery can be one of the more fun parts of pregnancy — or at least a welcome distraction from all the symptoms. Scrolling through Pinterest, Instagram, and TikTok can give you tons of ideas and inspiration for themes and aesthetics. Of course, the essential part of a nursery isn't the boho rainbows or handmade wooden figurines, as cute as they are — it's the crib. Above all else, your little one needs a safe place to sleep.
But as you create your registry, you'll likely realize crib shopping basically has its own lingo: mini-crib, four-in-one, five-in-one, traditional. It's a lot, and we haven't even gotten to the different finishes and colors that can help you tie your whole aesthetic together.
Seeing a crib in person can be helpful. But some parents-to-be (and baby-shower guests) prefer the ease of online shopping. Luckily, Amazon is full of options. The best one for you will depend on your space, preferences, and baby (though you'll likely have to take your best guess on the last one). But there's no need to lose sleep over all the options. Here are 10 of the best baby cribs on Amazon, as reviewed by parents like you.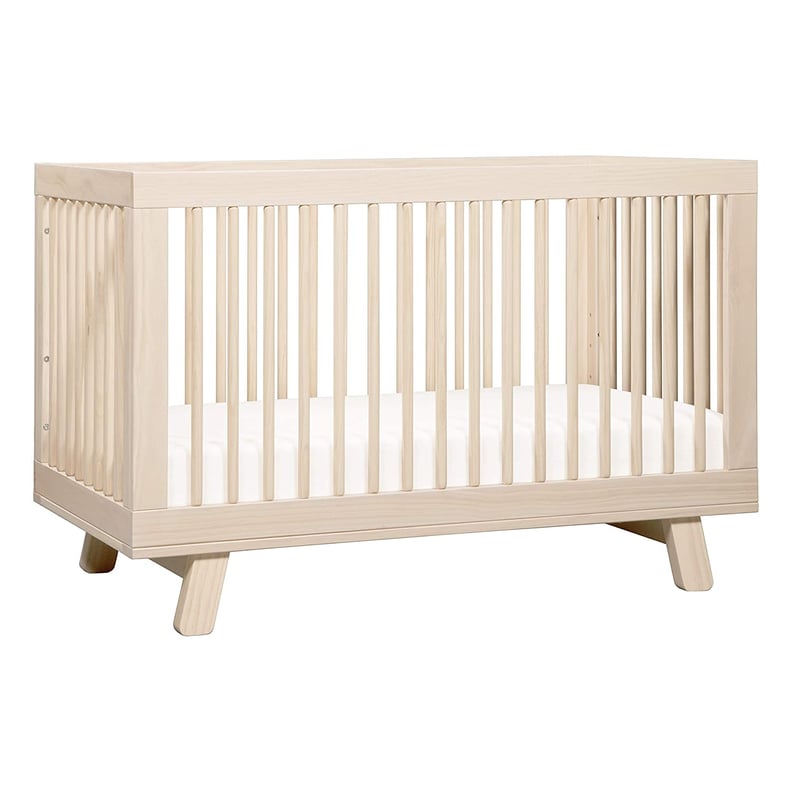 Best Overall Crib on Amazon
Babyletto Hudson 3-in-1 Convertible Crib ($499)
The Babyletto is one of the best-reviewed cribs on Amazon, with more than 2,000 shoppers giving it a 4.8-star rating.
"[The] beautiful true natural wood finish [is] exactly as pictured," one person raved. "[I'm] super happy with this purchase — it seems sturdier than the last crib we had, too. Fairly easy to assemble . . . Just be aware that the finish scratches easily, so be careful when moving. Other than that, no complaints. It's BEAUTIFUL and seems well made."

It also comes with a toddler-bed conversion kit, unlike many other cribs.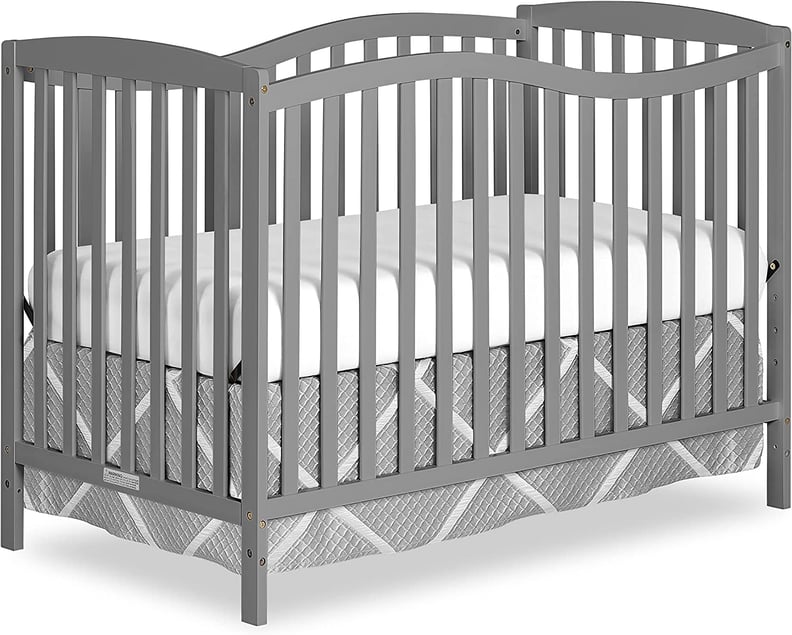 Most Affordable Amazon Crib
Dream On Me Chelsea 5-in-1 Convertible Crib ($156)
At under $160, the Dream On Me Cheleasa 5-in-1 is the most inexpensive option on this list, though it doesn't look it. (We're big fans of the curved top rail.) What makes the crib's price even more impressive is the fact that you can convert it from a crib to a toddler bed, a daybed, or a full-size bed — though you'll need to buy guardrails separately for each transition. Being able to raise or lower the mattresses to four positions extends its lifespan even longer.
Nearly 3,800 previous buyers have given the Dream On Me Chelsea 5-in-1 crib a 4.7-star rating on Amazon.

"This crib is really solid construction and is adjustable to lower the mattress as your baby grows and begins to stand up," a reviewer wrote in April 2023. "Our munchkin is now [a] 1-year-old and still fits perfectly in this crib on the lowest depth setting. We have not yet 'converted' it to drop a side yet."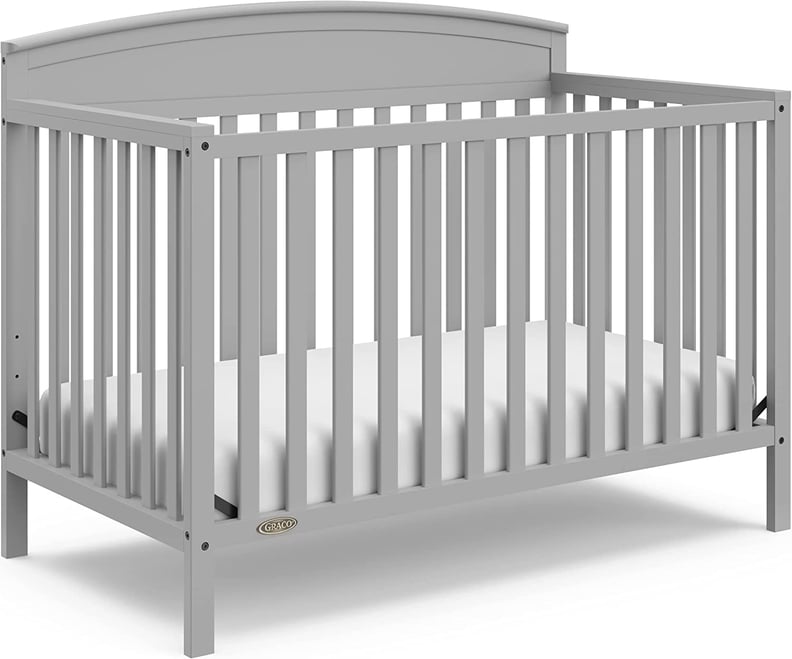 Easiest-to-Assemble Crib on Amazon
Graco Benton 5-in-1 Convertible Crib ($200)
Decorating a nursery? Fun. Assembling a crib? Your mileage may vary, but many parents would prefer to catch a break on this one — and many of the 3,000-plus reviewers on Amazon point to this convertible crib being a cinch to put together. Unlike a baby, it comes with a straightforward manual.
Other perks: the crib converts into a toddler, day, and full-size bed, so you won't have to shop for another sleeping space for your child for a while. The adjustable support base also has four height options — a massive win for keeping mobile littles from climbing out.
"My son is two and in love with his bed," one seasoned parent wrote on Amazon. "It was easy putting it together. I had help from my 15 and 8-year-olds. I love that it will grow with my baby, and I can adjust it whenever I need [it]. The frame is very sturdy and durable, and I make it comfortable by having a microfiber soft-cushioned mattress to give my son that extra touch. I do wish the guard rails that I saw in the instruction images [came] with the frame, but you have to get them separately. All in all, it's a winner for us."
One thing worth noting is that the conversion kit is sold separately, which, while standard across brands, is a pain.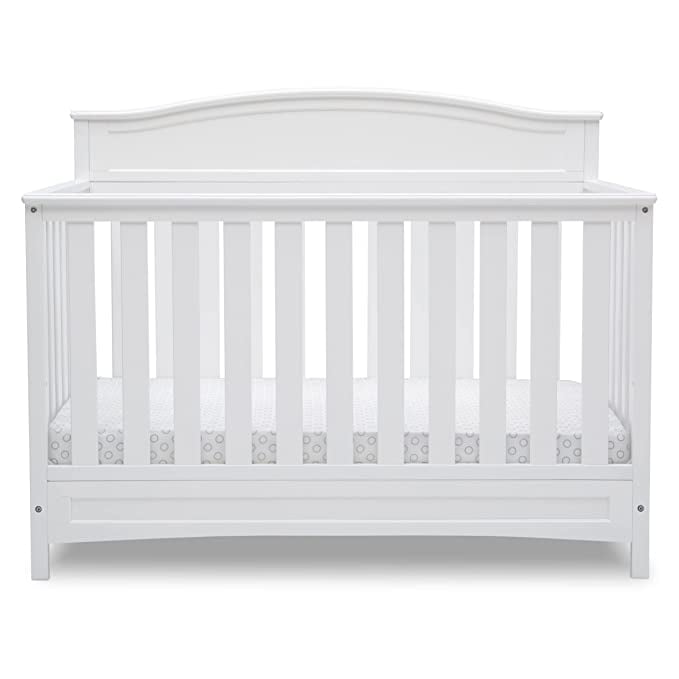 Most Durable Crib on Amazon
Delta Children Emery 4-in-1 Convertible Baby Crib ($250)
The curved headboard and wide slats give the Delta Children Emery 4-in-1 Convertible Baby Crib an elevated appeal. That, combined with the ultradurable materials that reviewers can't stop raving about, means you'll be able to get full use out of the four-in-one feature (from crib to toddler bed to day bed to full-size bed) without having to worry that the bed will begin to look shabby or worn.
Of the nearly 4,300 Amazon reviewers, 93 percent of them are four- or five-star. "It is very easy to assemble — I did it myself [at] seven months pregnant," one handy parent-to-be wrote. "It has a very clear step-by-step, and the furniture itself looks great and feels great."
The reviewer also acknowledged a common through-line in other comments: a chemical smell. "I didn't feel it much," they wrote. "It has a smell like anything new you buy — shoes have a stronger smell when new."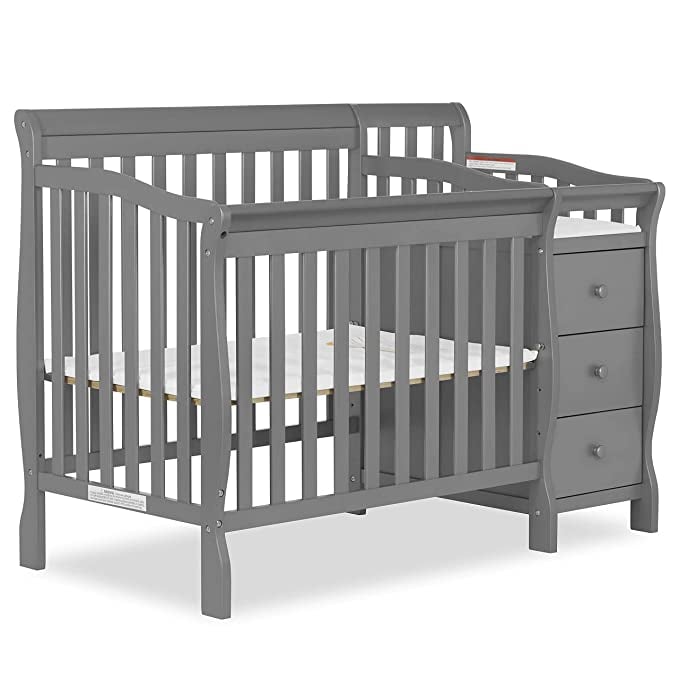 Best Mini Crib For Smaller Spaces on Amazon
Dream On Me Jayden 4-in-1 Mini Convertible Crib ($400)
We love that this option fits a crib and a changing table into roughly the same footprint as a regular-size crib. And the three roomy drawers offer ample (much-needed) storage space.
One reviewer called the crib "nice for small spaces" and noted that it has "plenty of storage," but they also shouted out the brand: "We only use this brand for furniture for our littles, and it's amazing," they wrote. "Easy to assemble and convert. [The] company is very responsive and helps in any way they can if you have issues or loose parts."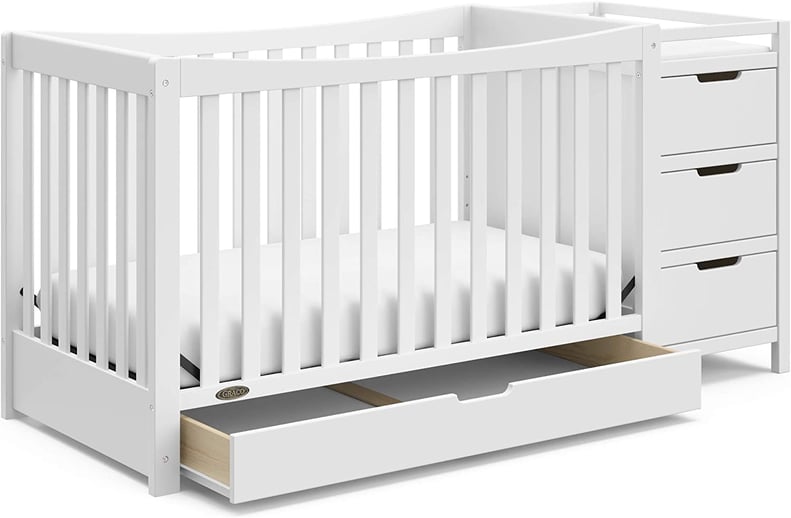 Amazon Crib With the Most Drawer Space
Graco Remi All-in-One Convertible Crib with Drawer and Changer ($500)
This Graco crib has drawers on the attached changing table and underneath the crib itself, perfect for parents looking to hide away extras instead of displaying them on open shelves. Underneath, the two-compartment drawer prevents it from turning into a free-for-all and keeps you organized.
"Easy to assemble, love all the drawers, and I love how everything you need is there for late-night adventures," one previous buyer said.
Amazon Crib With the Best Changing Table
Storkcraft Steveston 5-in-1 Convertible Crib ($400)
There are all-in-one cribs, and then there's the Storkcraft Steveston 5-in-1 Convertible Crib. The tricked-out changing table has a pair of shelves that make storing diaper-change essentials a breeze and a drawer with two compartments underneath the crib to stash other odds and ends.
Other wins: it offers three heights and the ability to convert to a toddler, day, and full-size bed (although the toddler kit is sold separately).
"We have not been able to use the actual crib yet because we have a brand new baby, but the crib and changing table are perfect together," one parent wrote. "We love the room and the shelves with the changing table. It's very sturdy as well. The only downside was that it did not have all the hardware, and we had to go . . . buy hardware."
As for cons, several reviewers did say it was challenging to assemble, so bring your A game (and maybe a few helpers).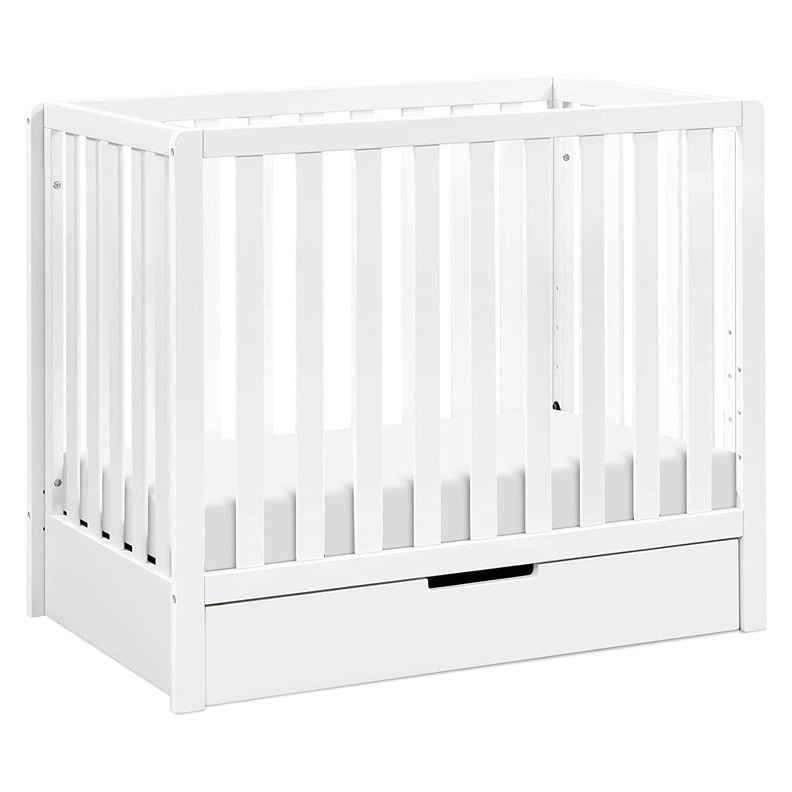 Amazon Crib With the Best Subtle Storage
Carter's by DaVinci Colby 4-in-1 Convertible Mini Crib ($199)
If you want a little extra storage space without bulky attachments that may not work in smaller spaces, consider the Carter's by DaVinci Colby 4-in-1 Convertible Mini Crib, which has the added bonus of being super affordable.
If you buy separate kits, you can convert the mini crib into a mini toddler bed and a twin-size bed; it comes with a daybed conversion kit as is.
"[I] needed a small crib for a smaaaall bedroom space but didn't want to use a pack-n-play," one parent wrote. "This mini crib takes up about the same amount of room as a pack-n-play and is so much more comfortable and cute!!! It's very well built and has higher and lower levels for the mattress. It also has a storage drawer underneath, which is an awesome plus when one is challenged for space."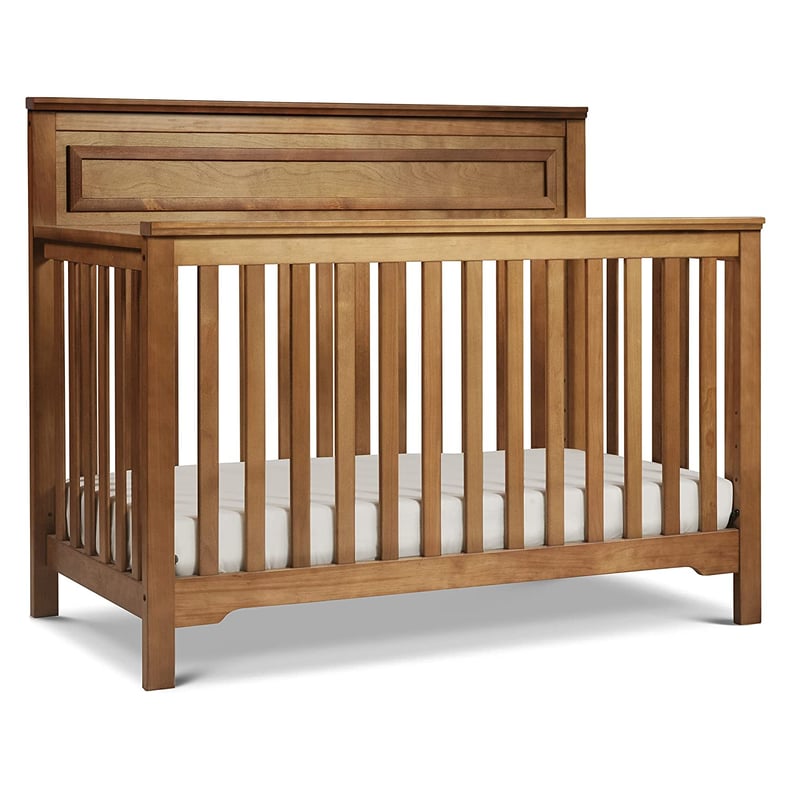 Best Classic Amazon 4-in-1 Crib
DaVinci Autumn 4-in-1 Convertible Crib ($229)
A small, streamlined headboard and straight lines give the DaVinci Autumn 4-in-1 Convertible Crib a classic look suitable for a wide variety of nursery styles. But it has the contemporary features modern families love, including four adjustable mattress heights and the ability to convert into toddler, day, and full-size beds with separate kits.
"First of all, this crib is beautiful. It's an absolute pain to put together, but once it's together, it's really beautiful," one shopper wrote. "Overall, we're very happy with it. The look is exactly what we wanted, and it was a great value for a 4-in-1 convertible crib."
But the same review mentioned some cons: "It's pretty sturdy but maybe a little lighter weight than I'd like ... It's also VERY soft, and we accidentally scratched it just assembling it."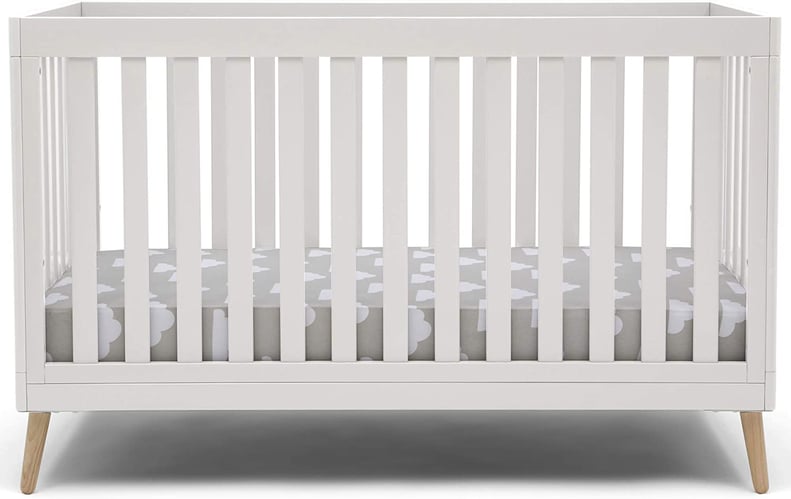 Amazon Crib For Minimalists
Delta Children Essex 4-in-1 Convertible Baby Crib, Bianca White with Natural Legs ($220)
This Delta Children crib is mostly white, with midcentury-modern-style natural brown legs. The streamlined design doesn't have a changing table or dresser attached. Combined, these characteristics make it ideal for parents going for a minimalist look in nurseries or a crib that won't clash with a bolder room design.
The crib's mattress can adjust to three heights, and the crib itself transitions into a toddler bed, daybed, or sofa, and the daybed/sofa rails are included, although the toddler-bed kit is sold separately.
Nearly 1,500 parents have scored this crib 4.8 stars on Amazon, with sturdiness and ability to fit in small spaces being top features. That said, reviewers are split on ease of assembly.
"The only thing I dislike about this crib is that you have to very carefully look at the drawings, or you may end up overlooking pins," said one reviewer, who bought the crib for a grandchild. "I had to redo a smaller part of the crib and then set up parts again. However, when completed, it is rock solid and looks great. I can't wait to have the baby drop by to see what she thinks of it . . . We, grandparents, are very happy we chose this crib for our little angel."