There's nothing quite like the infectious giggle of a baby who's just learned they can launch themselves repeatedly off the ground in a frenzy of jumps and bounces (with the help of a baby jumper or activity center, of course). Even better? Baby jumpers can pull double duty as a means of self-entertainment, allowing parents to make lunch or wipe down a counter while their child happily jumps away.

That said, medical experts generally recommend babies engage in free play on the floor over baby jumpers most of the time. "We encourage children to move naturally and parents to provide children with the opportunity to move their bodies naturally," says Blaise Nemeth, MD, a pediatrician who specializes in orthopedics in Madison, WI, and spokesperson for the American Academy of Pediatrics. "We want to let children develop their jumping skills on their own without the use of assistive devices."
Part of the reason for this is that babies' bodies may not be developmentally ready for jumping, says Kelsey Baas, PT, DPT, founder of and a pediatric physical therapist at Compleo Physical Therapy & Wellness in Waco, TX, as the muscles and movements needed for jumping are learned through the process of standing and walking independently.
However, Baas notes that many parents look to baby jumpers to provide a much-needed break — and that's OK! But it's important to follow a few rules of safety and consider a number of features to find the best baby jumper for your family.
Tips to Use a Baby Jumper Safely
If you're going to invest in a baby jumper, you'll want to follow these safety precautions, says Sumera Solaiman, MD, assistant professor of clinical pediatrics at Children's Hospital of Philadelphia.
Make sure the baby has good head control: To avoid injury, you'll want to wait to use a jumper until your baby has good head and neck control, which is usually around 6 months of age, Dr. Solaiman says.
Limit their time in the jumper: Only put your baby in the jumper for about 15 minutes, once or twice a day, Dr. Solaiman says. "Excessive time in a jumper means less floor time for your baby, and floor time is crucial for gross motor development, like learning how to crawl and walk," she says.
Always monitor your baby: A baby jumper can provide a break for parents, but that doesn't mean they should be unsupervised. You'll always want to be in view of your baby in the jumper.
Never allow them to sleep or feed in the jumper: Jumpers do not provide a safe environment for sleep or feeding your baby. If you see the telltale signs of drowsiness, swiftly remove them from the jumper.
Properly install the jumper: Carefully follow the manufacturer's instructions to ensure your baby's safety, Dr. Solaiman says. "Improperly installed baby jumpers can cause injury to your baby," she adds.
Check weight limits: Once your baby exceeds the maximum weight limit for the jumper, it's time to put it away. This decreases the risk for the baby being able to tip the jumper over, Dr. Solaiman says.
The Best Baby Jumpers You Can Buy
Now that it's clear how to safely use a baby jumper, it's time to consider baby jumper features that will work for your particular baby and home.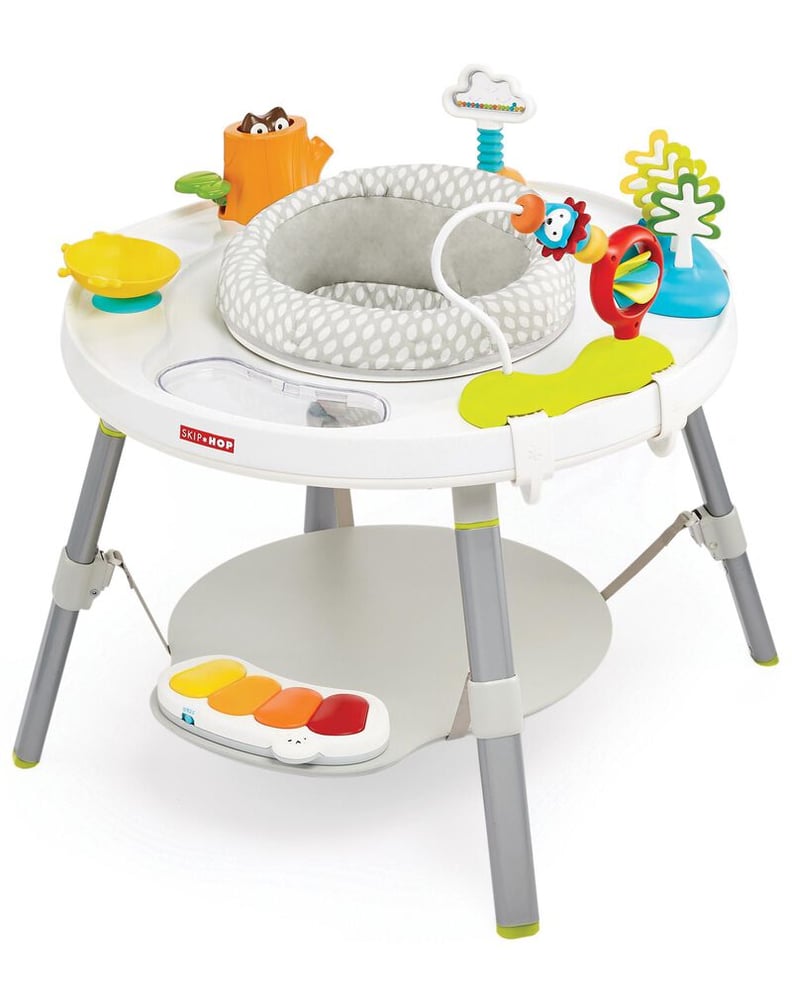 Best Overall Baby Jumper and Activity Center
Skip Hop Explore & More Baby's View 3-Stage Activity Center ($142)
For parents concerned with the lifetime of a jumper, a big positive of this design is that it converts into three different stages of fun as your baby grows. The first stage features a 360-degree swivel seat that stretches for jumping and bouncing. There are five developmental toys for the tray table that can be moved and positioned anywhere, plus a unique window in the table allows your baby to see their feet as they bounce and play with a colorful foot piano.
What Experts Say: "I look for an adjustable foot platform [like this has] so you can always have foot flat contact with a stable standing surface. Plus, the ability to transition to an activity table extends the longevity of the toy, and it incorporates developmental toys into the activity center," Baas says.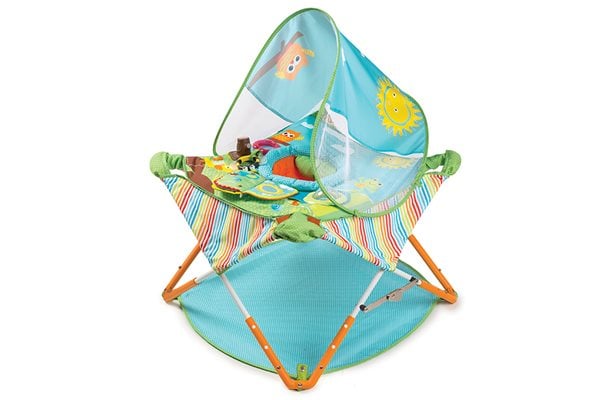 Best Portable Baby Jumper
Summer Infant-Pop 'N Jump Portable Baby Activity Center ($64, originally $75)
Sometimes you need a jumper that you can throw in the car and take anywhere — to Grandma's house or a soccer game, maybe even a playdate — and this portable jumper is just the ticket. This jumper pops up in seconds and has three adjustable heights for little legs. There's a removable canopy that provides shade for outdoor use and several toys to keep your baby happy when they're not showing off their jumping skills.
What Reviewers Say: "I was surprised at how well my 7 month old was able to jump! We'd had another jumper but my older child broke it while attempting to make her dolls jump… bought this one thinking even if we didn't like it she'd outgrow it soon. We'll be holding onto this for future babies!
I love that it collapses small so we can easily take this out of state to visit our in laws, just wish that the bottom ground piece would come off so I could throw it in the wash if we decide to bring it outside."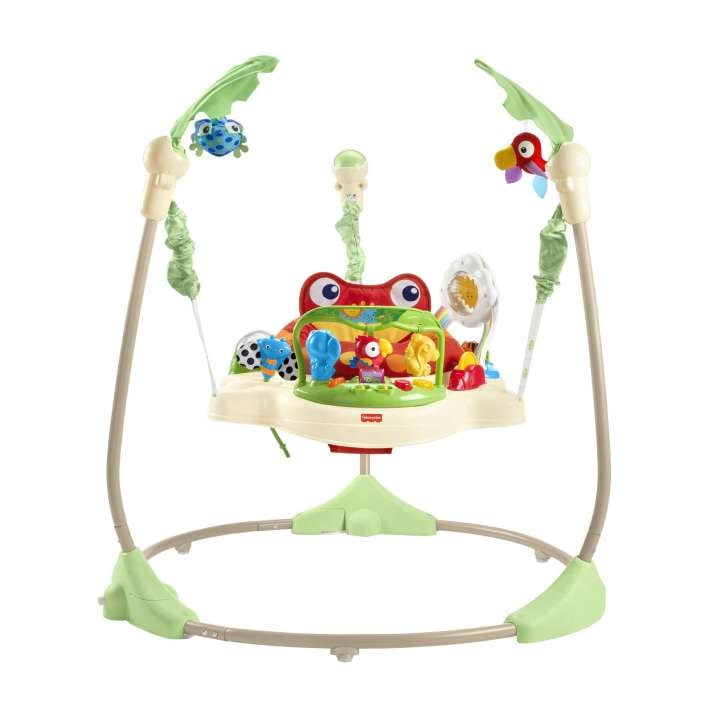 Best Free-Standing Baby Jumper
Fisher-Price Baby Bouncer Rainforest Jumperoo ($117)
What could be better than a jumper with bright colors, a peekaboo tiger, and all the safari sounds your baby can handle? This stand-alone jumper has all that and more, including three adjustable height settings, fabric spring covers to keep fingers safe, and easy-to-assemble parts. Plus, when your baby gets tired of the toys in front, you can just swivel them around to the toys in the back to squeeze out a few more minutes of play.
What Reviewers Say: "My baby has really discovered her legs and loves to jump. This has been the best money I have spent on her. This keeps her entertained and busy until she gets tired. Her wake window has extended, hand coordination, eye coordination, even her sitting and I have had this for about 3 months now. So grateful I don't have be a clown to keep her entertained."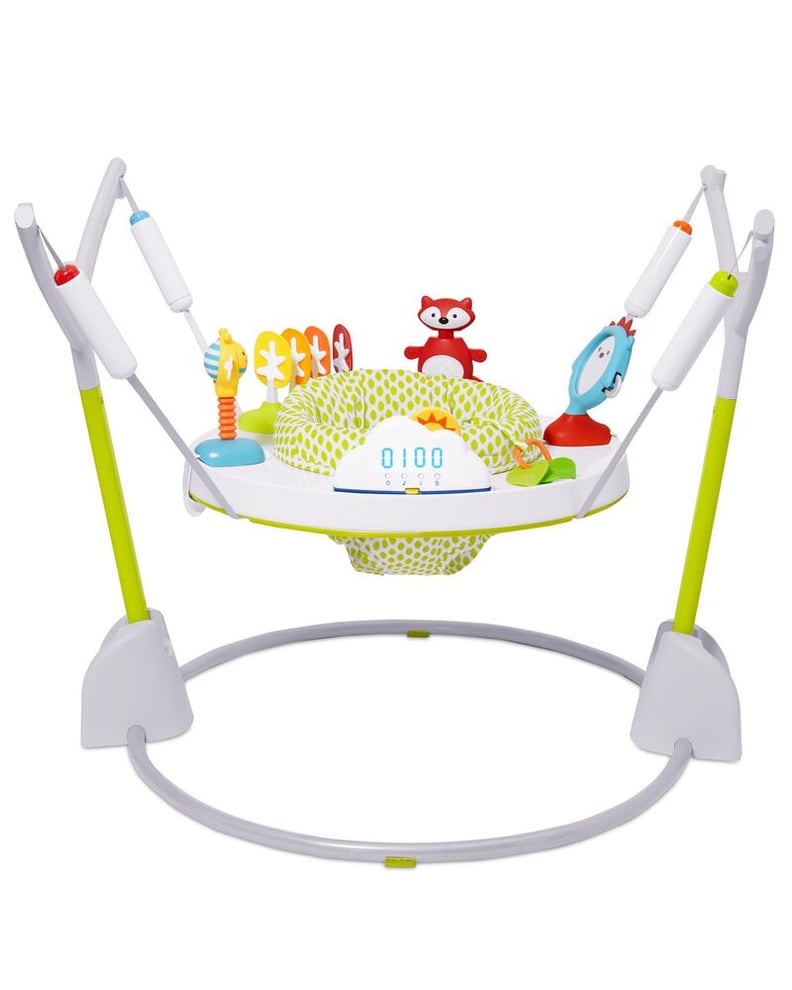 Best Space-Saving Baby Jumper
Skip Hop Explore & More Jumpscape Foldaway Jumper ($116, originally $145)
If space is an issue in your home, look no further than this jumper that folds flat for easy storage when playtime is over. This interactive jumper tracks your baby's jumps with a light-up cloud toy and celebrates jumping milestones with lights and music. There's also a built-in usage reminder for parents at 10 and 20 minutes to keep track of time, so you can make sure you're giving your baby enough floor time, too.
What Reviewers Say: "I have a 4m old & he was constantly trying to bounce on me! I ordered this baby bouncer because I love Skip Hop as a brand. It was very easy to put together, the directions were easy to understand, and my son loves the little toys. It's easy to pack up & travel with it, you do have to remove the toys first before folding the bouncer. Other then that I really do love this baby bouncer for my son, especially seeing him smile! Also makes it easy for me to clean/cook while he's bouncing."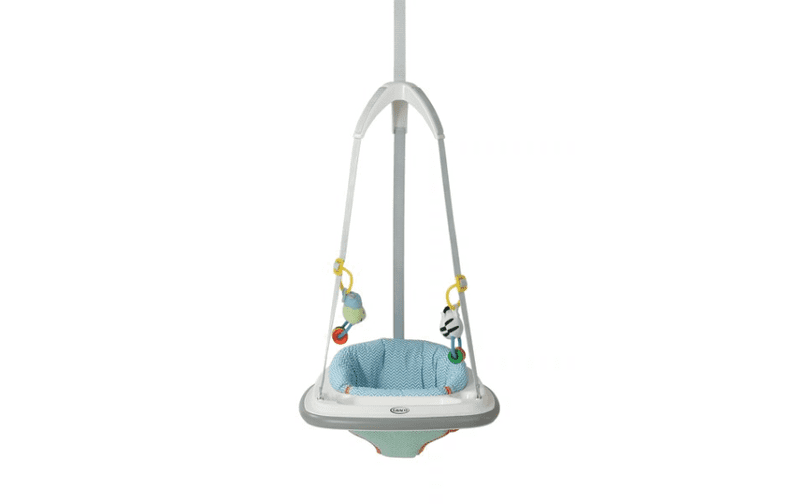 Best Budget-Friendly Baby Jumper
Graco Doorway Bumper Jumper ($65)
You'll want to be careful with doorway jumpers, because "an active baby can accidentally injure themselves by jumping against the door frame," Dr. Solaiman says. But this jumper has built-in bumpers all around the seat and tray to help protect from just that. This adjustable-height doorway baby jumper comes with a non–twist strap design to make getting in and out a breeze and safety bumpers to keep your doorframe free from damage. It's easy to transport from room to room or take with you on a trip for easy entertainment. It's also one of the most budget-friendly options on this list.
What Reviewers Say: "Decent price and my baby lovvveeesss this thing. Doesn't damage the wall and is sturdy. Easy to get baby out if you stand behind them and pull them out instead of pulling them out from the front. I put my baby in this after meals so she's not laying down right after eating or else she spits up."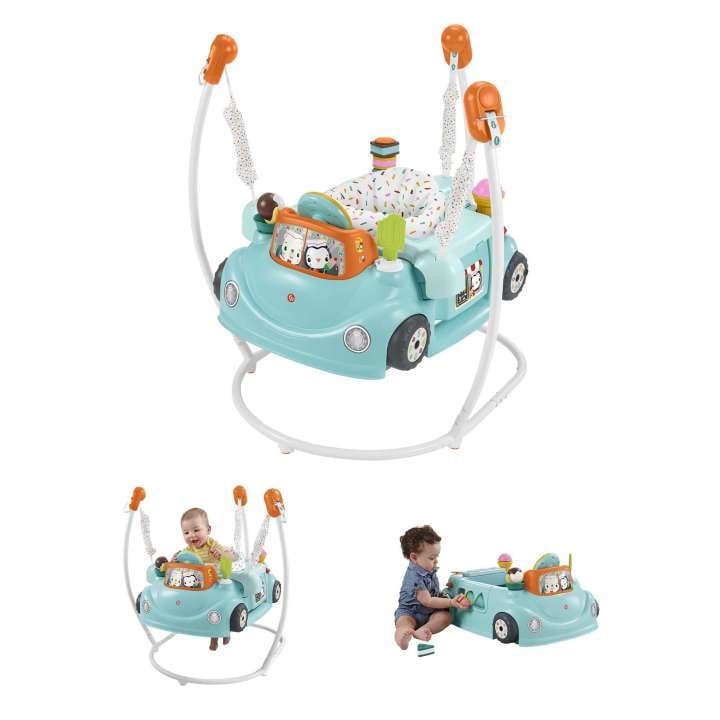 Best Baby Jumper That Converts to a Floor Toy
Fisher-Price 2-in-1 Sweet Ride Jumperoo ($139)
Perhaps the only thing better than a baby jumper with lights, toys, and music is one that's also shaped like a car. This ice-cream-themed jumper can be converted into a floor toy as your baby reaches toddlerhood, complete with shape sorting, an interactive steering wheel, and adorable fodder for imaginative play.
What Reviewers Say: "My grand daughter loves this toy! This bouncer adjusts to three heights. It has three levels of learning programs, songs, and it makes sounds and lights up when my grand baby moves in it. Best grandma ever!!!!"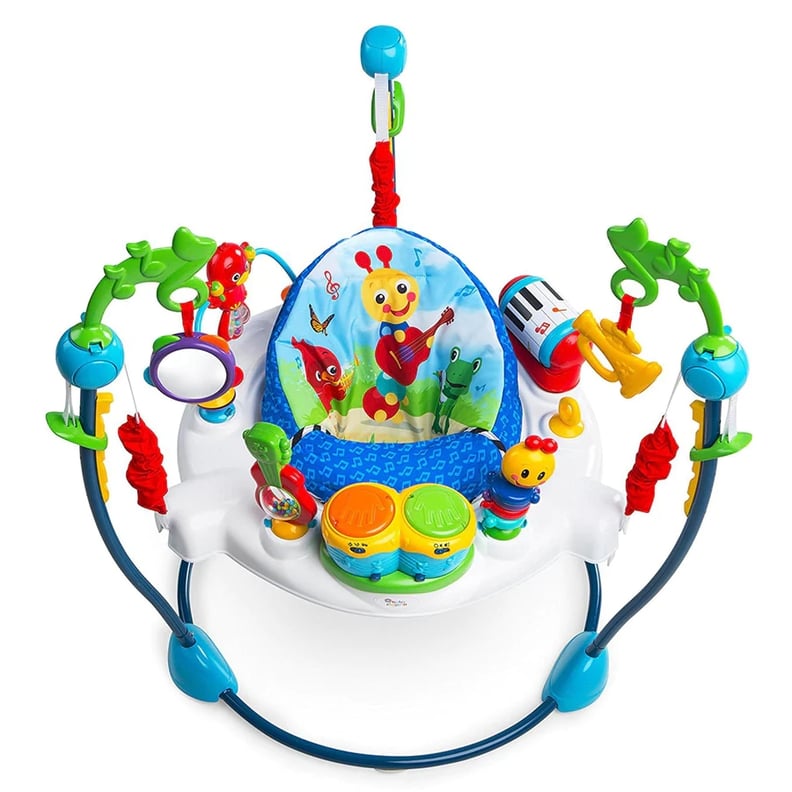 Best Musical Baby Jumper
Baby Einstein Neighborhood Symphony Activity Jumper ($110, originally $125)
For parents of future musical prodigies, consider swapping the animal sounds for hand drums, guitar rattles, and piano spinners to give your baby their first taste of playing an instrument. Each toy is designed with music in mind and features a 360 swivel seat with activities all around. The drums are even detachable, so your baby can put on a performance even when jumping is off the table.
What Reviewers Say: "This is a lovely toy and educational and sensory play equipment. I bought if for my granddaughters. They are just learning to jump and there are so many fascinating things for them to do when you change the play station by swinging the seat round. We love that it is marine themed as well, There is one problem but that is with them being twins they have to take turns 😂"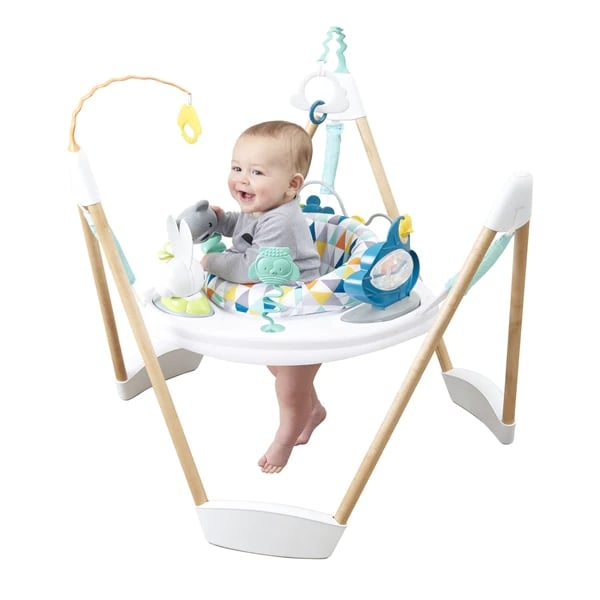 Most Aesthetically Pleasing Baby Jumper
EvenFlo Woodland Wonder Activity Jumper ($135)
Let's face it, not every parent is cool with a loud, garish baby toy as the centerpiece of their family room. That's where this wood-framed jumper with a modern design can help. Equipped with 13-plus toys and activities in muted colors, this jumper is meant to blend in with your home decor without sacrificing any of the fun.
What Parents Say: "I absolutely love this jumper! It is a lot smaller and compact than I was expecting. My other kids had the big bulky ones but this one is so PERFECT. I can move it super easily, it is so modern looking and there are a ton of toys that come with it for the baby to play with."