As POPSUGAR editors, we independently select and write about stuff we love and think you'll like too. If you buy a product we have recommended, we may receive affiliate commission, which in turn supports our work.
While being pregnant brings many joys and plenty of excitement to last a lifetime, it also comes with its own obstacles and adjustments. Shopping for clothing, for example, can be a particularly difficult feat. While finding everything from maternity swimsuits to maternity overalls can be tough, maternity jeans are some of the hardest clothing items to shop for. Finding a great pair of jeans is no easy task when you're not pregnant, so when you're looking for a pair that can accommodate an ever-changing body, that suit your style and your height, things can get tougher.
That's where we step in and offer up our findings. We wanted to make shopping for maternity jeans seamless and easy for you, so we rounded up 12 pairs of the best maternity jeans, in a range of colors, styles, prices, and washes. Plus, all of these denim options are both comfortable and stylish. After all, you deserve to feel like yourself during pregnancy, so whether you're looking for distressed maternity jeans or skinny maternity jeans, we've got you covered.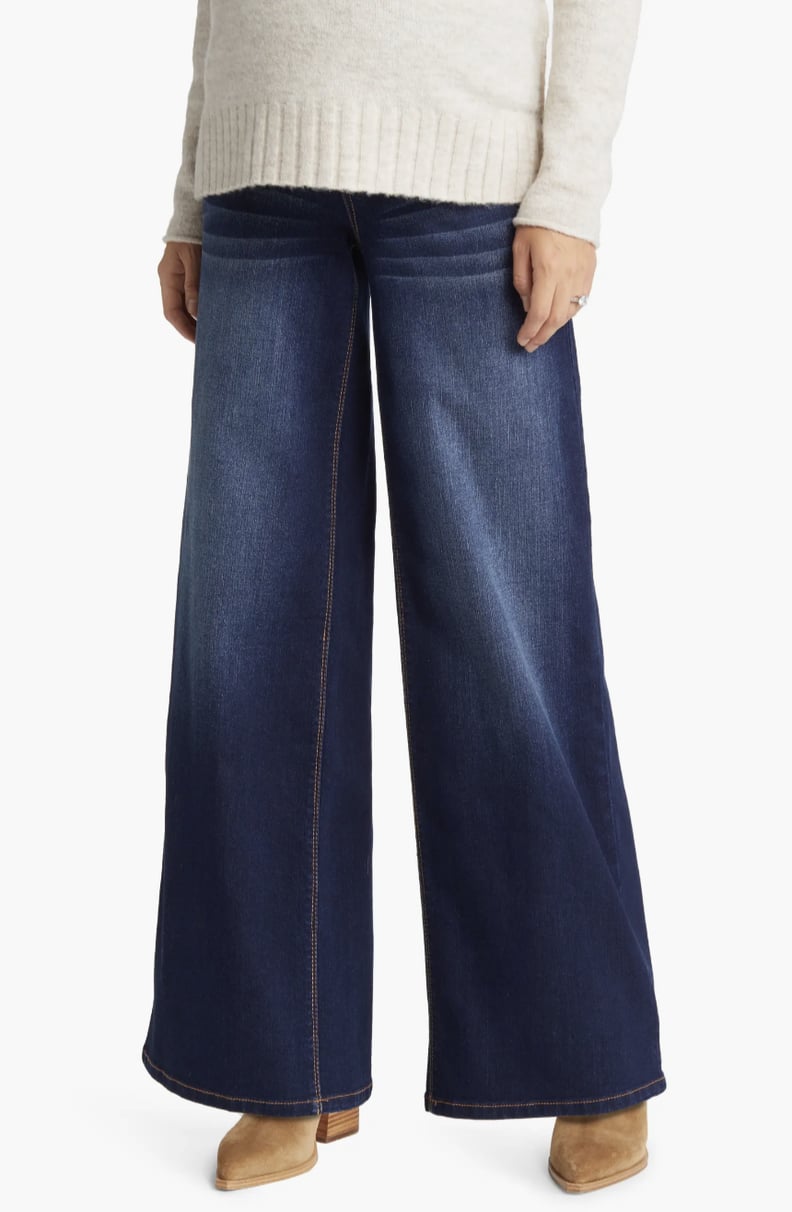 Best Wide-Leg Maternity
1822 Denim Over the Bump High Waist Wide Leg Maternity Jeans ($59)
These wide-leg maternity jeans, made of soft stretch denim, will give your body the comfort and style you want. Pair them with a heeled sandal in the summer or an adorable boot in the fall for a chic and effortless look. Plus, they're produced using recycled materials — perfect for expecting parents with a sustainable mindset.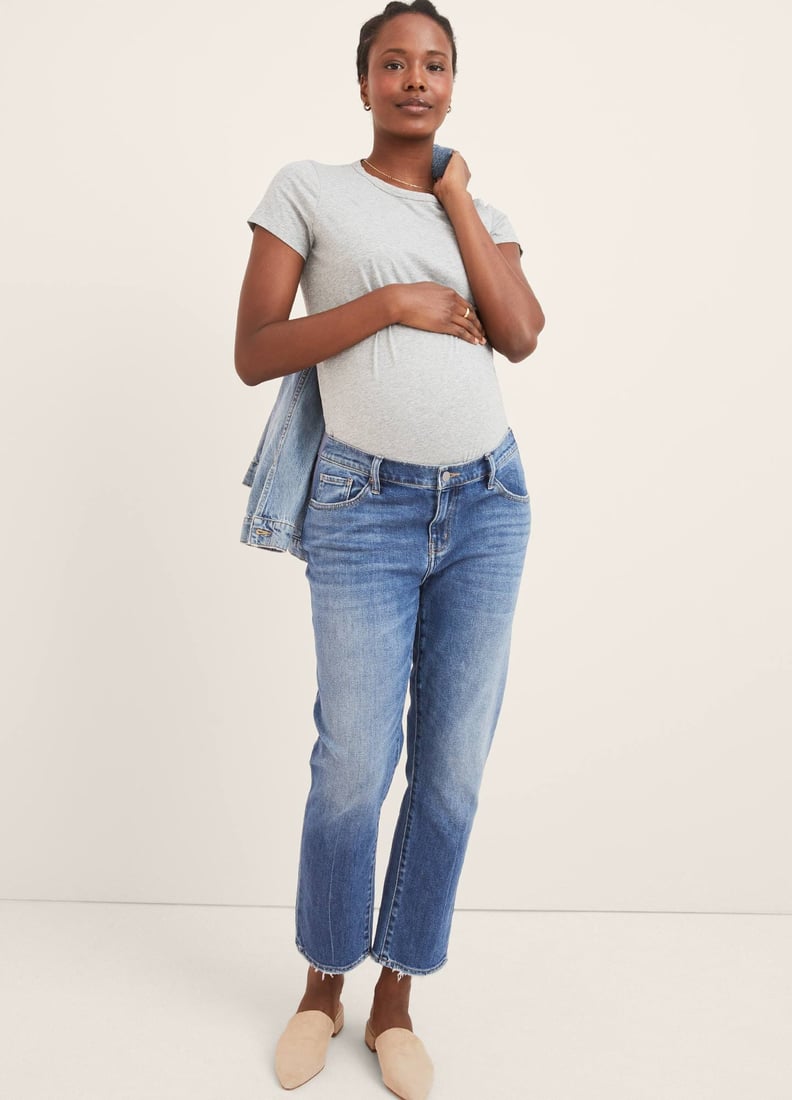 Best Boyfriend-Cut Maternity Jeans
Hatch The Boyfriend Maternity Jean ($198)
There's nothing like a classic boyfriend jean to elevate your maternity wardrobe. While on the pricier side, reviewers rave about the comfort, cut, and stretch of these pants. Plus, the tapered leg adds just enough structure to accentuate your figure.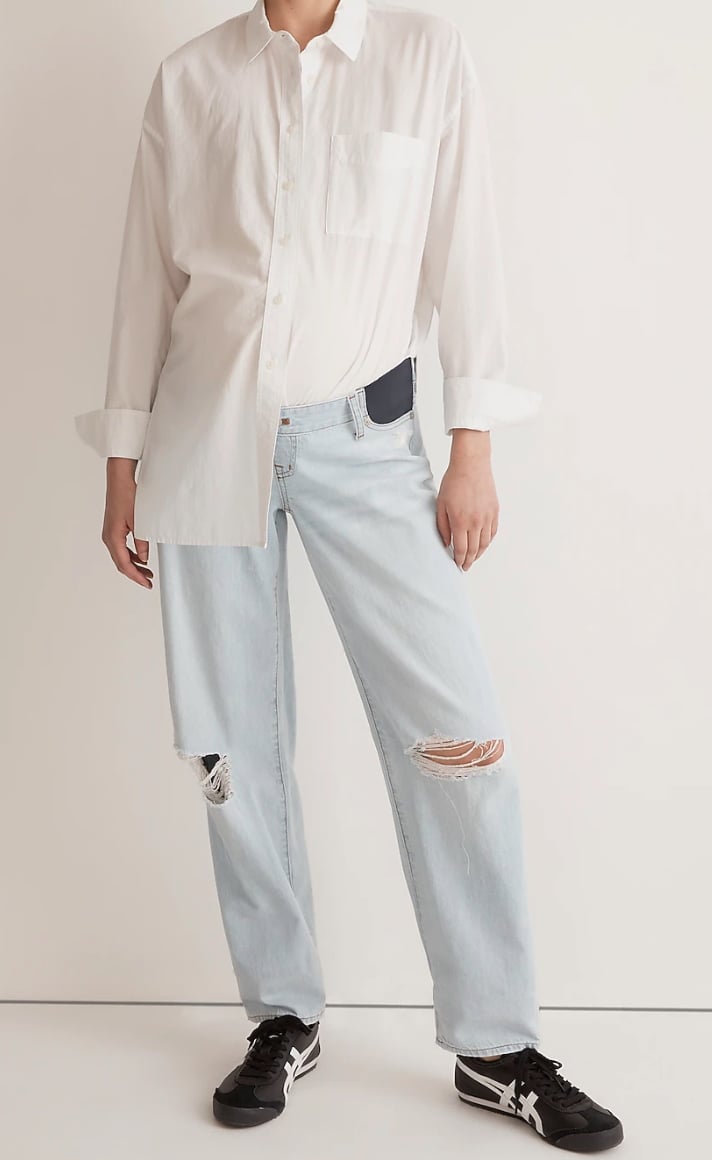 Best Ripped Maternity Jeans
Madewell Maternity Side-Panel Slouchy Boyjean in Wrightlane Wash: Ripped Edition ($90, originally $148)
If you're in the market for maternity jeans, you may have noticed that there are a lot of skin-tight options. If you're looking for a pair of comfortable yet supportive slouchy maternity jeans, you might have a harder time. But this pair of ripped denim is the ultimate cool-girl wardrobe staple. It has a low cut in the front with supportive side insets to support your belly, and high coverage in the back. The jeans are made up of lightweight cotton and have a relaxed fit throughout the thighs, so it won't even feel like you're wearing jeans. This is a great pair for summer — no over-the-belly panel means less sweating.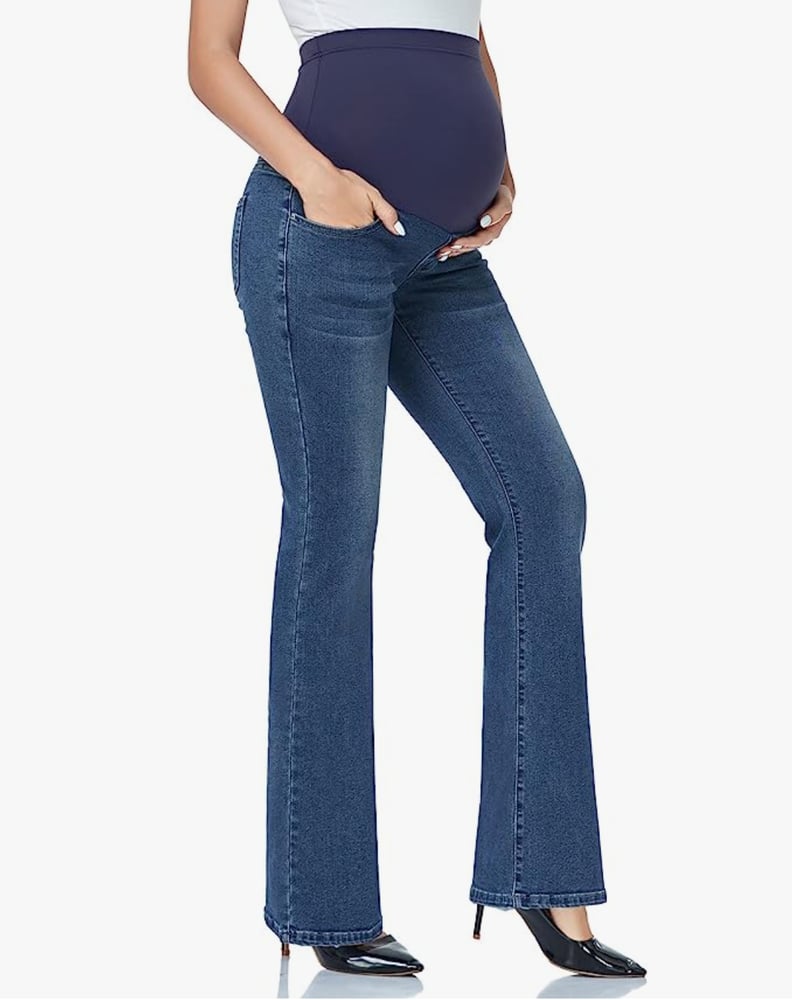 Best Bootcut Maternity Jeans
GLAMIX Stretch Maternity Bootcut Jeans ($35)
If you want a fun pair of flare jeans, this dark wash, bootcut denim is perfect for you. The material is soft and very stretchy, with a full-panel elastic that pulls across your entire belly. The elastic material of the panel allows you comfort and support as your belly grows. And the price can't be beat.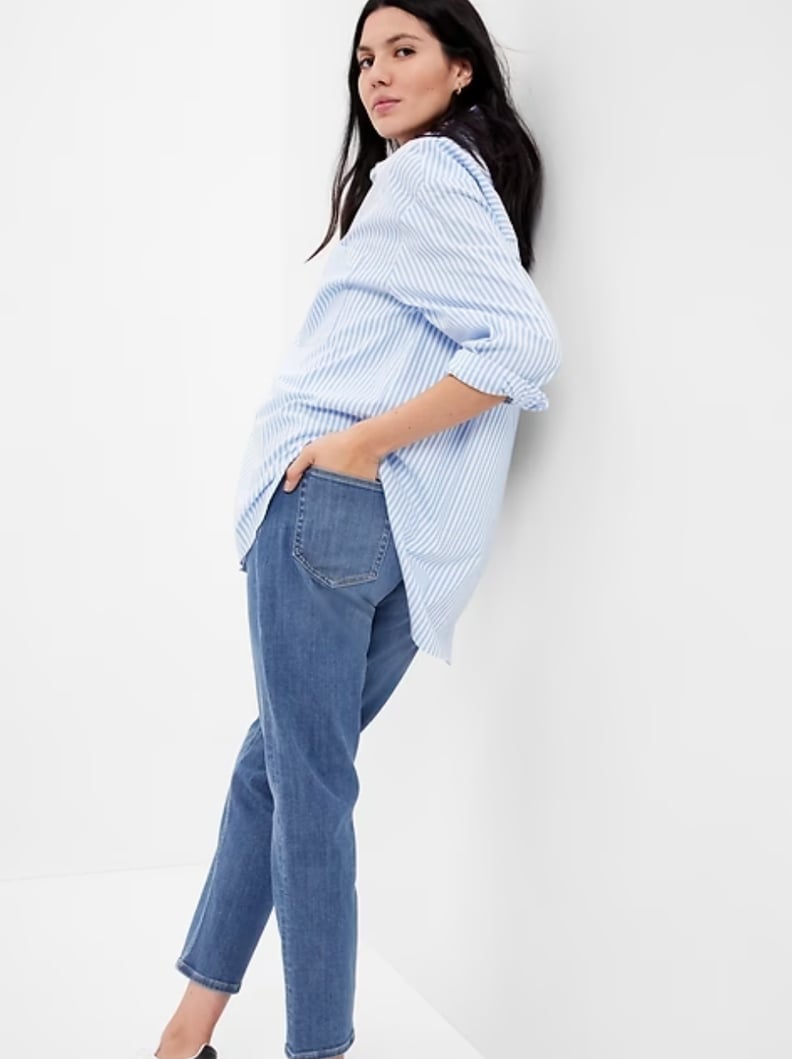 Best Ankle Maternity Jeans
Gap Maternity Inset Panel Cheeky Straight Jeans With Washwell ($71, originally $80)
If you're looking for a pair of ankle length and straight leg maternity jeans, we highly recommend this pair from Gap. It features supportive inset panels that sit right underneath the belly and is made up of comfortable stretch denim. If you're only going to buy one pair of maternity jeans, this might be a good pick — they're the plain white t-shirt of jean styles.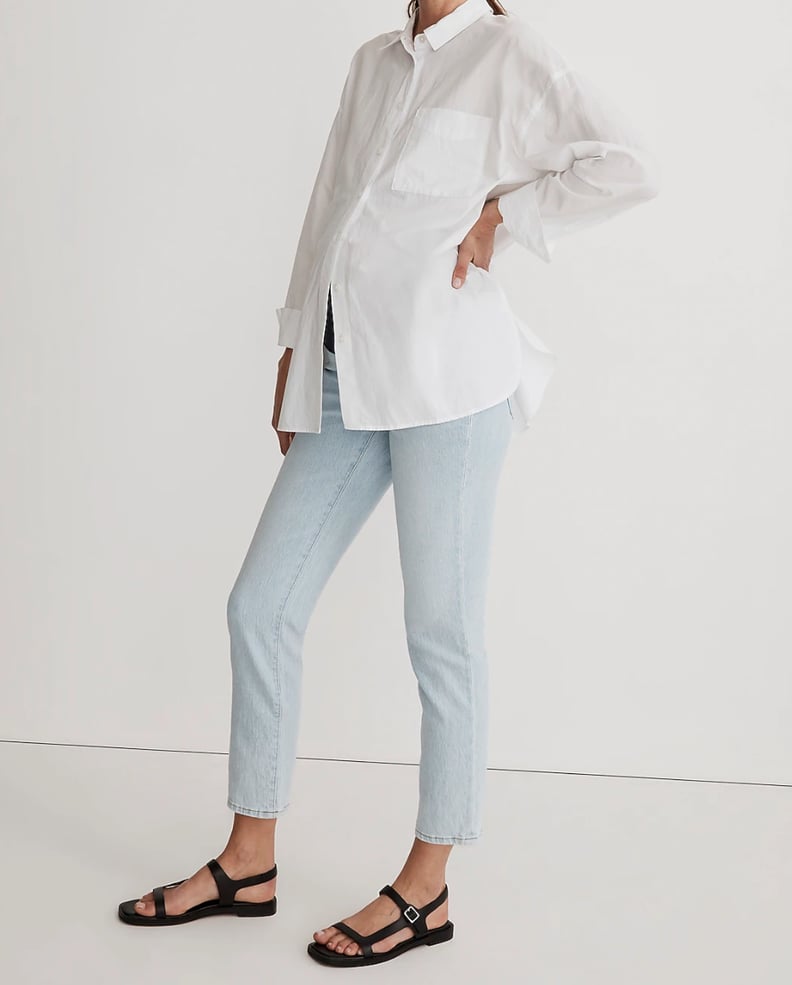 Best Light Wash Maternity Jeans
Madewell Maternity Over-the-Belly Perfect Vintage Jeans in Delora Wash ($140, originally $168)
This light wash pair of jeans is the perfect vintage, straight-leg denim you need in your closet. The soft over-the-belly panel keeps the jeans from sagging down every time you stand up, but it means they work best in the second and third trimester, when your belly is popping.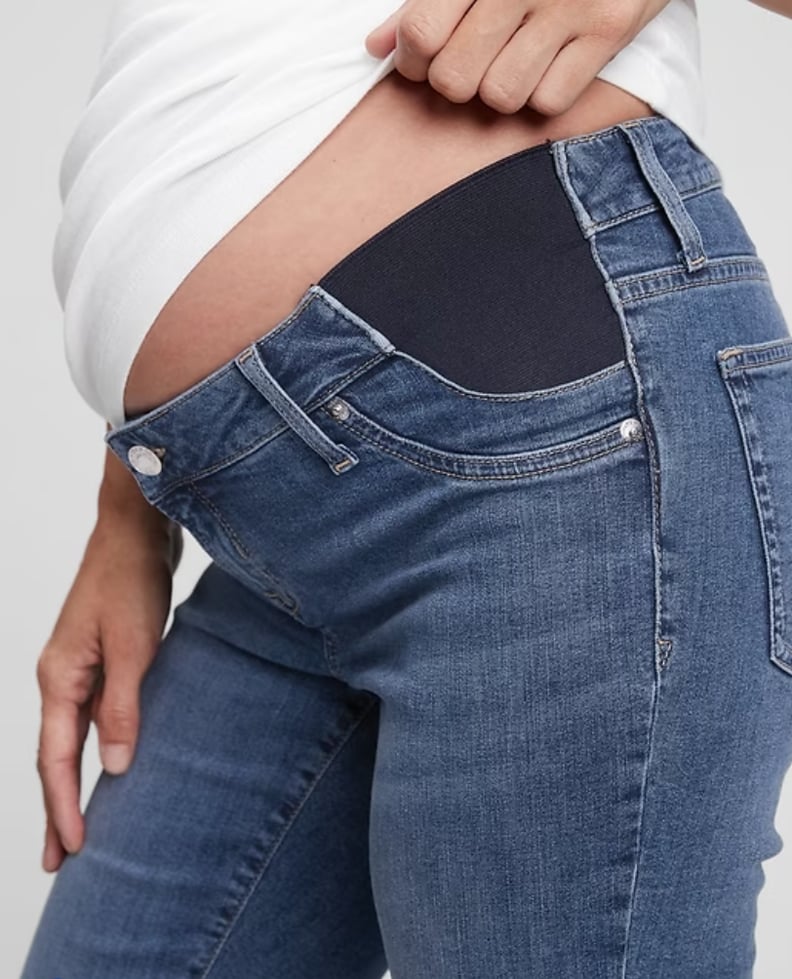 Best Slim Maternity Side Panel Jeans
Gap Maternity Inset Panel Vintage Slim Jeans With Washwell ($71, originally $80)
This pair of maternity jeans is made up of stretch denim and is styled in a straight, slim leg. It has subtle inset panel that lets the waistband (which sits under your belly) grow with you, while still allowing you to tuck in tops. These jeans can work for all three trimesters, although you may want to size up initially for some extra breathing room. And the darker wash is a classic denim look that you can style with a comfortable white t-shirt and sneakers.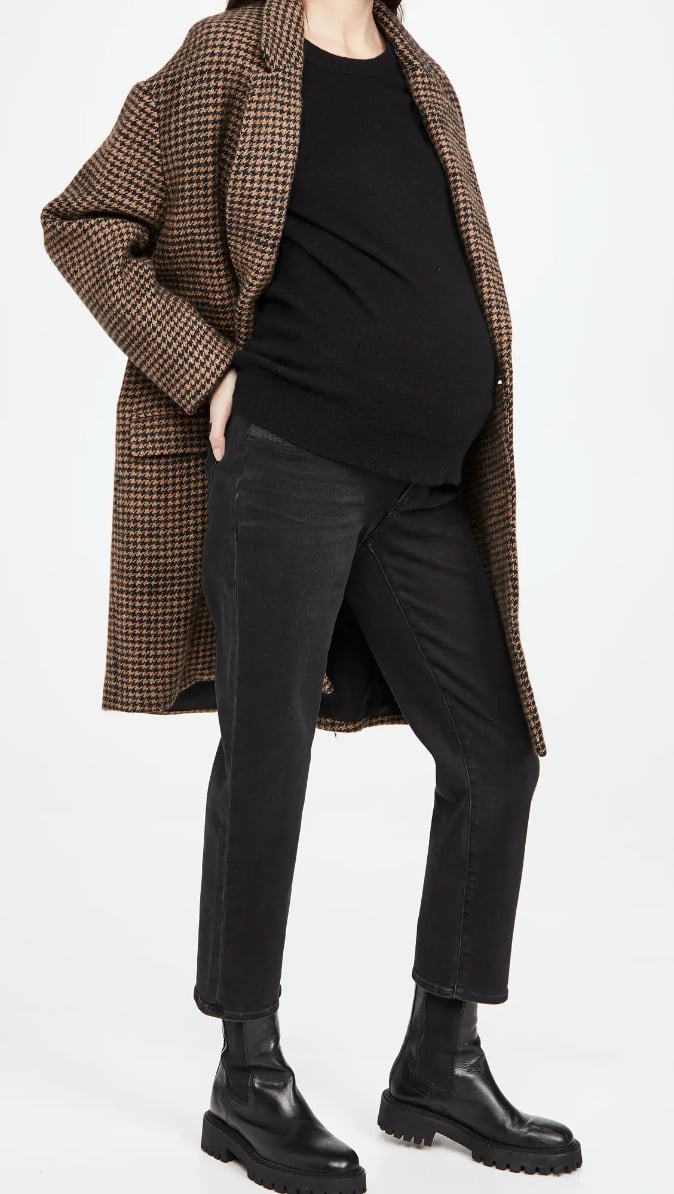 Best Black Maternity Jeans
Paige Maternity Noella Straight Jeans ($229)
A closet must is always black jeans, and so if you've been on the hunt for a pair of black maternity jeans, these are a great option. The fabric is made up of mid-weight, super-stretch denim and has elastic waist insets on both sides to offer a comfortable and supportive fit. The dark elastic also blends easily into the black denim, making the paneling discreet and subtle. Visit any pregnancy forum, and the threads asking for jeans recommendations will call out this Paige pair.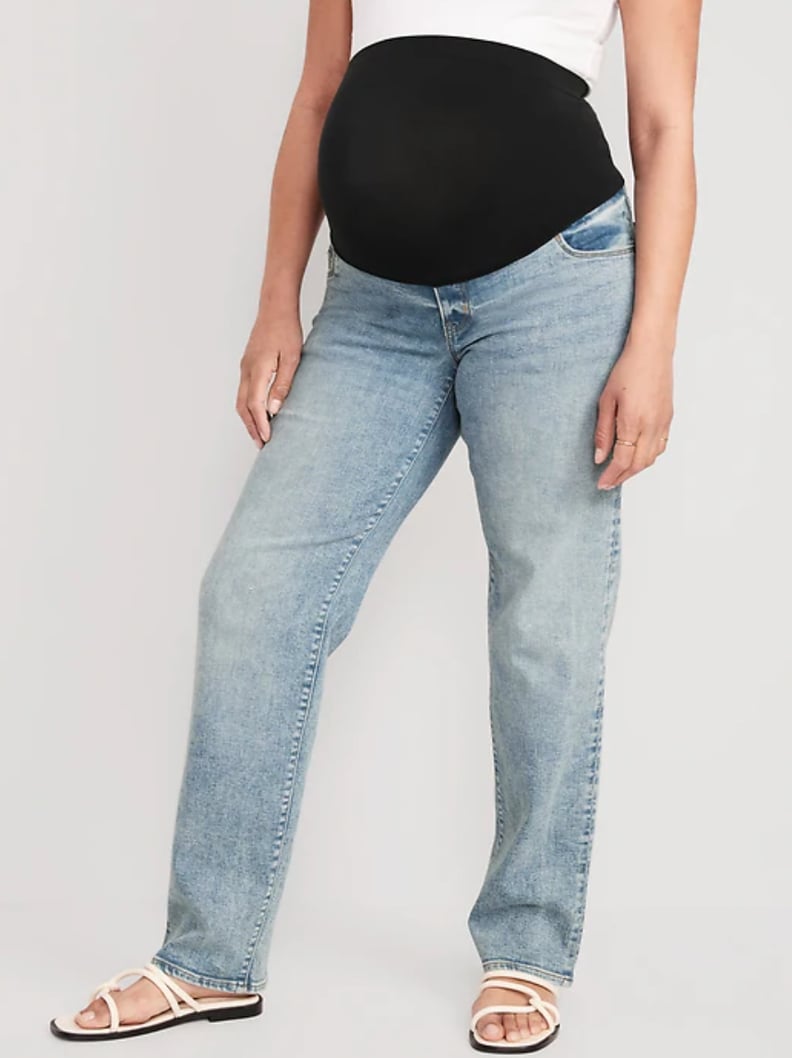 Best Loose Maternity Jeans
Old Navy Maternity Full Panel OG Loose Jeans ($55)
Old Navy reigns supreme when it comes to maternity jeans. Their Rockstar jeans are beloved, but don't sleep on their other options. For instance, these chic '90s-esque loose jeans are comfortable, supportive, and incredibly stylish. It features a faux fly and a large, full-panel waistband (so they pull on, rather than zip up — so comfy), and fit relaxed throughout the legs, hips and thighs.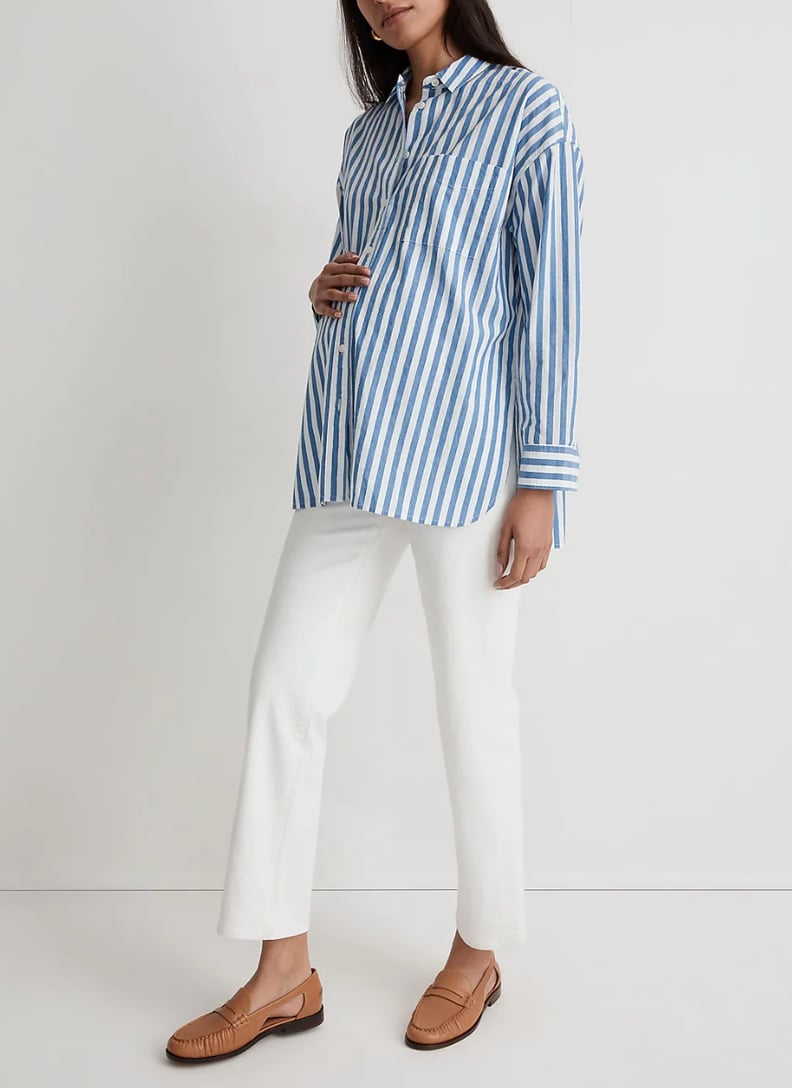 Best White Maternity Jeans
Madewell Maternity Over-the-Belly Perfect Vintage Straight Jean ($120, originally $148)
Perfect for summer and spring, this pair of white maternity jeans is chic and elegant. These straight-leg jeans feature a supersoft panel that pulls over the belly but also maintains high coverage in the back (so you won't flash that belly panel every time you sit down). The material has zero show-through and includes body-hugging stretch that won't bag out as you wear in the denim.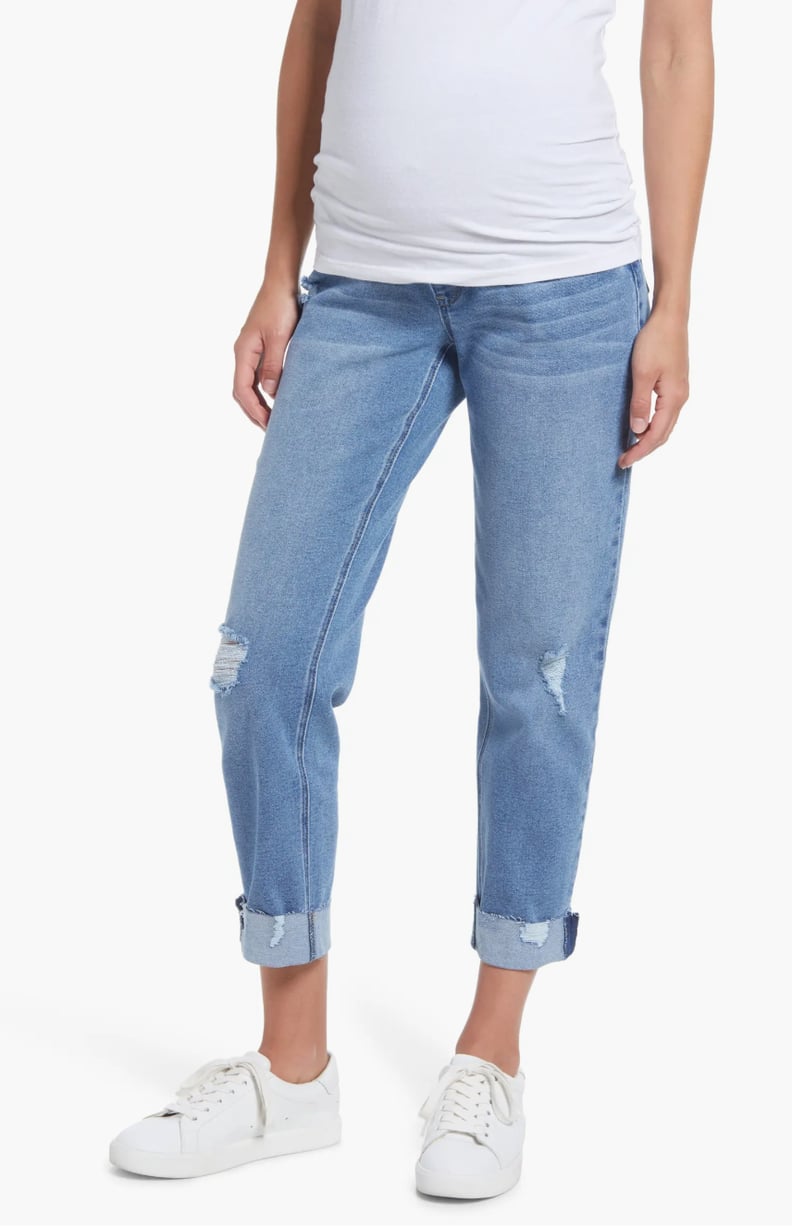 Best Distressed Maternity Jeans
1822 Denim Over the Bump Raw Hem Slim Girlfriend Jeans ($69)
This pair of cropped jeans is a perfect combination of slim and slouchy, with cute folded ankle detailing. The light wash and slightly distressed look are fashionable, casual and can be styled easily. It also has a stretchy over-the-bump waistband that supports and comforts your belly.
Best Cream Maternity Jeans
H&M MAMA Slim Ankle Jeans ($55)
Sometimes all you need is a pair of nice, cream jeans. This ankle length pair of jeans from H&M have a gentle stretch with wide jersey panels at the waist and has a mock zipper to create ultimate comfort for you and your belly. Plus, the cream is more forgiving of stains than a stark white.