As POPSUGAR editors, we independently select and write about stuff we love and think you'll like too. If you buy a product we have recommended, we may receive affiliate commission, which in turn supports our work.
There are pages of research on the value of reading from an early age. Even the littlest learners can benefit from getting lost in a good book (with help from a loving caregiver, like a parent). A 2021 study suggested reading to preterm infants in the NICU helped the baby and parent bond and the little one develop language faster. Other studies show that reading books to very young children contributes positively to their language development and promotes a beneficial environment for home literacy.
Reading allows children and their parents to get lost in a good book, and the World Literacy Foundation says it also fosters imagination. Though any children's book can take a child away to a far-off fantasy land, pop-up books can truly make the pages come to life. The books allow elements to literally "pop up" (hence the name), further engaging and entertaining the reader. Children can touch the animals or objects, adding a sensory element.
Pop-up books have plots for multiple ages and interests, from cars and trucks to creepy crawlies. Some are perfect for bedtime, and others have a spooky appeal ideal for Halloween.
Our list of the best pop-up books for kids runs the gamut. From animals to Disney and classic nursery rhymes in between, these pop-up books are sure to engage your young reader.
01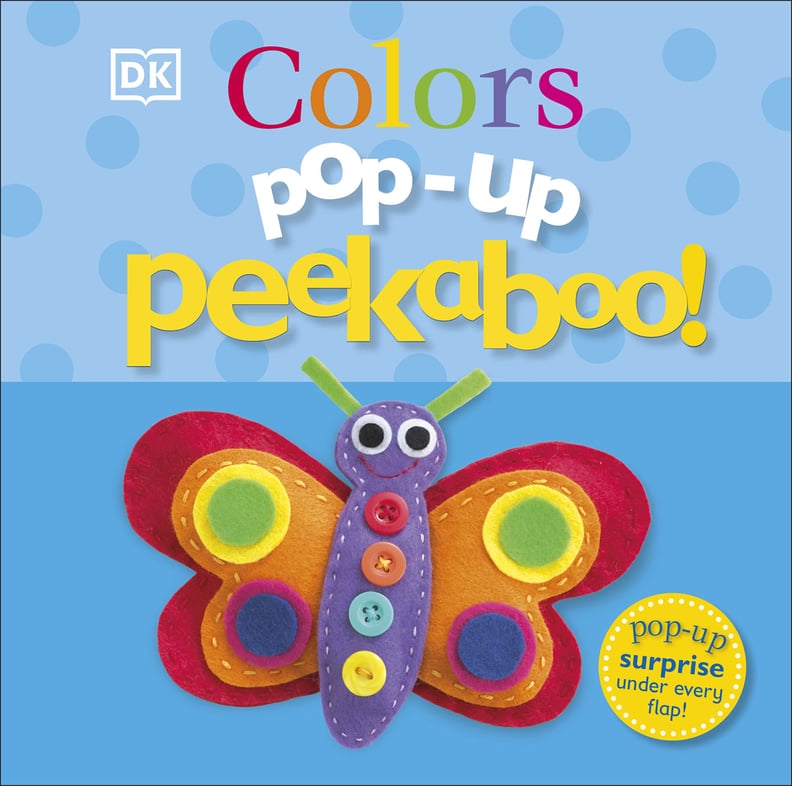 Best Pop-Up Book to Teach Colors
"Pop-Up Peekaboo! Colors" ($7, originally $13)
A rainbow butterfly, a blue bunny, a red rooster, and other friendly animals introduce little ones to the bright world of colors. This pop-up book includes peekaboo flaps to put motor skills to use and foster curiosity in infants and toddlers. The simple, rhyming text is easy to understand and designed to assist with language development.
"This book is very cute, and I like the way they focus on a different color on each page," a parent of a 3-year-old and 1-year-old wrote in an Amazon review. "The story is the perfect length for babies with the attention span of a fly, and the colors and illustrations are beautiful and bright, nice and interesting to look at. The pop-ups are well done and add some fun to reading the book."
02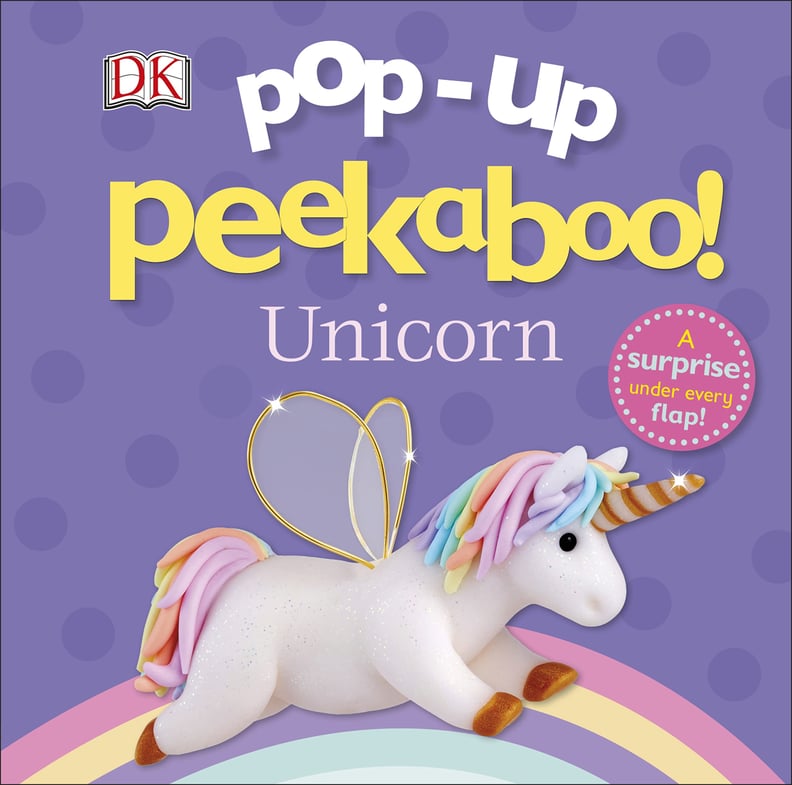 Best Unicorn Pop-Up Book
"Pop-Up Peekaboo! Unicorn" ($7, originally $13)
Another favorite from the Pop-Up Peekaboo! collection, this charming book follows Daydream, Moonbeam, Sunshine, and Cupcake on playful adventures. The whimsical read takes little ones off to a magical kingdom, allowing them to engage with the pages as they search for the unicorns behind pink clouds and colorful rainbows. Pop-ups and peekaboo flaps make this book an interactive experience, while the rhyming words are simple for toddlers and preschoolers to follow.
"I bought this as a gift for my niece, and she absolutely loved it," a five-star Amazon fan wrote. "She adored interacting with the pop-up book, and like any 2-year-old, she ripped it to shreds."
03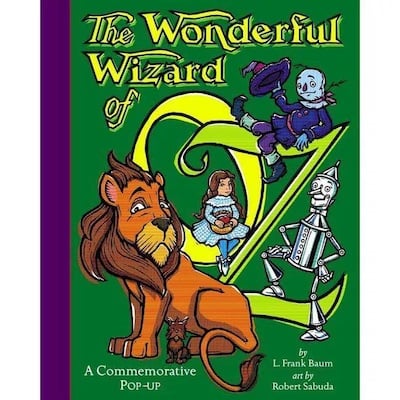 Best Collectible Pop-Up Book
"The Wonderful Wizard of Oz" ($27)
Follow the yellow brick road, twist like a cyclone, and see the famous wizard's balloon sail in the sky in this Emerald City adventure based on the classic film. The abridged version of the story is full of pop-ups and full-color spreads that vibrantly introduce Dorothy, Toto, and the whole gang to a new generation of readers.
"Great book," one Target reviewer raved. "You literally just want to keep looking at it."
04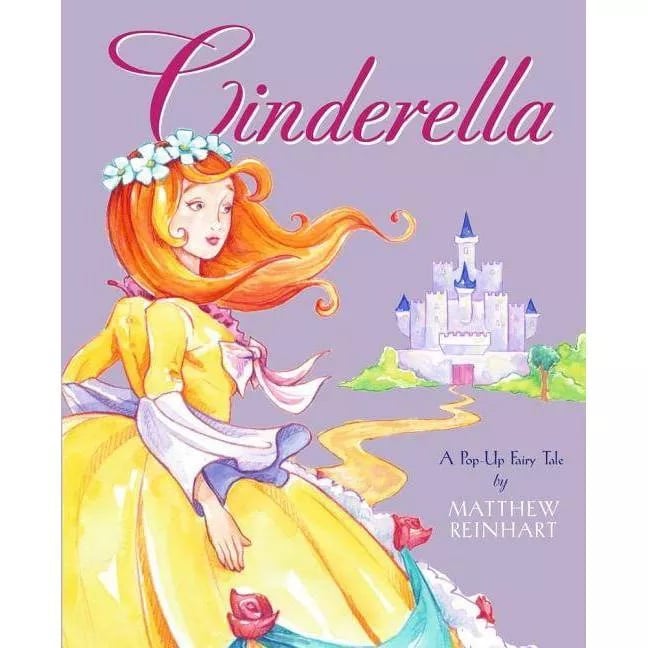 Best Pop-Up Fairy Tale
"Cinderella" ($27)
Renowned writer and pop-up illustrator Matthew Reinhart shares Cinderella's timeless tale with a book packed with eye-catching details that showcase the story's iconic transformations — pumpkin to coach, rat to coachman, and, of course, Cinderella to princess.
"This is a stunning keepsake book," a Target reviewer said. "The details are amazing. The pop-ups are elaborate and gorgeous. I would not recommend it for toddlers because it is too delicate, but I would get this book before they stopped making it."
05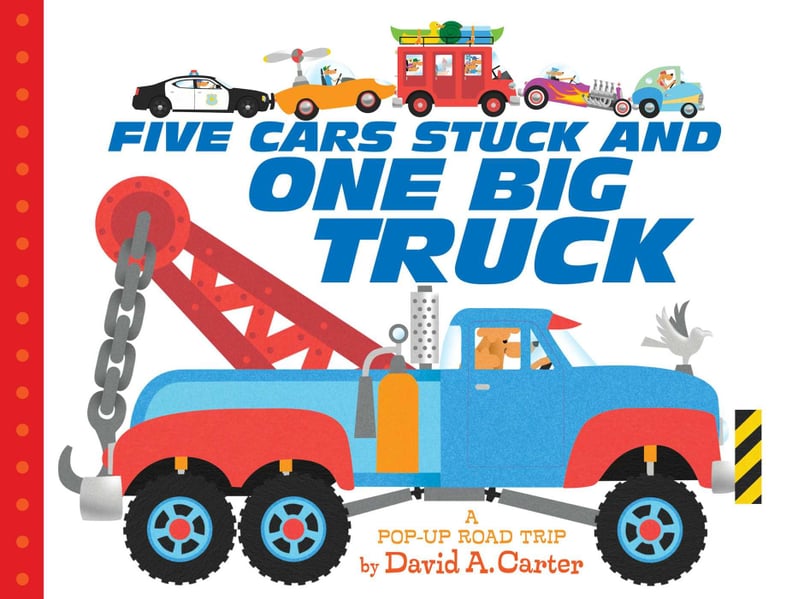 Best Pop-Up Book For Kids Who Love Cars
"Five Cars Stuck and One Big Truck: A Pop-Up Road Trip" ($14, originally $16)
Honk if your little one is obsessed with cars. This pop-up book follows a family of dogs on a road trip gone awry. The silly read sees vehicle after vehicle, from race cars to whirling flying ones, attempting to get the pups unstuck from the muck. Kids can join in the fun, making the car fly and more until a truck saves the day. The sturdy board book is ideal for little hands. Plus, it's a fantastic way to keep the "Are we there yet?"s at bay during family road trips.
"This book was absolutely adorable," one five-star Amazon reviewer wrote. "I was thrilled with this little beginner book. My nephew loved the pop-up style."
06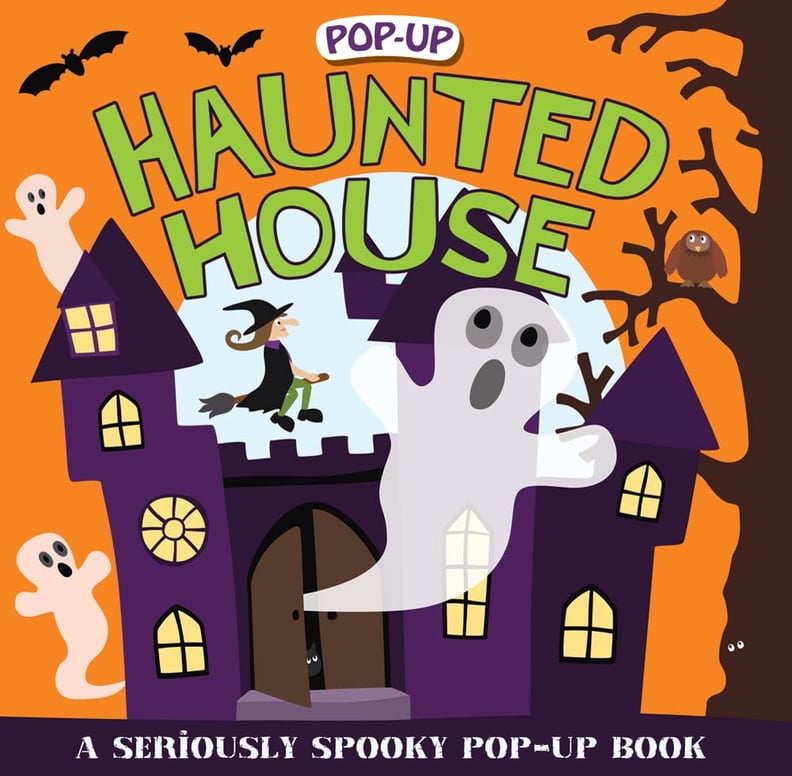 Best Halloween Pop-Up Book
"Pop-Up Surprise Haunted House: A Seriously Spooky Pop-Up Book" ($8)
Get in the spooky spirit with a Halloween-themed book heavier on comedic thrills than frightening chills. The usual suspects of Halloween-themed characters pop up, offering sweet and slightly spooky surprises throughout the book, set in a haunted house. Think ghosts, witches, and ghouls.
"My daughter loves spooky stories, and this book is perfect for her," an Amazon customer said in a review. "It's a medium-sized book, and the pages are nicely made and glossy. The story is so cute and spooky enough for toddlers."
07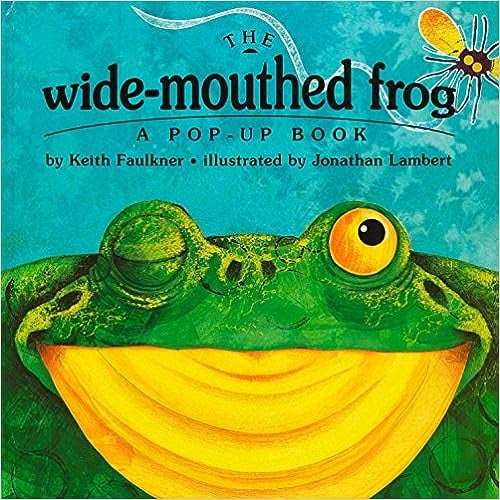 Best Pop-Up Book For Kids Who Like Animals
"The Wide-Mouthed Frog" ($13, originally $15)
This Amazon bestseller by Keith Faulkner and illustrated by Jonathan Lambert has been loved since it debuted in 1996. The humorous story about a wide-mouth frog from the Okefenokee Swamp also features numerous other outdoor animals sure to please kids who love outdoor excursions. A furry brown mouse, a blue-feathered bird, and another big green animal (with many teeth and a gigantic appetite) appear on the pop-up pages.
"This is a very large book with the coolest pop-outs," an Amazon reviewer commented. "It's a funny little story about a wide-mouth frog that I'd always heard told as a joke. It's fun for little ones to see the physical book, but the clever humor may be over the heads of younger children."
08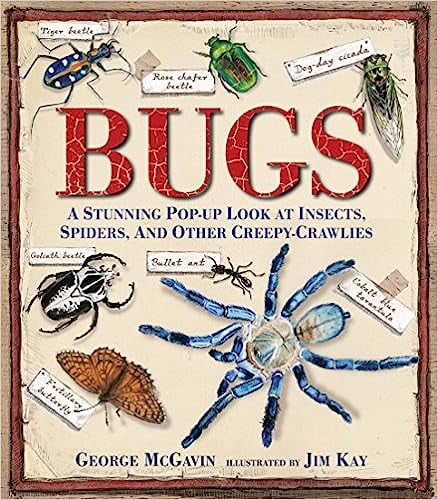 Best Bug-Themed Pop-Up Book
"Bugs: A Stunning Pop-Up Look at Insects, Spiders, and Other Creepy-Crawlies" ($15, originally $25)
This gorgeous pop-up book makes some of the most miniature animals feel larger than life, courtesy of impressive pop-ups. Let your little one play entomologist as they find bugs under flaps and tabs while learning all about creepy crawlies. Lessons baked into the book include the importance of bees, the strongest and fastest beetles, and the inner workings of a cockroach's body.
"The kids are fascinated by these realistic pop-up creatures — beautiful colors," an Amazon shopper said. "They are thrilled with their new book."
09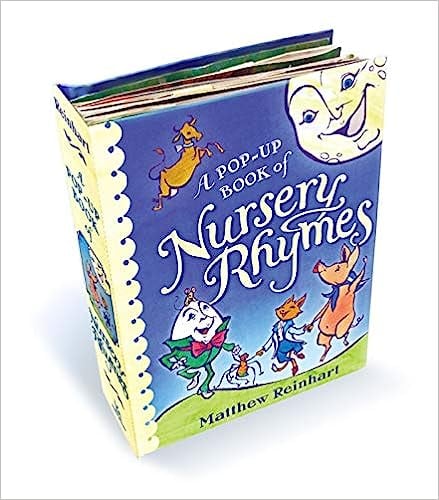 Best Future Family Heirloom Pop-Up Book
"A Pop-Up Book of Nursery Rhymes: A Classic Collectible Pop-Up" ($25, originally $35)
Matthew Reinhart's depiction of classic Mother Goose nursery rhymes will bring back childhood memories for parents, grandparents, and great-grandparents alike and is a strong contender for a keepsake. The current generation of tiny listeners can engage with numerous pop-ups that offer a new element to the rhymes that have stood the test of time.
"This is now the favorite rhyme book of our 2-year-old amongst her several rhyme books," an Amazon fan wrote. "The pop-ups are absolutely engaging even if the rhymes are shorter than the original."
10
Best Social-Emotional Pop-Up Book
"The Color Monster: A Pop-Up Book of Feelings" ($20, originally $25)
Books can be a fantastic way to help children learn how to identify emotions, a skill that aids in regulation and empathy. This pop-up book stars a monster and vibrant 3D pop-up illustrations designed to teach toddlers about emotions ranging from happiness to anger, fearfulness, and calm.
"I can ask him which Monster he's feeling, and he's able to acknowledge," one Amazon reviewer shared. "It's been so helpful for us."
11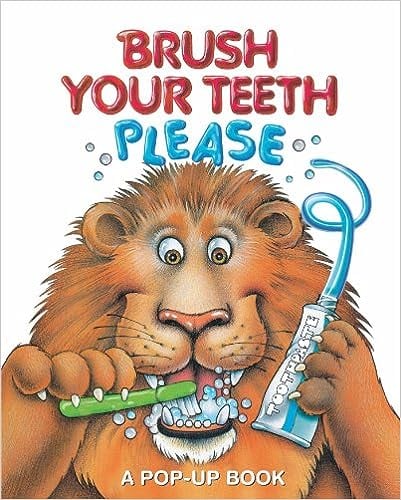 Best Practical Life Pop-Up Book
"Brush Your Teeth, Please: A Pop-Up Book" ($11, originally $15)
If bedtime woes include struggles over brushing teeth, enlist the help of a lion, bear, and shark — oh my. Little ones will get a kick out of this playful pop-up book that shows that even some of their favorite animals take the time to practice dental hygiene.
"This book did not disappoint," a parent who bought the book on Amazon shared. "It has animals whose mouths open up, and you move the toothbrush back and forth or up and down. There is one page where you actually hold the toothbrush to brush the lion's teeth. There is a page where you can floss the shark's teeth as well."
12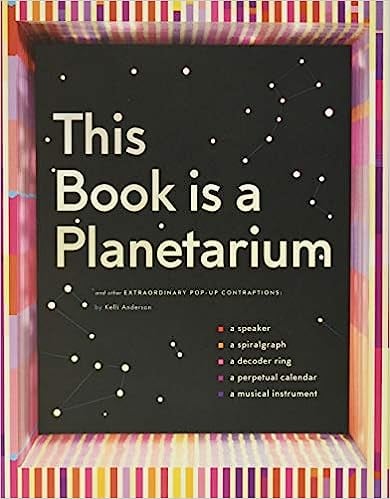 Best Pop-Up Book For Older Kids
"This Book Is a Planetarium: And Other Extraordinary Pop-Up Contraptions" ($22, originally $40)
This memorable book doubles as a fun science lesson with numerous interactive features that turn pages into an infinite calendar, speaker, musical instrument, and working planetarium. The stunning, functional pages explain scientific principles while fostering a sense of wonder. Amazon lists it as best for kids ages 8-12, though even adults are enthralled by it.
"As impossible as it seems, this brilliant book allows its reader to manipulate scientific concepts like light, sound, time, and space," an Amazon reviewer wrote. "It provides teachers, parents, grandparents, librarians, children, and unaccompanied adults the opportunity to play and learn without pain . . . The book's vivid colors are beautiful. The paper pop-ups are sturdy, and the reader is treated to concise explanations matching these ingenious inventions. It is a great buy for active thinkers."