9 Resorts Designed to Give Families True Quality Time Together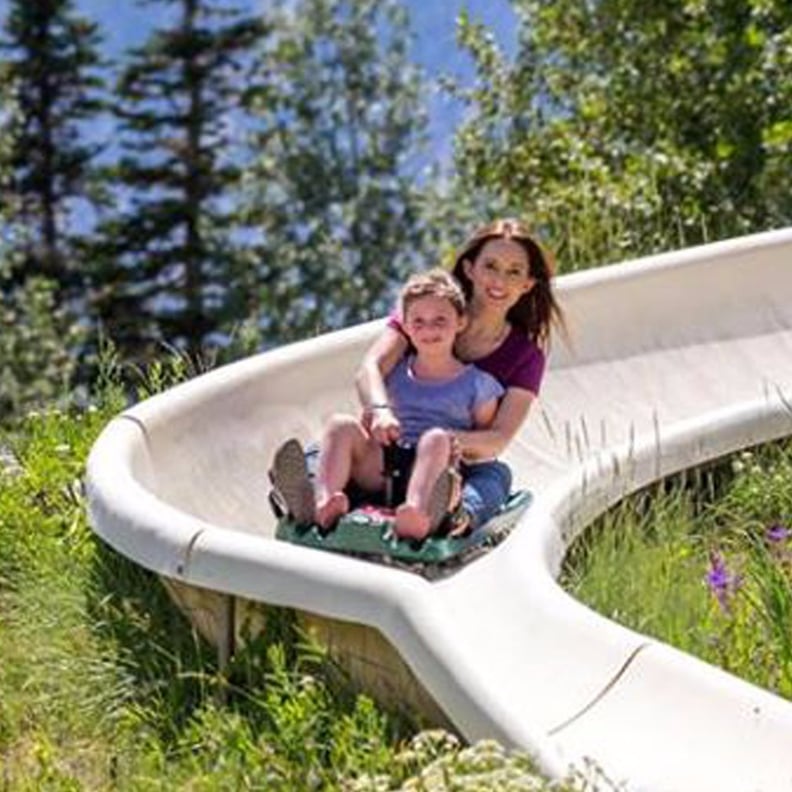 Sure, Mom and Dad might be hankering for a beach vacation where everyone can just veg out while listening to the sound of waves crashing, but the kids probably need a little more than that to keep boredom at bay. So what's a family to do if they want to make everyone happy? Head to a family resort for some good old-fashioned fun. Far from the cheesy resorts depicted in Dirty Dancing, today's hotels offer everything from waterskiing and bobsledding to cattle wrangling and more (though you may find a dance review at a few of them!).
Don't believe us that there are resorts that appeal to everyone in the family — even, possibly, Grandma and Grandpa? Read on to see for yourself.
01
The Broadmoor
Where it is: Colorado Springs, CO
What it is: Ideal for active families, The Broadmoor is located on a small lake in the Rocky Mountains and has everything families need to keep busy during their escape from the real world. While parents fall in love with the lauded spa, the resort has plenty up its sleeve to keep kids happy.
Fun kid activities: Kids as young as 3 years old can participate in the Bee Bunch kids club program, playing tennis, visiting the local zoo, taking cooking classes, and spending time on the lake. When not in the club, there's horseback riding, rock climbing, fishing, and more.
02
Rancho de los Caballeros
Where it is: Wickenburg, AZ (just outside of Phoenix)
What it is: Talk about a dude ranch; Rancho de los Caballeros is an all-inclusive resort that gives families a taste of the ranching life. There's plenty of horseback riding to be had, but there's also golf, moonlit nature walks, swimming, and more. Dinner is served from a chuck wagon, and there are babysitters available to give parents a break during their stay.
Fun kid activities: The Caballeros Kid's Program gives kids of all ages a place to swim, play tennis, do arts and crafts, and more each morning.
03
Sea Island
Where it is: Coastal Georgia (about an hour from Jacksonville or Savannah airports)
What it is: Tucked away amid Georgia's Golden Isles, Sea Island resort occupies its own island and boasts a rich 85-year history. The property melds Southern hospitality at its finest with tons of thoughtful, modern amenities that will appeal to families. Visitors can opt to stay at the Cloister or Lodge, or rent your own cottage or villa on the island. While five miles of private white sand beach are the main attraction, there's also tennis, squash, fishing, boating, dining, and spa amenities (hey, Mom's gotta have her fun too, right?).
Fun kid activities: Whether you prefer to drop your tots (ages 3-14) at Camp Cloister for a day of outdoor exploration, crafts, games, and more or embark upon a family bike ride or boat outing, Sea Island can accommodate your every whim. The Beach Club Theater shows (free!) family-friendly flicks, and on Tuesday and Thursday nights, get the whole family dressed up for the resort's bingo night tradition. Tweens and teens can partake in stand-up paddle boarding clinics, basketball or tennis tournaments, and their own fitness classes and spa treatments. You won't hear "I'm bored!" once the entire trip. We can almost guarantee it.
04
Woodloch
Where it is: Hawley, PA (the Poconos)
What it is: Located in the Poconos, Woodloch is an all-inclusive family resort that places a heavy emphasis on quality family time. On the weekend we visited the resort, we participated in a Cupcake Wars-type cake decorating competition, family olympics, a scavenger hunt, and a human bowling game (human pins, not balls!). Meals, served family-style, feature kid-friendly characters walking around the dining room (think Hulk Hogan, Elmo, and more), and evenings include everything from bingo and "horse racing" to musical reviews, like an '80s hits night.
Fun kid activities: In addition to the scheduled group activities, the resort offers an indoor pool and splash area, bumper cars, go-karts, miniature golf, tennis, an indoor jungle gym, and more. Summer months bring an array of waterfront activities, like waterskiing, sailing, and more lakeside adventures.
05
Skytop Lodge
Where it is: Skytop, PA (the Poconos)
What it is: An all-inclusive family resort, Skytop is like Summer camp for families — albeit in some luxurious accommodations.
Fun kid activities: More to the point, what doesn't SkyTop offer? From zip-lining and hiking to dogsledding, paintball, snowshoeing, lawn bowling, tennis, archery, and more, there's no chance of a child getting bored here!
06
Tyler Place Family Resort
Where it is: Highgate Springs, VT
What it is: An all-inclusive family resort located on Lake Champlain, Tyler Place distinguishes itself from other resorts with nine age-specific camps designed for kids up to 15 years old. The resort also boasts three-hour adult-only dinners each night (babysitters are included in the price) to give kids a chance to play with their friends and adults some time to reconnect.
Fun kid activities: The resort truly offers everything a kid could want — six playgrounds, a pirate ship, a tree house, sailing, kayaking, water tubing, fishing cruises, hiking trails, bike rentals, arts and crafts, yoga, tennis, and more. Tours of local fruit and dairy farms are also an option, as is gardening in the resort's organic garden.
07
Snowbird Ski and Summer Resort
Where it is: Snowbird, UT
What it is: Though probably best known for its Winter ski amenities (it has 10 lifts and 85 runs), Snowbird also offers up quite a few Summer activities to keep families busy during the warmer weather. The resort is not all-inclusive, but there are plenty of activities to choose from each day.
Fun kid activities: In addition to skiing in the Winter months, the resort offers snow tubing, snowshoeing, hiking, and snowmobile tours for kids. When the weather warms up, there are aerial tram rides, the Mountain Coaster (seen above), the Alpine Slide that takes riders down 1,300 feet of twists and turns, gold panning, and Camp Snowbird for kids ages 4 and up. Snowbird also offers an array of adaptive sports activities for kids with special needs, such as downhill skiing, sled hockey, and snowshoeing in the Winter and fishing, bowling, and hiking in the Summer.
08
Kingsmill Resort
Where it is: Williamsburg, VA
What it is: You'd never know that Kingsmill is located just minutes away from Busch Gardens and Colonial Williamsburg. The family-friendly resort features just about every activity kids could want — think kayaks and paddle boards, indoor and outdoor pools, seashell collecting, arts and crafts, tennis, and more. But it's not just about the kids; with three 18-hole golf courses, 15 tennis courts, and a sports club, there's plenty for Mom and Dad too.
Fun kid activities: When you check in, be sure to register your little ones as junior guests — they'll receive a fun pack to make them feel more welcome at the resort. The Kids Camp gives kids ages 5-12 a place to play tennis, water games, and more under the watchful eye of the resort's counselors, while the Kids' Night Out program gives them evening activities (and gives parents a night out) including outdoor activities, movies, and snacks.
09
Out 'n' About Treesort
Where it is: Takilma, OR
What it is: Probably the most unique resort you'll ever see, the Out 'n' About Treesort is just what it sounds like — a tree-house-filled getaway comprising 14 true tree houses.
Fun kid activities: While the actual tree houses may be enough to keep kids occupied (you have to climb stairs and ladders to get to your room), the resort also offers horse stables, rafting, pools, zip lines, and a Tarzan swing to keep kids busy during their stay.