As POPSUGAR editors, we independently select and write about stuff we love and think you'll like too. If you buy a product we have recommended, we may receive affiliate commission, which in turn supports our work.
Your baby is nearing 9 months of age — time flies when you're having fun, right? Though the back half of infancy can be bittersweet for some parents (where did that squishy newborn go?), the final three months of a baby's first year of life can be a blast.
"It is fun to begin seeing the personality of a child come alive, which is becoming more apparent as they are starting to develop more facial expressions," says Luke Prest, MD, a board-certified pediatrician by the American Board of Pediatrics. "They are also becoming more interactive, as well."
Those interactions may include a little language — though you may not understand what they're saying at this stage — and movement.
"They are probably vocalizing or babbling some sounds while working on imitating sounds and words," says Puji Jonnalagadda, MD, a developmental-behavioral pediatrician at Pediatrix Medical Group. "They are working on getting in and out of a crawling position and paying a lot of attention to how objects in their surroundings work."
To aid in this development (and make life fun for parents and babies alike), caregivers may consider adding 9-month-old toys to their little one's shelves.
"The growing brain of a baby craves stimulation and depends on their parents to engage them," Dr. Jonnalagadda says. "Toys provide an easy solution for engaging their babies. Choosing the right type of toys at this age can help them succeed in developing good control of their bodies, improve brain function, and use their developing sense of touch, sight, and sound."
There are tons of toys for 9-month-olds to browse, which can feel slightly overwhelming. So what are the best toys for a 9-month-old? We chose 11 based on pediatrician advice and caregiver reviews.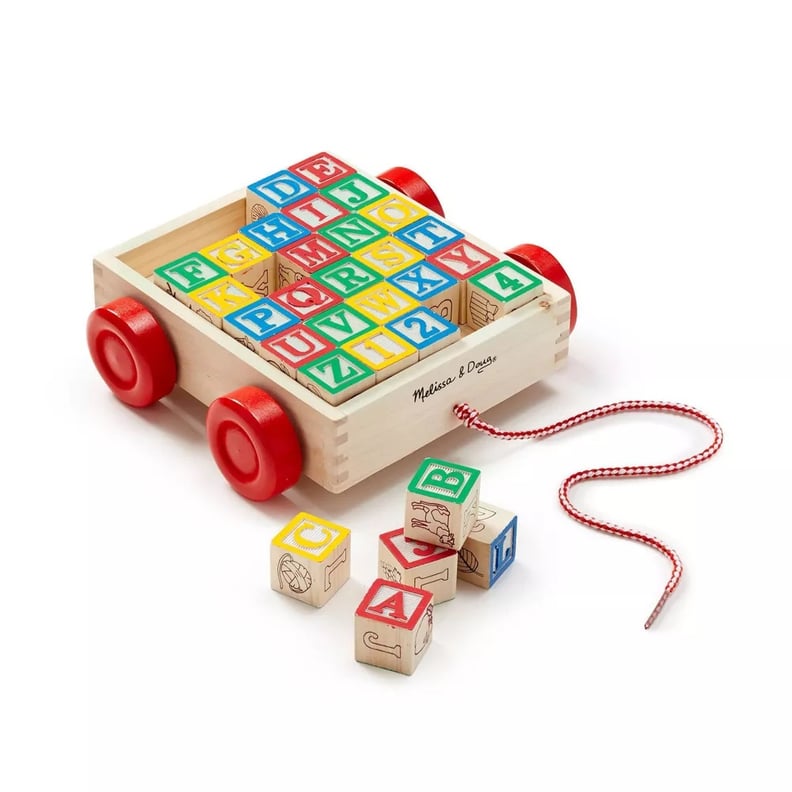 Best Block Set Toy For a 9-Month-Old
Melissa & Doug Classic ABC Wooden Block Cart Educational Toy ($19)
This wooden block set with numbers and letters can grow with your child through kindergarten. At 9 months, Dr. Jonnalagadda says, they'll build multiple skills — no pun intended.
"They can be stacked to build structures and practice fine motor skills with their hands and fingers," Dr. Jonnalagadda says. "Balancing, stacking, and building with blocks allows for practice of hand-eye coordination."
Different textures and colors make playing with blocks a multisensory experience, and parents can use the letters and colors to build vocabulary now and later. Parents can also use the blocks to encourage movement by placing them a little farther away from the baby and letting them reach for it.
"This strengthens their muscles as they balance, twist, and shift weight from side to side," Dr. Jonnalagadda says.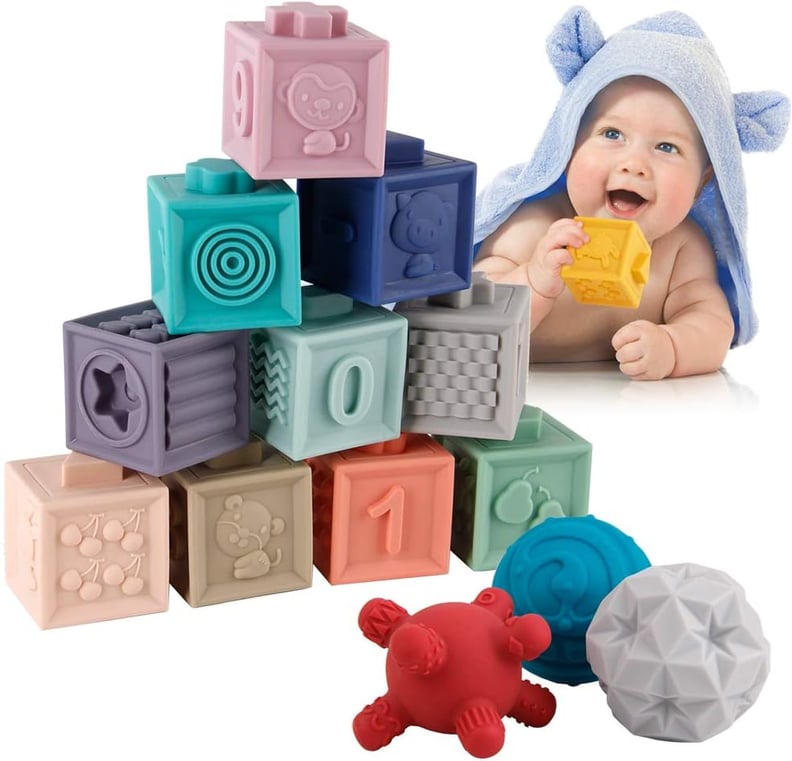 Best Soft Block Toy For a 9-Month-Old
Bobxin 15 PCS Baby Blocks Toys ($20)
Some parents may prefer to start with softer blocks. This option from Bobxin offers different colors and textures and stacking opportunities that assist with fine motor skill development.
"These are firm yet pliable, great for teething and stacking," a recent customer writes. "Both baby and mom have fun stacking and knocking down."
Best Toy For a 9-Month-Old Learning Cause and Effect
Battat Wooden Activity Cube ($61)
At 9 months, babies may experiment with cause and effect, such as throwing food on the ground (fun times). Dr. Preston loves that this activity cube (and others like it) encourages this experimentation (in a less messy way) through rotating blocks, a bead maze, and open-and-shut doors.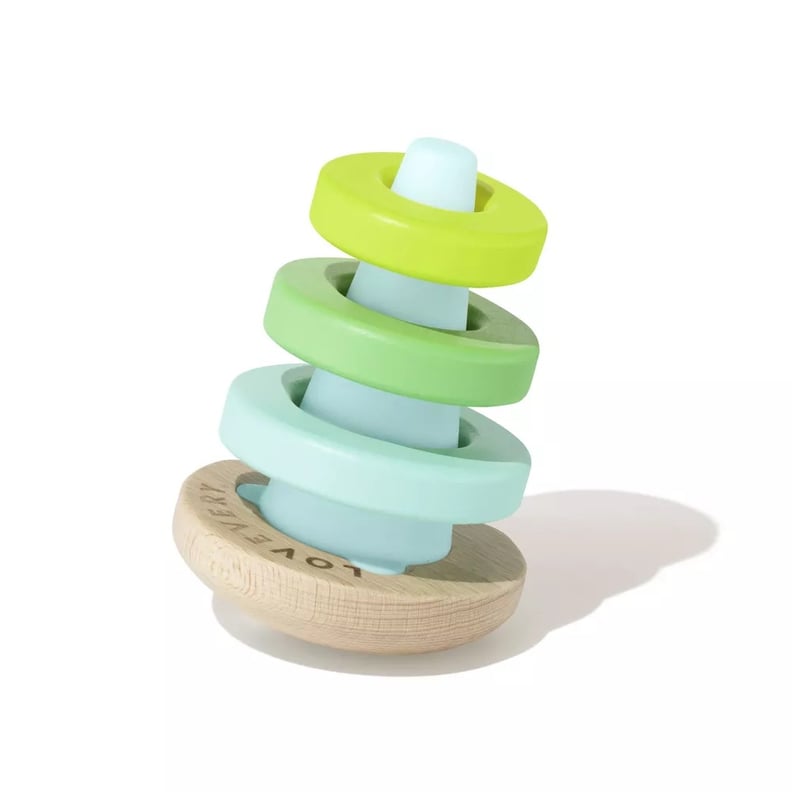 Best Stacking Rings Toy For a 9-Month-Old
Lovevery Montessori Wobble Stacker ($18)
Dr. Preston says stacking toys like rings aid in fine motor skill development. Lovevery's stacker has large rings that are easy for small hands to grasp and a wobbling base that playfully challenges a 9-month-old to build agility and coordination.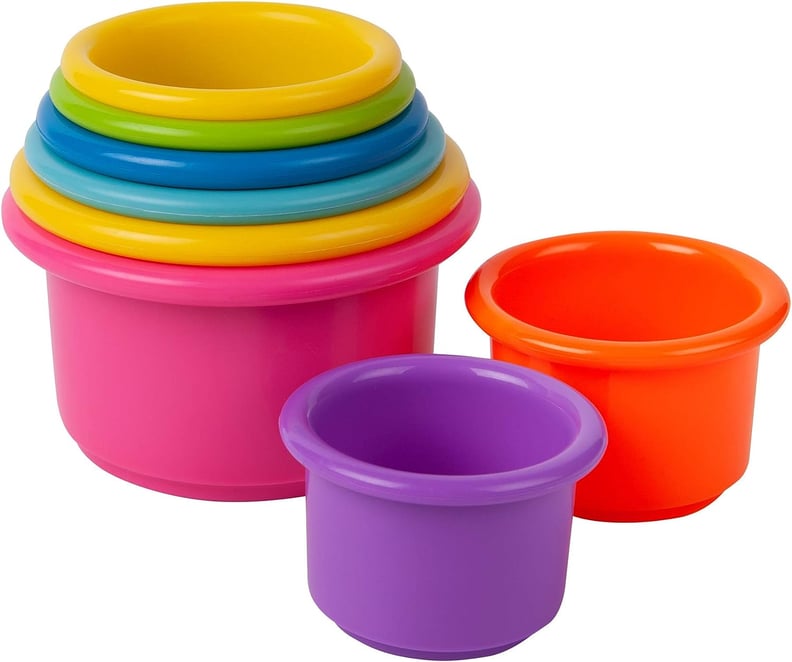 Best Stacking Cups Toy For a 9-Month-Old
The First Years Stack N Count Cups ($11)
Another great stacking option? These under-$10 cups. The bright colors are visually appealing to an infant, who will love the ability to fit the cups together or stack them on top of each other. Parents can use the numbers on the bottom to work on counting skills as a child grows. The cups have a 4.8-star Amazon rating based on more than 88K reviews, with parents raving that the cups are easy to clean, versatile, and durable.
"My son absolutely loves these stackable cups," an Amazon reviewer writes. "They've taught him a lot of different skills and has helped hone his fine motor abilities. The colors keep him engaged and intrigued."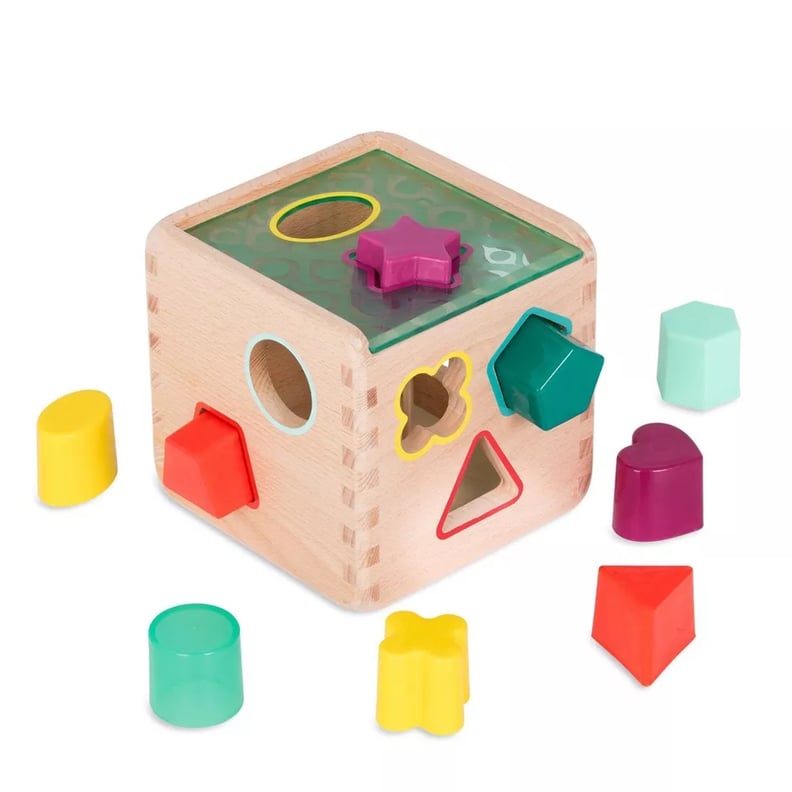 Best Wooden Sorter Toy For a 9-Month-Old
B. Toys Wooden Shape Sorter — Wonder Cube ($12)
A 9-month-old may not be able to put the shapes into this cube (that'll start around 18 months to 2 years), but Dr. Jonnalagadda says older infants can learn valuable lessons from a shape sorter.
"It works on fine motor skills of grasping and dropping," Dr. Jonnalagadda says. "When the shapes disappear into the bin, babies start to discover object permanence, which is a step of brain development that involves the concept that objects continue to exist even when you cannot see them . . . It's endless fun for a baby at this age and a great teaching tool."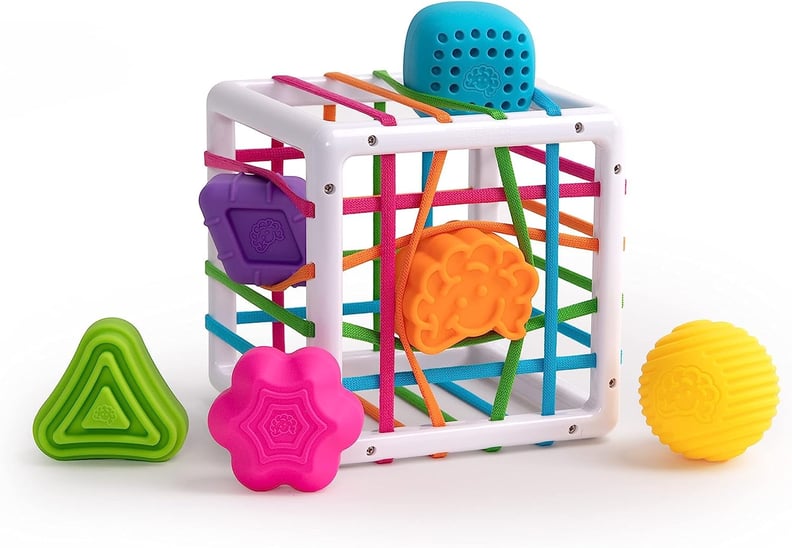 Best Elastic Sorting Toy For a 9-Month-Old
Fat Brain Toys InnyBin Baby Toys ($28)
The elastic nature of Fat Brain's shape sorter makes it easier for a 9-month-old to manipulate. Though it doesn't offer the same object-permanence lessons as a more traditional sorter, it still works on grasping and placing some objects into another. Different-textured blocks provide another layer of sensory exploration. More than 4K Amazon reviewers have rated this toy with 4.8 stars.
"It's a great quality toy and has smaller sides to add a little challenge for those little ones who have mastered pulling and pushing in the shapes on the easier sides of the square," one reviewer says. "This toy will grow with your little one for at least a year. The shapes are great for new grippers and aren't cheap plastic. Highly recommend."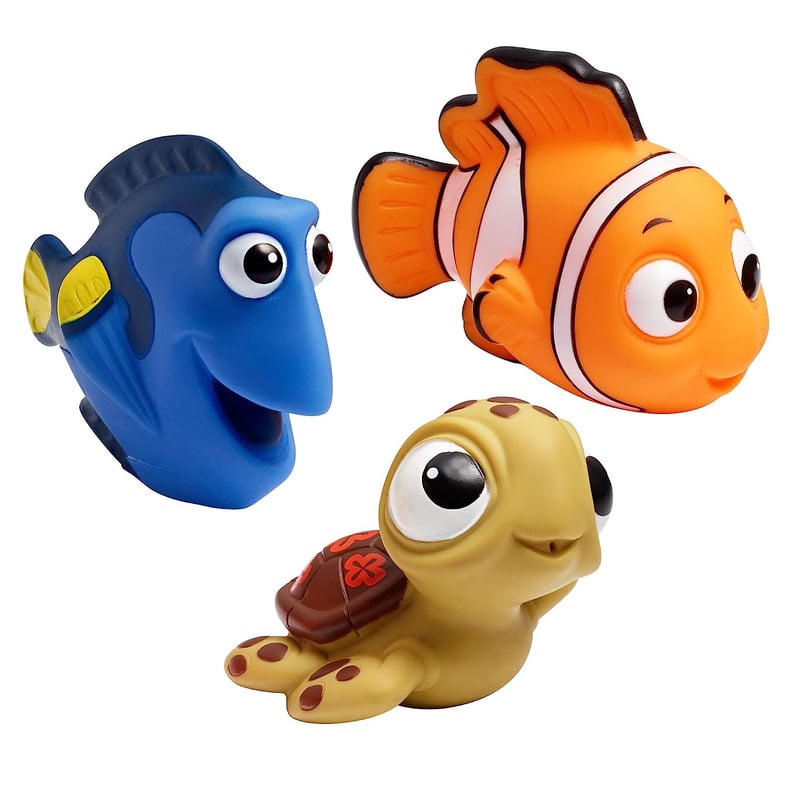 Best Bath-Time Toy For a 9-Month-Old
The First Years Disney Finding Nemo Bath Toys ($11)
Bath time can be hit or miss at this age. Some babies may be little fish who love the water, while others may not be into it. Some toys can make bath time more fun either way. These "Finding Nemo" squirt toys are easy to grip and make little ones and their Disney-loving parents smile. Enjoy the giggles as you playfully squirt your little one or make a game of finding Nemo.
"[I] got these for my granddaughter for Christmas, and they are so cute," one fan comments. "[They were] a little larger than I expected but perfect for bath or pool time. The colors are brilliant . . . who doesn't love 'Finding Nemo?'"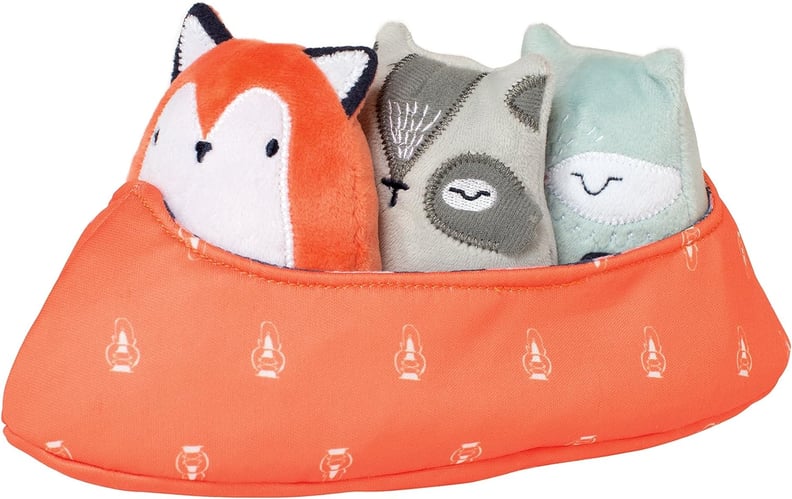 Best Toy For a 9-Month-Old Who Likes Stuffies
Manhattan Toy Camp Acorn Canoe Buddies ($21, originally $29)
These soft stuffed animals offer more than something to cuddle. Little ones can put the woodland ones into the canoe to experiment with cause and effect and develop motor skills. As your little one grows, the owl, raccoon, and fox make perfect companions for early pretend play.
"I expected this to be slightly larger than it is but am actually quite happy with the size," one Amazon shopper writes. "[It's] perfect for little hands, and the quality seems to be pretty amazing as well."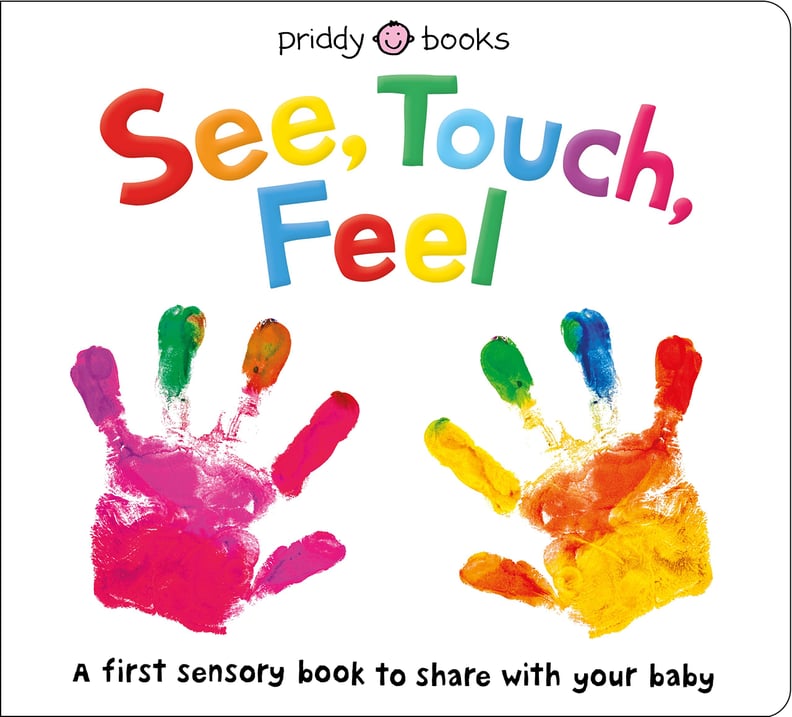 Best Sensory Book Toy For a 9-Month-Old
"See, Touch, Feel: A First Sensory Book" ($8)
Your little one may not be saying real words yet, but Dr. Prest encourages parents to continue reading to their babies at 9 months at bedtime or anytime.
"Children at this age are starting to be able to look at pictures/books, and I recommend reading to them at this age even though they may not understand it," Dr. Prest says. "You can also use books to look at and talk about the pictures."
"See, Touch, Feel: A First Sensory Book" has different raised textures, a mirror, and colorful pages that can prompt all kinds of fun interactions with your 9-month-old.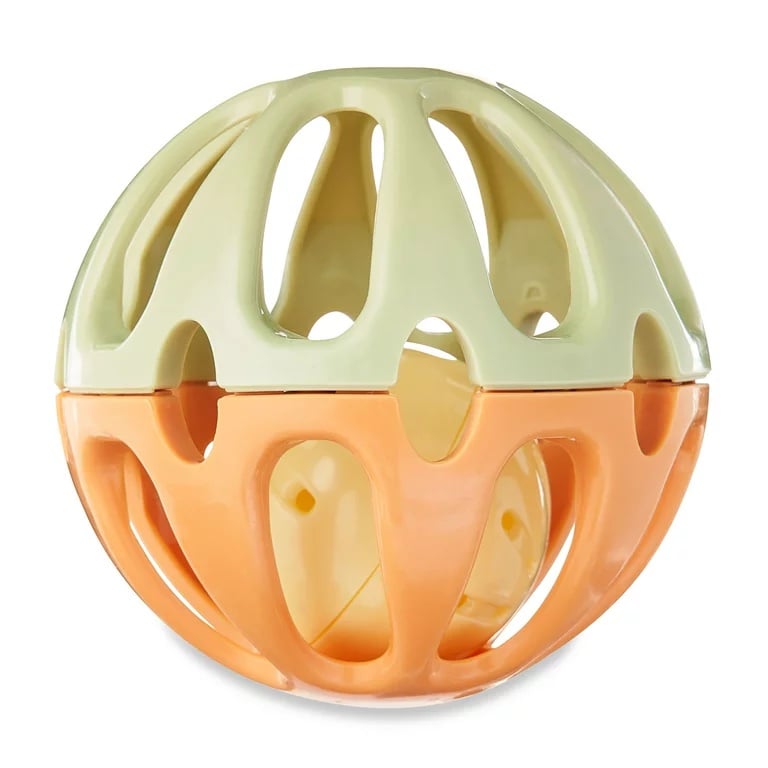 Best Back-and-Forth Toy For a 9-Month-Old
Spark Create Imagine Rattle Ball ($2)
Dr. Prest suggests seeking toys for 9-month-olds that prompt back-and-forth play. A ball is a natural fit.
"A ball that is rolled between child and parent can help children learn about taking turns and cause and effect," Dr. Prest says.
This durable ball has a rattle that can help grab the attention of an on-the-move 9-month-old.