These Body-Positivity Songs Teach Kids to Love Themselves
These Body-Positive Songs Are For Kids, but Our Inner Children Love Them, Too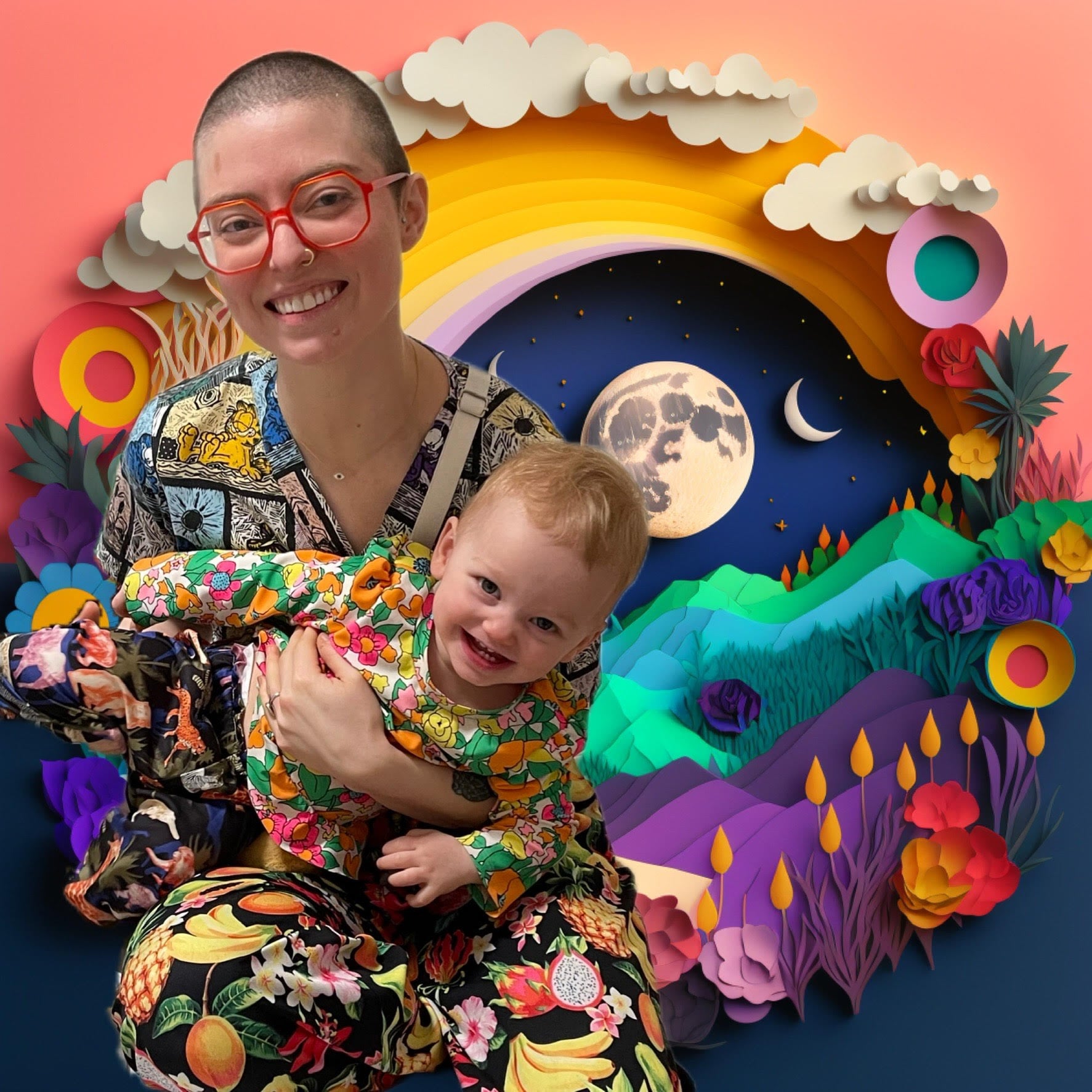 Image Source: Mother Moon
Has "The Belly Song" crossed your FYP yet? Videos of parents and teachers singing the song to teach children how to love themselves (and as a reminder to themselves to not be so self-critical) have flooded TikTok. The singer-songwriter behind the viral children's song is Mother Moon (who prefers to keep her real name anonymous), and she's on a mission to build self-esteem in kids and help people heal their inner child along the way.
The 30-year-old has loved music and singing since she was a toddler herself. "I have an innate need to express myself and process my emotions through songwriting," she tells POPSUGAR. As a teenager, she began to share her songs with those around her. And then came TikTok.
Her first big hit, "I Love My Body," has been viewed on the platform more than three million times. "I love the way I look when I look in the mirror," she croons while making food in her kitchen. "So what do I say? I tell myself I love me, every day." Another crowd favorite, "The Belly Song," has been viewed almost two million times, but that doesn't take into account the many duets she has inspired — including a version in French, Spanish, Greek, Italian, Dutch, and Swedish.
Thousands have flooded her comment section to remark on the body neutrality in her lyrics: "Big belly, little belly, round belly, flat / Some have a lot of muscle, some have a lot of fat / Some wiggle and they jiggle and some do not / And I like whatever kind of belly that you got." But mostly, they all shared how much their inner child needed to hear this song and that they plan to share it with their own kids. "I sang this to my daughter before bathtime tonight & cried bc I'm healing myself at her age," one user wrote.
Mother Moon's lyrics are an easy way to teach children about their bodies without judgment, but her songs have also been used as a healing tool for parents and people without kids, too. "I was humbled by how my simple and straightforward messages seemed to reach people," she continues. "I started hearing how my words helped other people process their own emotions and help them on their own mental health journeys. That encouraged me to continue making up and sharing my songs!"
When asked if it was always her intention to share her vulnerable lyrics so widely, she says it's taken some time to wrap her head around people from all over the world singing her songs. "I've hoped that dream would come true for a long time," she says. "While I have taken steps in the past to get that ball rolling, I never made any big push for it to happen. I just kept sharing what felt right to share and hoping it reached people who needed it. I am overjoyed and beyond grateful that it is reaching so many!"
And in case her motives weren't clear, she made a TikTok to clarify that the songs include all bodies, regardless of gender identity. "I completely understand the emphasis on body positivity for women and feminine-presenting people," she says. "I think we all understand the pressure put on these bodies to stay within the mold of modern beauty standards. My concern is that there isn't enough support for young boys, men, and otherwise masculine-presenting people in the realm of body neutrality and body positivity. I want my work to make everybody feel included and supported."
So what's next for Mother Moon? "Between being a toddler mom and challenges related to chronic illness, I don't see touring in my future," she admits. Her daughter, Moondrop, recently turned 1. Other big plans of Mother Moon's include incorporating her music into a complete program: "The Mother Moon Program For Kids and the Inner Child." It will involve a YouTube show, books, and care packages, called Moonbeam Boxes. Those are just a few of her ideas. "It'll all unfold as it is meant to, I'm sure."
Now streaming everywhere, you can find Mother Moon on Amazon Music, Spotify, and YouTube.