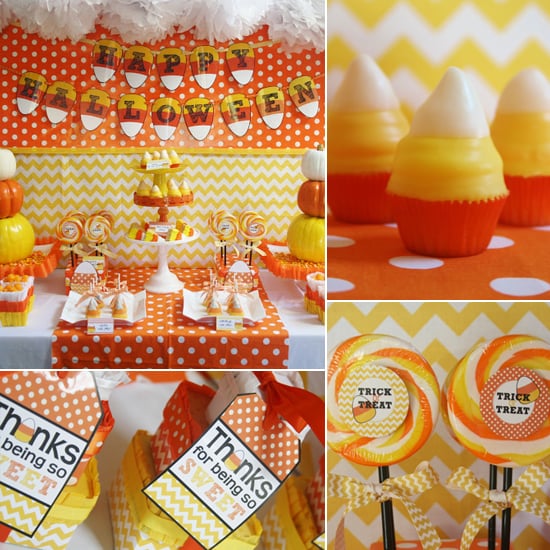 "I wasn't even sure I wanted to have a Halloween party until I stumbled across the cutest candy corn printable set. Candy corn, check! Chevron, check! Polka dots, check! That was it! I was having a party," says Kate Petronis of And Everything Sweet. So in a week and a half, Kate threw together one adorable after-school Halloween party, full of candy corn treats, including cake pops, Rice Krispies Teats, lollipops, and top hat cupcakes; candy corn pumpkin topiaries; and those adorable printables. Keep clicking to check out all the candy corn cuteness!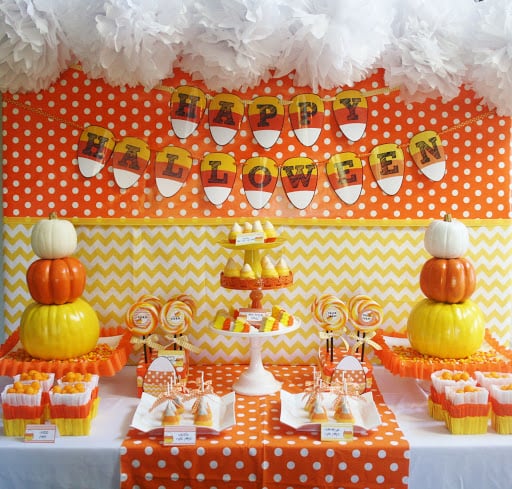 Candy Corn Colors
"The girls had so much fun at the party!" Kate says. "We kicked things off with a Halloween treasure hunt. I had scavenger-like clues leading the girls all over the house to different spots. At each spot, there would be a treasure and another clue. I got all my treasures last year on clearance sales so there was some pretty cool stuff!"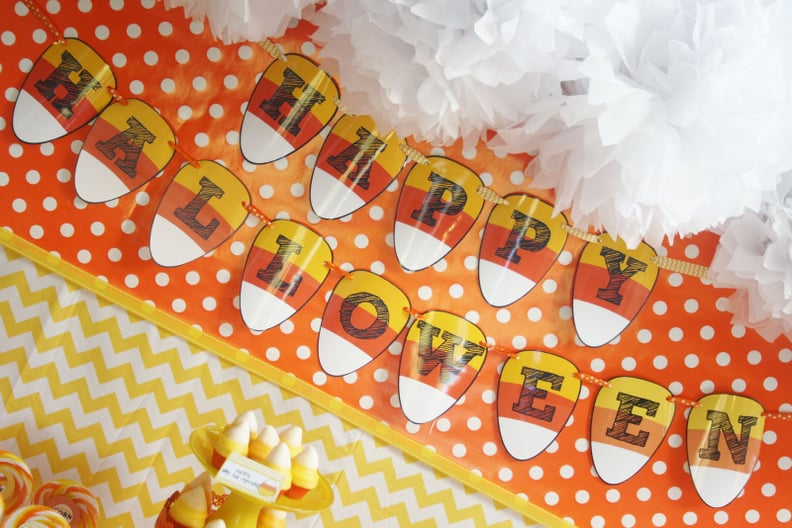 Printables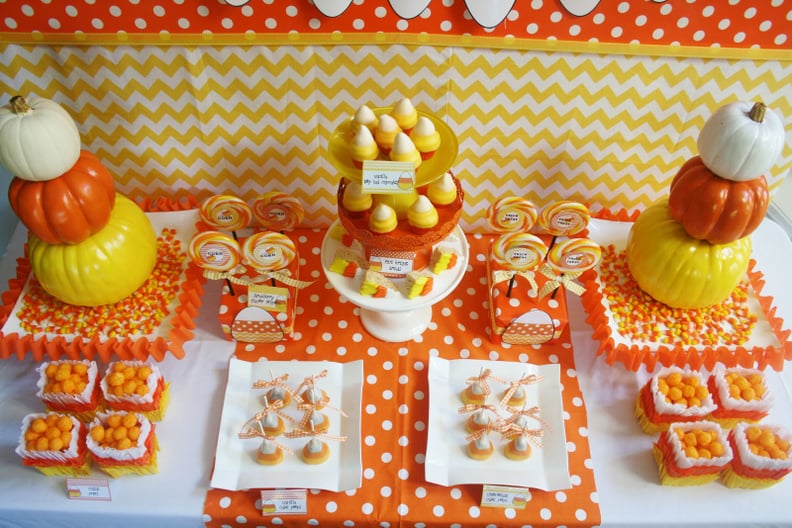 Yellow, Orange, and White All Over
An array of candy corn-colored treats drew kids to the dessert table.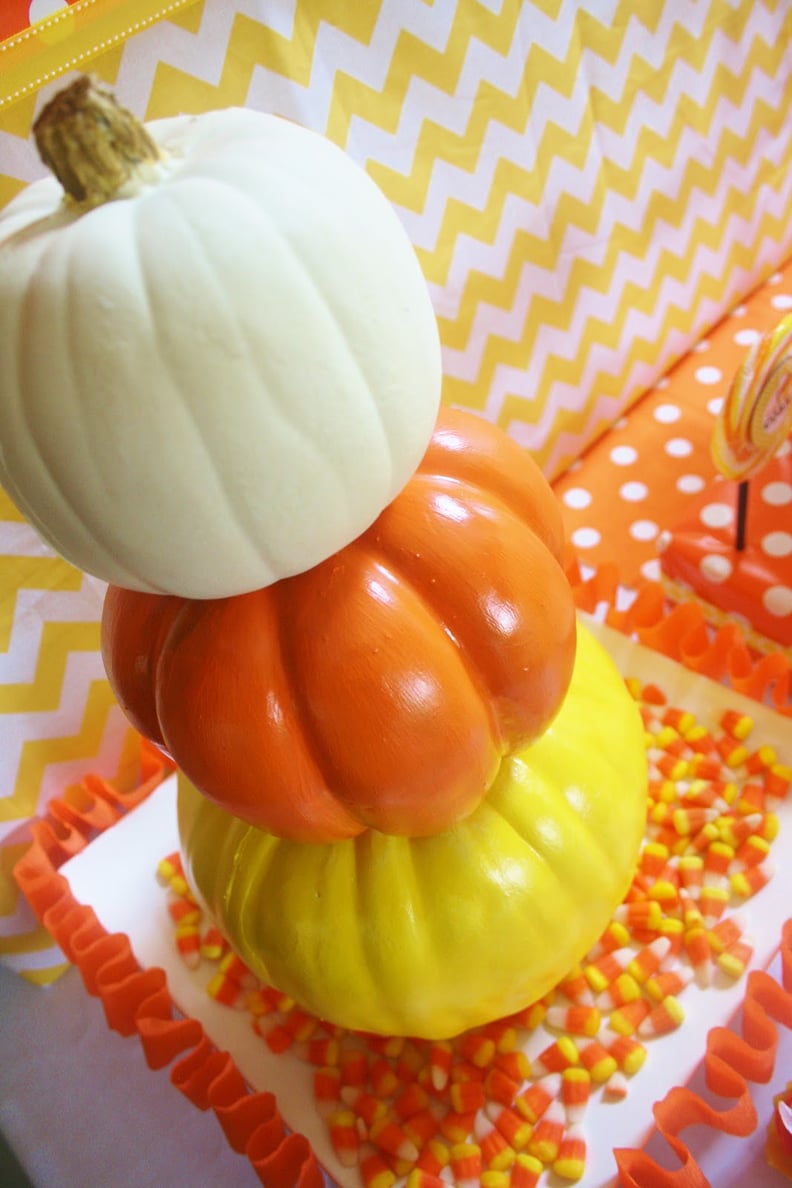 Pumpkin Topiaries
"I made candy corn pumpkin topiaries to go on each end of the dessert table," Kate says. "They were so easy to make! I got three different size craft pumpkins and some spray paint, and voilà!"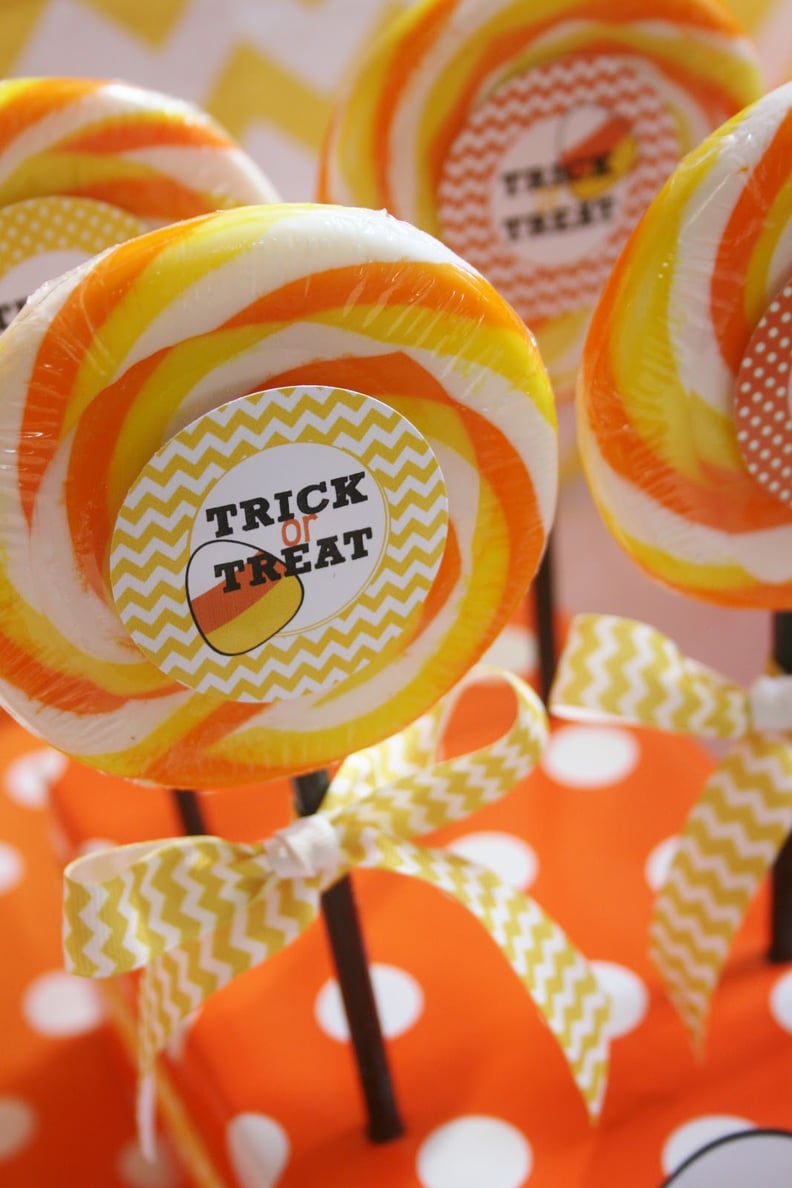 Trick or Treat
Rice Krispies Treats
Rice Krispies Treats were cut to look like candy corn and topped with icing.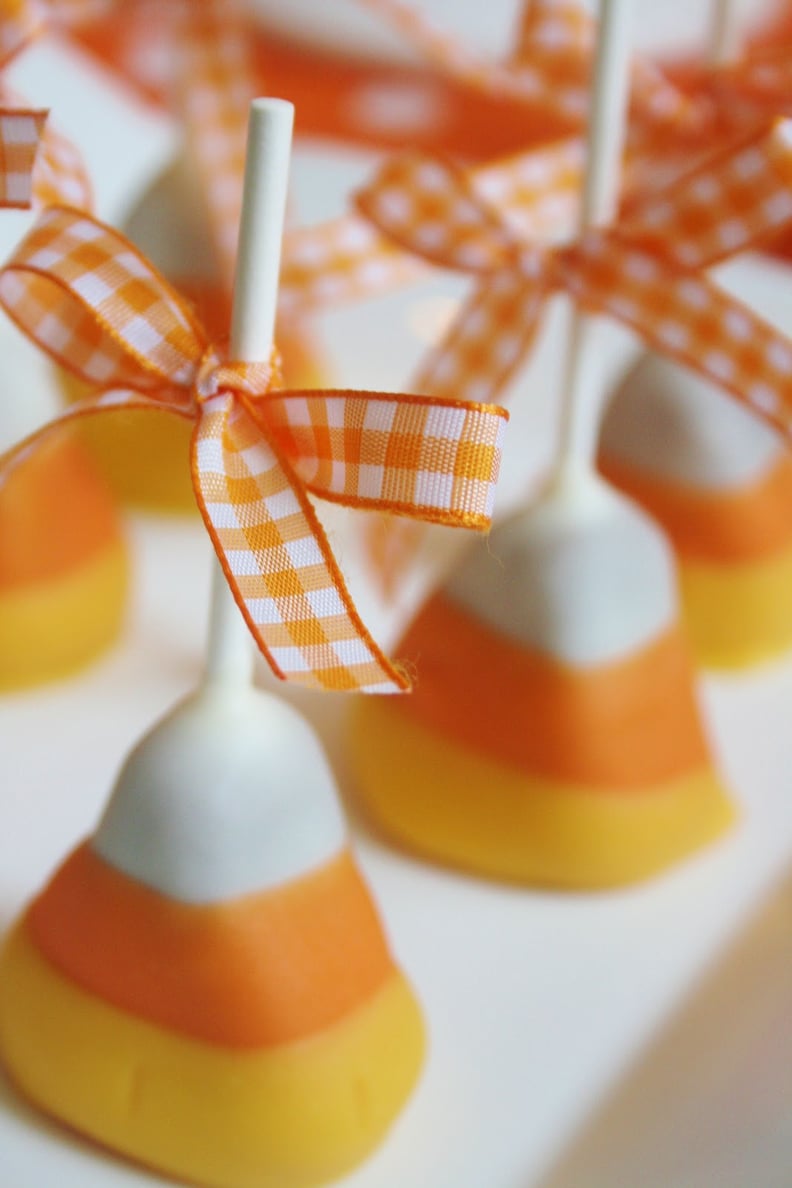 Candy Corn Cake Pops
Three colors of chocolate coating made these cake pops look like candy corn.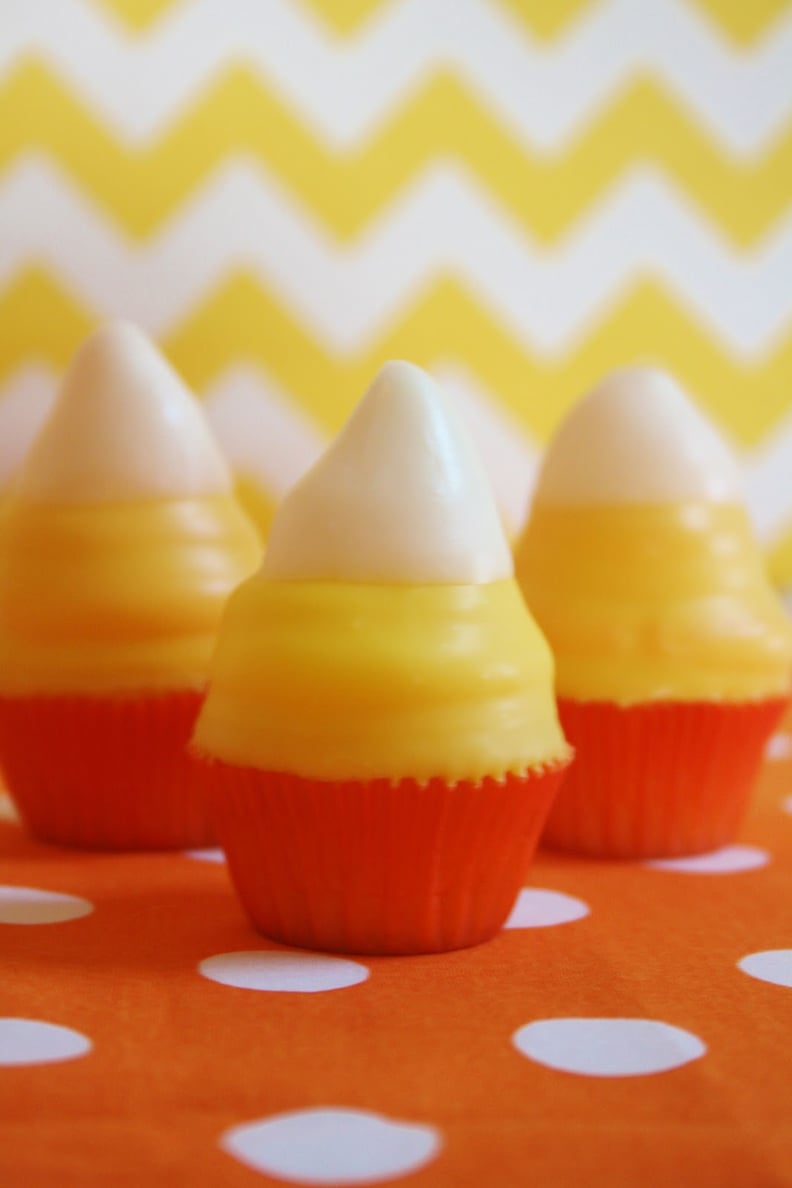 Top Hat Cupcakes
"How yummy do these top hat cupcakes look?" Kate says. "Swirls of butter cream icing, dipped in candy melts."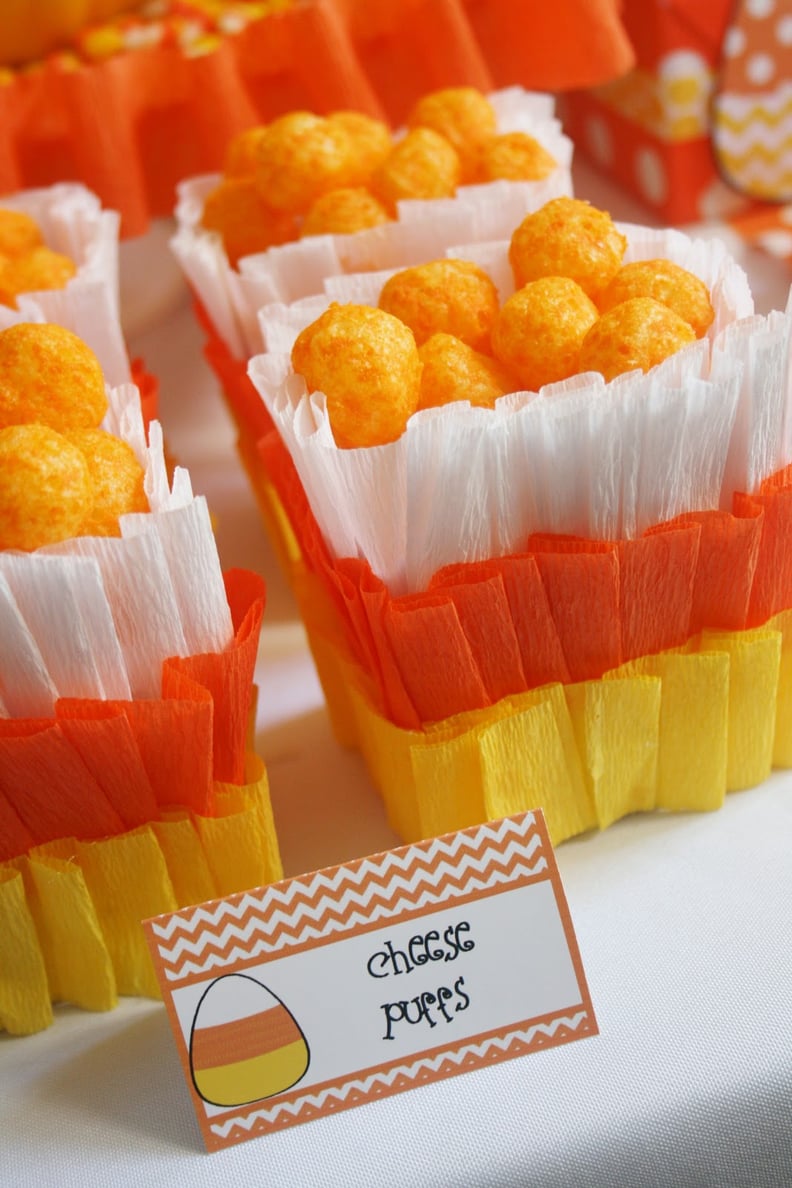 Cheese Puffs
"I added a little salty snack to the dessert table: cheese puffs," Kate says. "Don't give me a hard time! What is the point of adding anything healthy to the table at this point? One day of junk won't hurt!"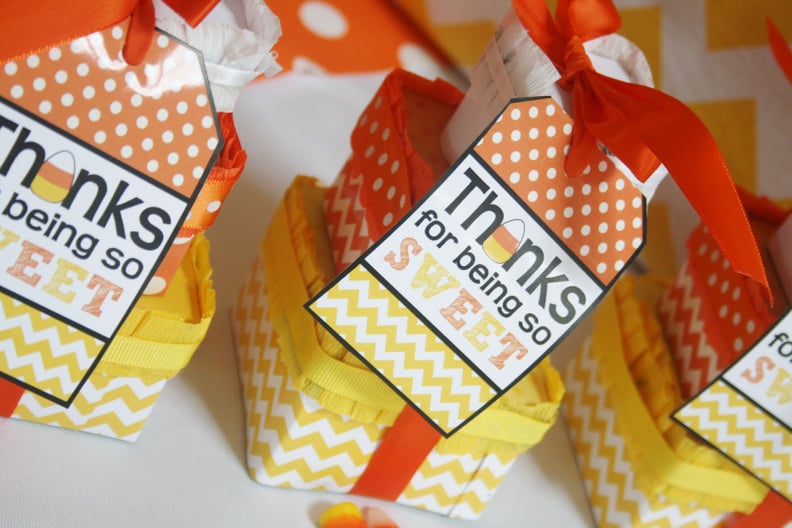 Gift Boxes
"The treasure hunt ended with this precious three-tier box of goodies," Kate says. "I found these boxes last year on sale, but they were originally black/purple/green/orange. Very cute, but not fitting with the candy corn theme, so I wrapped them with printables to candy corn them up."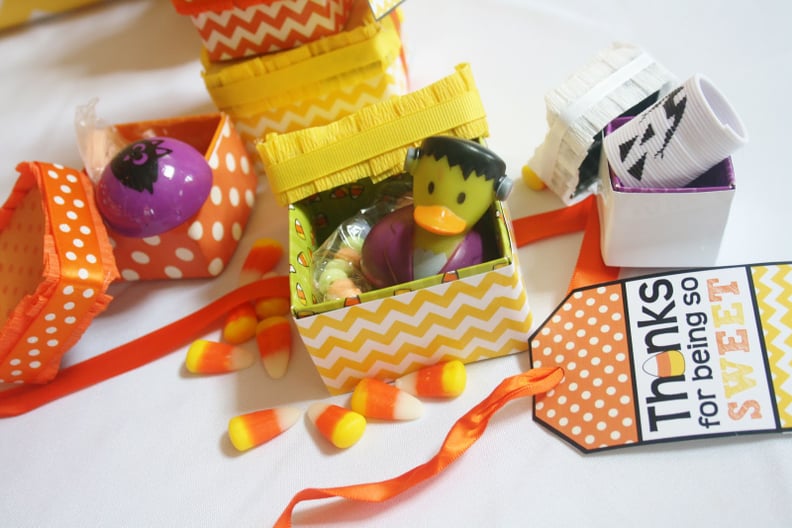 Spooky Treats
Inside the gift boxes, guests found a bunch of Halloween-themed treasures.