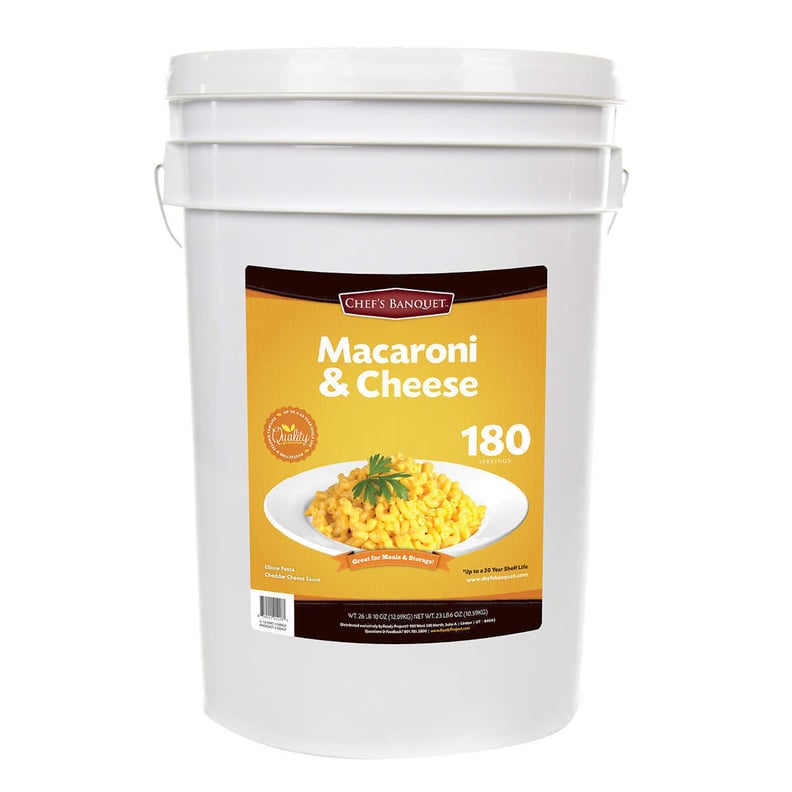 As POPSUGAR editors, we independently select and write about stuff we love and think you'll like too. If you buy a product we have recommended, we may receive affiliate commission, which in turn supports our work.
Have you ever been so hungry that all you want to do is take a shovel and dive into a bucket of pasta? Well, hungry folk and parents of children mid growth spurt, we have good news for you, and it comes straight from Costco, aka the only club we've cared about getting into since age 25. Costco is selling a 27-pound bucket of mac and cheese filled with 180 servings (!!!) of elbow pasta smothered in oozing cheddar cheese sauce.
The Chef's Banquet Macaroni & Cheese Storage Bucket ($90) has a 20-year shelf life, but don't let the timeline fool you — the reviews are overwhelmingly positive, with a few noting they were "pleasantly surprised" with how it tasted. The bucket is listed under Costco's Emergency Kits & Supplies section, but parents, we all know how useful this bucket could be around dinner time. And if you think the wholesale retailer is messing around with this mac and cheese or its 7-pound tub of Nutella, we're going to need to see your membership card.
Costco's 27-pound mac and cheese bucket sold out after just a few hours of going viral, but Amazon is selling the same tub directly from the brand. However, the Chef's Banquet Macaroni & Cheese Food Storage ($150) is a bit pricier on Amazon, so before you purchase, take one good look at your kids, and ask them, just how hungry are you?!