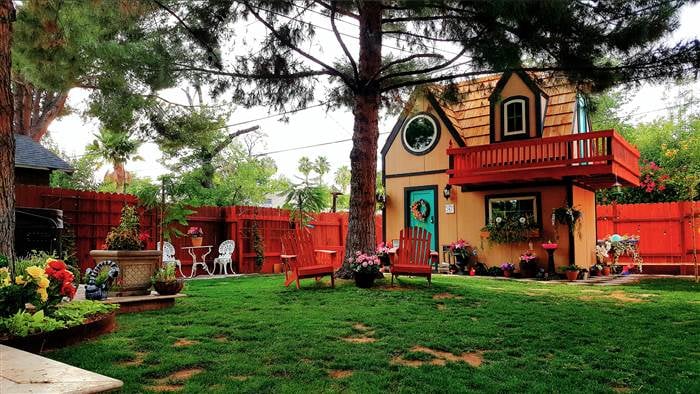 Alex Kaminski
Alex Kaminski
When Alex Kaminski decided to build his little girl a playhouse, he didn't realize that this was quickly going to evolve into a passion project bigger than anything he'd initially envisioned. The Arizona dad wanted to make a place for 6-year-old Maddie to call her own but ended up creating something familiar: a miniature version of the family's home.
"I love our house because it's so unique," Alex told Today. "When I wanted to build Maddie's playhouse, I thought it would be super cool to have a mini-me house."
Alex worked to replicate the high peaks and Tudor style of their home in a smaller version in their backyard. The final structure includes a 15-foot ceiling, reading center, living room, spiral staircase, and upstairs loft. "I saw myself playing with her and spending a lot of time with her in there," Alex said. "I wanted to make it (a place) where I could be comfortable in there, too."
As Alex worked on the structure, his wife, Tysen, focused on personalizing the interior. They incorporated their home's original doors from 1929 in the playhouse, hand painted the floors in a variety of colors, and repurposed furniture from antique stores to create a warm feel. "I didn't think it would be that big, but when I pulled the (15-foot) ladder out, it wouldn't go to the top," Alex said. "It was a collaborative family decision to make it a bigger playhouse for her to grow into."