Danielle and Kevin Jonas Have One Lucky Baby: Peek Inside Her Playroom!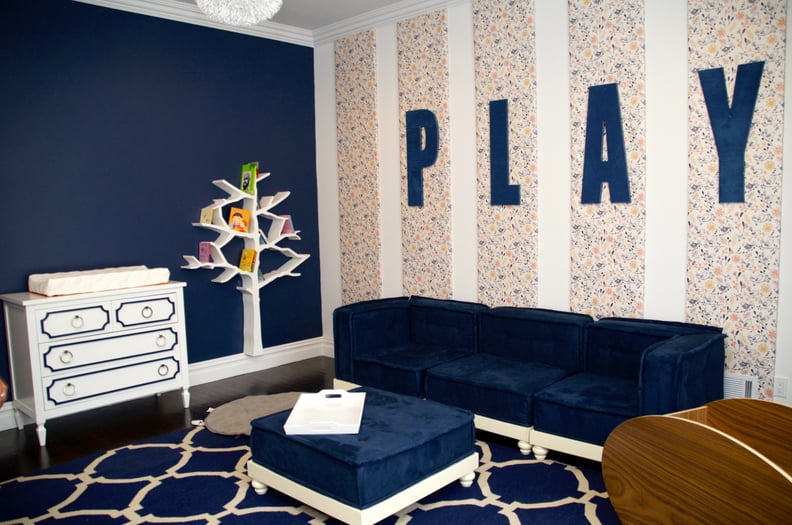 As POPSUGAR editors, we independently select and write about stuff we love and think you'll like too. If you buy a product we have recommended, we may receive affiliate commission, which in turn supports our work.
When parents-to-be prep their homes for a new arrival, the nursery may be the first space that comes to mind. But equally essential is the space where baby will play, which is guaranteed to be one of the most well-trafficked spaces in the house in the coming years. Proud new parents Kevin and Danielle Jonas had the foresight to realize this and commissioned the help of Vanessa Antonelli of NessaLee Baby to create their daughter Alena Rose's one-of-a-kind playroom. Keep reading for a peek into the superchic room and see what Vanessa and new mom Danielle had to say about its evolution. Source: Vanessa Antonelli for Nessa Lee Baby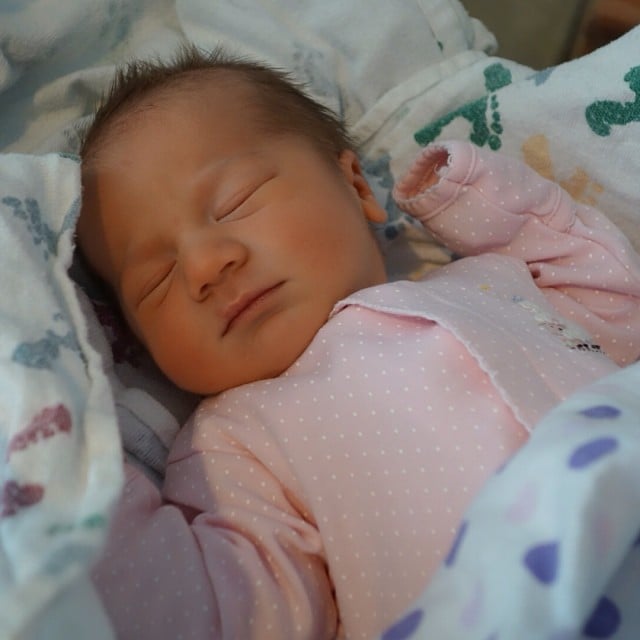 POPSUGAR Moms: Tell us about the design process for baby Alena's playroom.
Danielle Jonas: We kept it gender neutral because you never know what the future might hold! So it was important I pick out the color palette I wanted to work with to start. I was very involved with the direction and theme, but really valued Vanessa's ideas and input to come up with the final design.
Vanessa Antonelli: Kevin and Danielle were in the process of building a new house, and I wanted the room to feel a part of the bigger picture. So first we met and I asked them a number of questions to get a feel for their personal style. Then I created a few design options for them. They instantly chose what I call the "navy birds." I was so happy because it was my favorite as well. When it was time to install, Kevin physically did some of the work. I loved that. It was as if he was actually putting love into the room. Source: Instagram user daniellejonas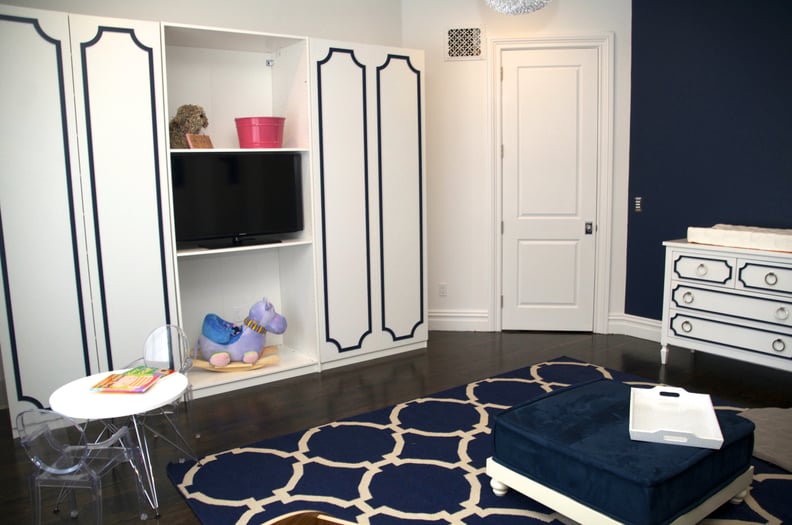 PS: Navy is a bold pick for a playroom! How do you incorporate dark colors into a kids' space while still keeping the tone upbeat and fun?
VA: It's all about balance. Navy can be a little intimidating on paper for a playroom, but when it's paired with sweet little birds and cute pom-poms, it instantly softens the overall space. Source: Vanessa Antonelli for Nessa Lee Baby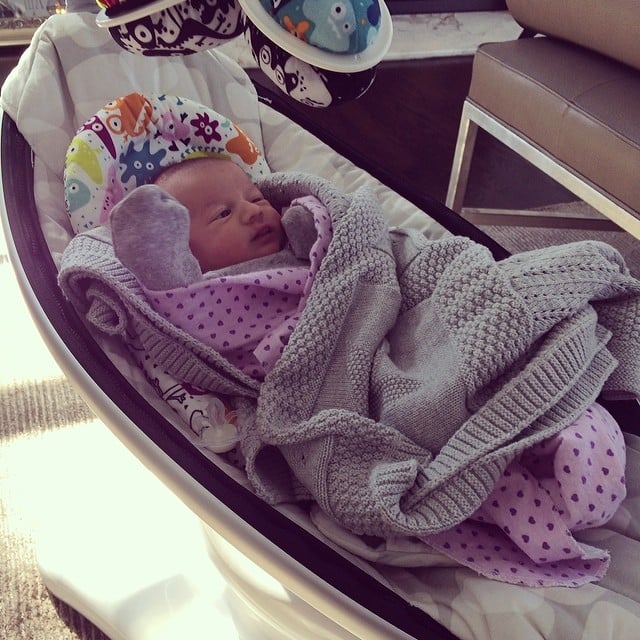 PS: Danielle, what were your priorities in creating a space specifically for your daughter?
DJ: It was important that the room have lots of storage and be close to the kitchen, which is the place the adults always gather to. It has also enabled me to have a changing table nearby. As far as the aesthetic, it was important the room be a modern and contemporary version of a playroom, while still being cozy and gentle. Source: Instagram user daniellejonas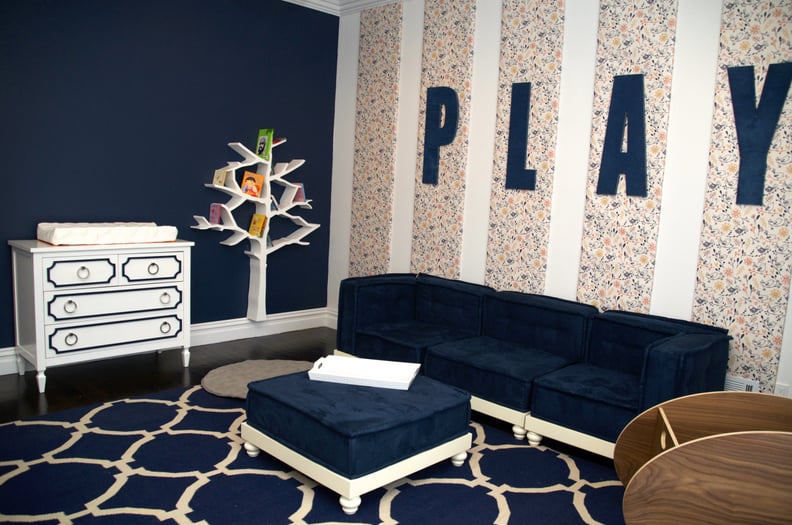 PS: Vanessa, tell us about some of the individual pieces you incorporated into the room.
VA: Each time I would pick a piece for the room, I'd say to myself, "This is the focal item." Well, obviously everything can't be "the item," so here I have a room with [everything that I thought could be] a focal on its own, because they're all so perfect.
The Nurseryworks Tree Bookcase isn't only beautiful to look at — it's very functional. It holds more than 100 books. The Newport Cottages Beverly Changer brings a little glam into the room with its Hollywood Regency feel. The couch is from Pottery Barn Teen. It's low to the ground so that as Alena learns to walk and climb, it'll be safe and easy. Since Alena is too little to really play right now, I put a BabyHome So Ro Bassinet in the room so that Kevin and Danielle could immediately start spending time in there.
The bird wallpaper took me forever to find, but when I finally did, I knew it was the one! It's by a company in Australia called Muffin & Mani. I expect many of their designs to turn up in my rooms from now on! The giant PLAY letters by Twelve Timbers make it very clear that a lot of fun is going to happen in this room! By mounting them on the wallpaper panels, it gave the room even more dimension. The area rug is by Jaipur, and in addition to being a perfect anchor for the space, it's very light and easy to roll up and take outside to shake out because we all know, messes happen. Source: Vanessa Antonelli for Nessa Lee Baby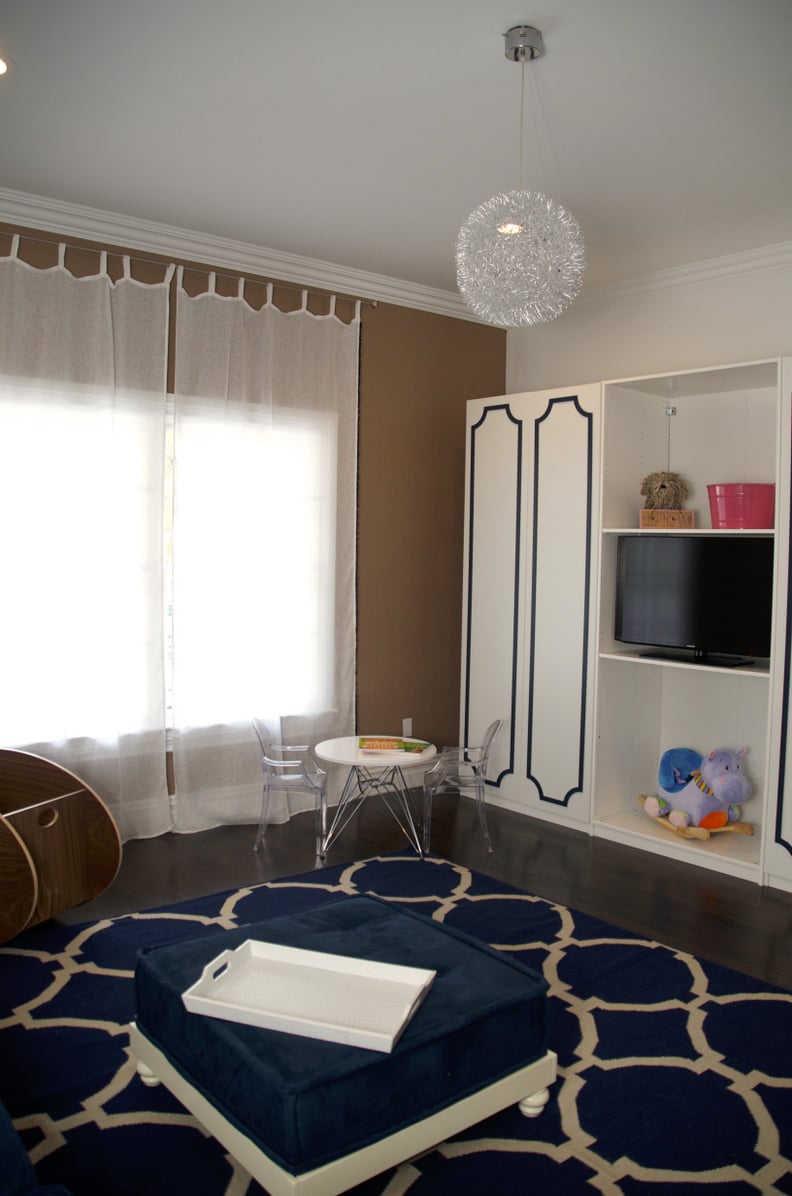 More of Vanessa's picks and resources: The pom-poms on the New Arrivals drapes are so sweet, but the linen is transparent to ensure lots of light gets into Alena's play space. I can't forget [to mention] the fact that the entire navy wall is chalkboard! I told them not to disclose this to Alena too early, but once she can distinguish which walls are OK to draw on, they can tell her. All of the paint is Lullaby Paints, which has no VOCS. The modern and funky light fixture and kids' table and chairs are by Zuo Modern. What's more fun than pint-sized ghost chairs? Source: Vanessa Antonelli for Nessa Lee Baby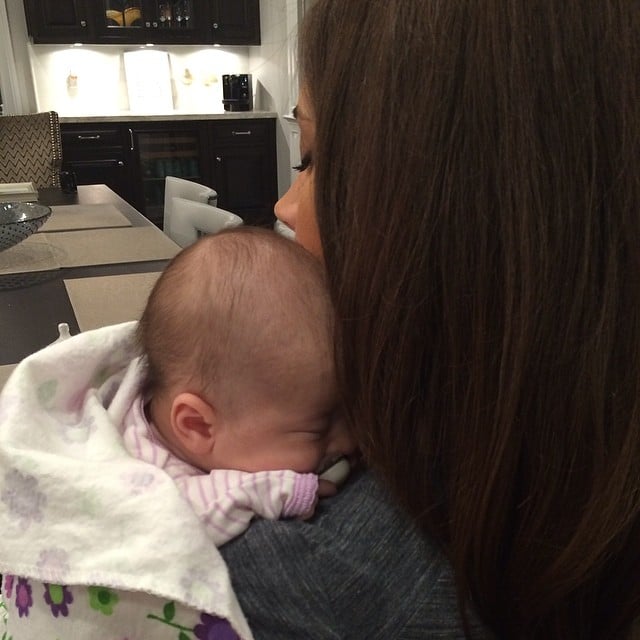 PS: Danielle, what's been the most surprising thing about new parenthood so far?
DJ: That you can operate on no sleep. It is possible! But most importantly, how much you can love someone else. Source: Instagram user daniellejonas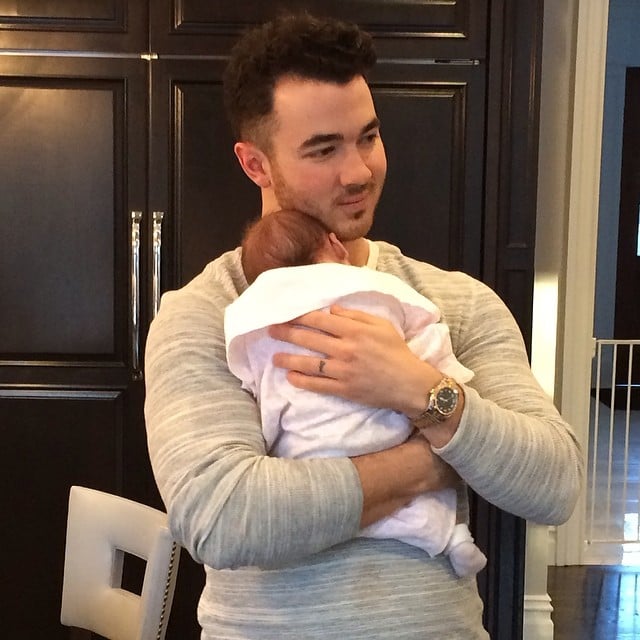 PS: What advice/words of wisdom would you share with friends about what it's like to be a mom to a newborn?
DJ: Not every day is easy, there are tough moments. But when you see your child smile, it makes it all worth it. Source: Instagram user daniellejonas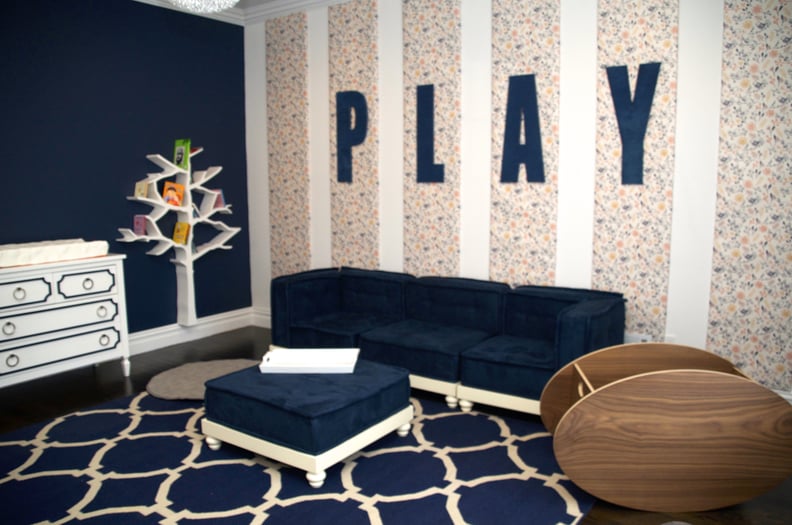 PS: What are some things that a parent should consider when designing a room for children?
VA: They grow and evolve so quickly, it's hard to know what will last. Little people have a lot of stuff, so storage [is crucial]. You will never find a parent who said, "Darn, I wish I created a space with less storage." As far as design, I always tell my clients that if your goal is longevity, do not get too theme-y. The superheroes your child loves now may not be what they want on their walls in high school. If you just can't let go of the theme, make it something that you can easily change. For example, in Alena's playroom, those wall panels are covered with wallpaper. If down the road she no longer likes birds, they are just covering the panels with something new. Quick, easy, and inexpensive changes. Source: Vanessa Antonelli for Nessa Lee Baby