Disney is hoping to spark important conversations with its mistakes, rather than attempt to erase its errors and glaze over any wrongdoing. Before families watch select movies on Disney+, a new disclaimer pops up to inform viewers that the film contains racial stereotypes and negative depictions of people or cultures. The 12-second disclaimer cannot be skipped, and Disney hopes it will foster meaningful discussions among families about the importance of representation.
"As part of our ongoing commitment to diversity and inclusion, we are in the process of reviewing our library and adding advisories to content that includes negative depictions or mistreatment of people or cultures," reads a new page on The Walt Disney Company's website, titled "Stories Matter." "Rather than removing this content, we see an opportunity to spark conversation and open dialogue on history that affects us all. We also want to acknowledge that some communities have been erased or forgotten altogether, and we're committed to giving voice to their stories as well."
"These stereotypes were wrong then and are wrong now."
In addition to sharing the above sentiments, the advisory in question also leads viewers to the "Stories Matter" page and notes: "These stereotypes were wrong then and are wrong now. . . Disney is committed to creating stories with inspirational and aspirational themes that reflect the rich diversity of the human experience around the globe."
On its website, Disney highlights a few of the films that the disclaimer plays ahead of, such as Peter Pan. "The film portrays Native people in a stereotypical manner that reflects neither the diversity of Native peoples nor their authentic cultural traditions. It shows them speaking in an unintelligible language and repeatedly refers to them as 'redskins,' an offensive term. Peter and the Lost Boys engage in dancing, wearing headdresses and other exaggerated tropes, a form of mockery and appropriation of Native peoples' culture and imagery." Other highlighted movies include Aristocats, Swiss Family Robinson, and Dumbo.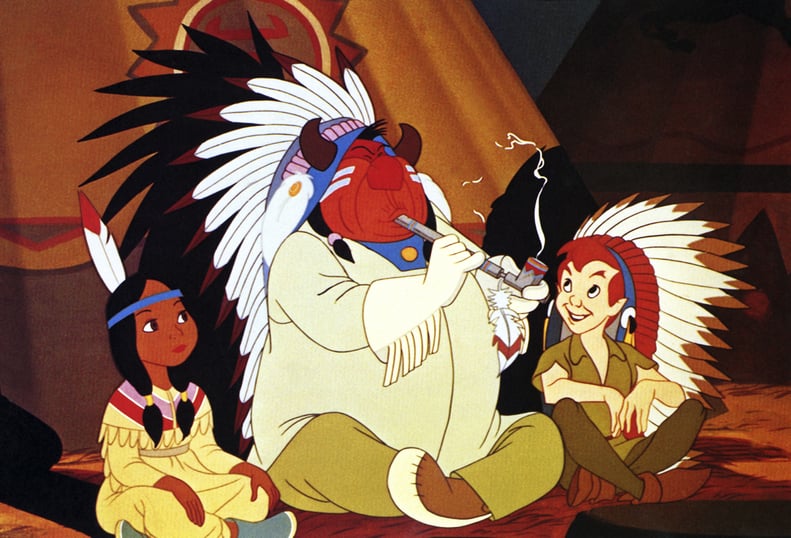 Disney worked with a third-party advisory council comprised of organizations that advocate for representation in order to create the disclaimer and "increase our cultural competency by providing ongoing guidance and thought leadership on critical issues and shifting perceptions." One such organization is the Geena Davis Institute on Gender in Media, and in a video that appears on the "Stories Matter" page, Geena touches on Disney's newest diversity efforts, specifically as it pertains to its youngest viewers.
"There is incredible power in seeing someone who's like you on screen," Geena says. "What our children see sets the framework for what they believe is possible in life. What message are we sending to little kids at the most vulnerable age if characters are one-dimensional, stereotyped, sidelined, hyper-sexualized, or simply, not there at all?"
Watch the full video above featuring various representatives from Disney's advisory council, screenwriters, producers, and more speak on representation and how "when we only look from one point of view, we miss out on all the people who deserve to be seen," and take a peek at Disney's "Stories Matter" page to read more.