Bears, Beets, and Babies: See This Mom's Disney, Harry Potter, and The Office Pregnancy Photos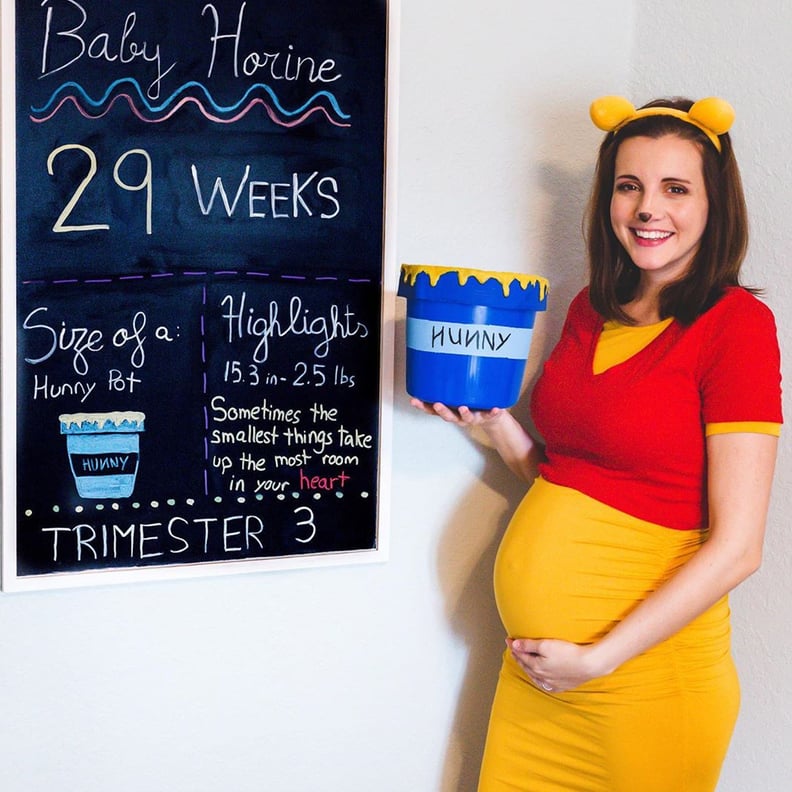 New mom Grace Navarro is a fangirl through and through, which is why she decided to keep track of her pregnancy with weekly photo updates inspired by her favorite fandoms: Harry Potter, Disney, and The Office! Grace, a content creator from Orlando, FL, enlisted her husband Brennan Horine's photography skills to snap the adorable photos, which tracked the growth of her baby from week 14 to week 38. That's equivalent to growing from the size of a Schrute Farms beet to the size of Moaning Myrtle's favorite toilet seat — and both Dwight and Myrtle would be so proud.
"I think people appreciated the hard work and creativity behind them."
"When I got pregnant, I knew I wanted to somehow track my growing bump, but I wasn't sure what that would look like at first," Grace told POPSUGAR via email. "I downloaded a bunch of apps that would tell me what my baby's size was that week, and one day I saw that the vegetable for the week was a beet. As a huge The Office fan, I immediately thought of Dwight, and decided to create a progress picture for the week dressed as him. At that time, my intention wasn't to continue doing them, it was just a one time thing! But then the reaction was huge, people LOVED them and asked me to continue to do them, so that's when it all started!"
Each photo took a significant amount of planning that resulted in some truly sweet and hilarious photos of Grace dressed as Jim Halpert holding a stapler in Jell-O (week 30), Grace as Rapunzel holding her infamous frying pan (week 27), Grace as Luna Lovegood with a copy of The Quibbler (week 36), and more. After being part of so many creative costumes, Charlotte "Charlie" Grace Navarro Horine was born via C-section on Nov. 21, 2019 and weighed 6 pounds 10 ounces — about the size of Hedwig, for anyone keeping track. "Friends and family loved the updates; they were the ones that begged for me to continue after the first one and they waited every week patiently for me to post them," Grace said. "I think people appreciated the hard work and creativity behind them."
See all of Grace's hilariously adorable pregnancy photos ahead, and scroll through to the end to see baby Charlie star in her own mini photo shoot!
Dwight Schrute Pregnancy Progress Photo
Snow White Pregnancy Progress Photo
Harry Potter Pregnancy Progress Photo
Wendy and Tinkerbell Peter Pan Pregnancy Progress Photo
Michael Scott The Office Pregnancy Progress Photo
Harry Potter Ravenclaw Pregnancy Progress Photo
Newt Scamander Pregnancy Progress Photo
Olaf Frozen Pregnancy Progress Photo
Belle Beauty and the Beast Pregnancy Progress Photo
Harry Potter Quaffle Pregnancy Progress Photo
Toy Story Buzz Lightyear Pregnancy Progress Photo
Harry Potter Monster Book of Monsters Pregnancy Progress Photo
Belle Beauty and the Beast Rose Pregnancy Progress Photo
Tangled Rapunzel Pregnancy Progress Photo
Harry Potter Wand Pregnancy Progress Photo
Winnie the Pooh Pregnancy Progress Photo
Jim Halpert Stapler in Jello Pregnancy Progress Photo
Russell Up Pregnancy Progress Photo
Toy Story Woody and Bo Peep Pregnancy Progress Photo
Grace's Week 33 Pregnancy Progress Photo
Halloween Pregnancy Progress Photo
Cinderella and Pumpkin Pregnancy Progress Photo
Luna Lovegood Harry Potter Pregnancy Progress Photo
Moaning Myrtle Harry Potter Pregnancy Progress Photo
Charlotte Grace Was Born on Nov. 21, 2019
Baby Charlie's 1-Month Christmas Photo Shoot
Baby Charlie's 2-Month Harry Potter Photo Shoot
Baby Charlie's Toy Story Box Photo Shoot
Baby Charlie Toy Story Photo Shoot
Baby Charlie Toy Story Woody Photo Shoot
Baby Charlie Ravenclaw Wand Photo Shoot
Grace and Brennan's Harry Potter-Themed Pregnancy Announcement Video