4 Delicious DIY Treats For Your Kids' Halloween Party
Paid Content For
Welch's® Fruit Rolls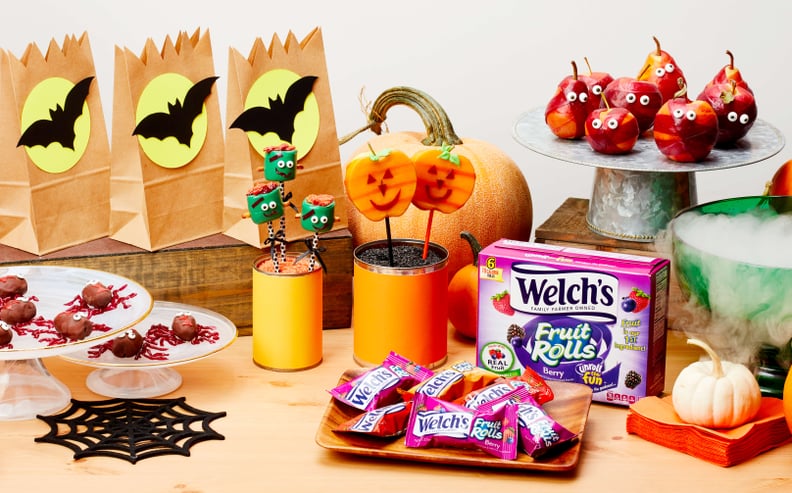 POPSUGAR Photography | Tom Medvedich
POPSUGAR Photography | Tom Medvedich
Halloween is the ideal occasion for thinking outside of the box when it comes to kooky, kid-friendly snacks. In order to give your favorite miniature ghosts and goblins a holiday they'll never forget, try cooking up some bone-chilling bites that are frightfully fun to make — and a scream to eat!
01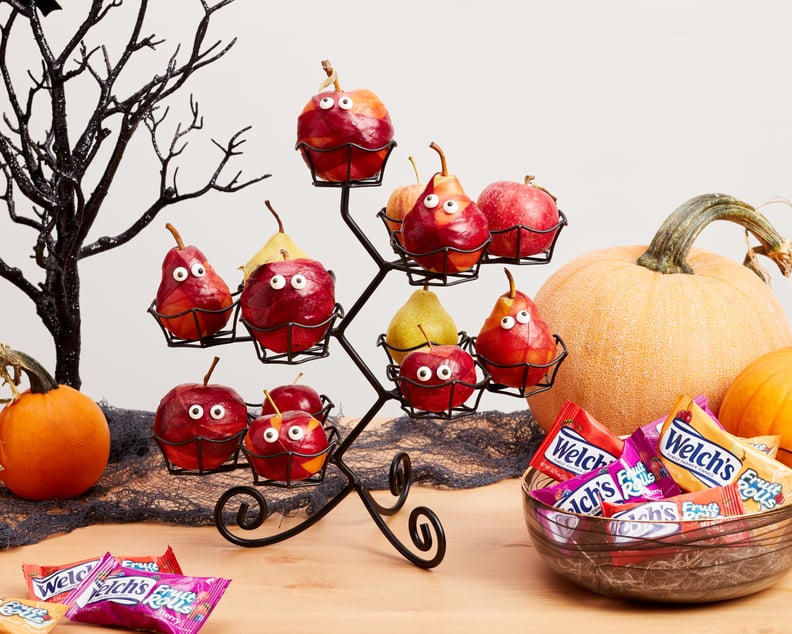 Roll Out Marvelous Mummified Snacks
Crunchy, sweet, and satisfying, mummified apples are a spirited Halloween snack your kids will love to make and enjoy. To fashion your mummies, simply unroll the fun by wrapping washed apples or pears in Welch's Berry Fruit Rolls and pressing on eerie eyes to finish the job! If you'd like to play up the supernatural snacks in your decor, create a crooked fruit "tree" out of a dark metal candleholder for your finished creations.
brandscroller
02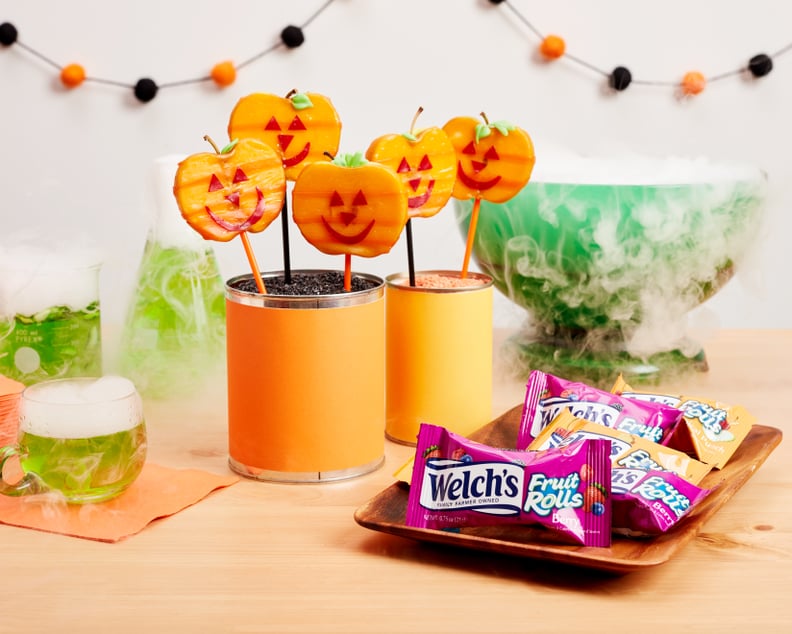 Get Ghoulish With Gourds
Replicate the holiday's most iconic symbol in food form by assembling simple edible pumpkins — with a tasty kick of fruity flavor! This yummy snack is full of fruity goodness and is cute enough to serve as a festive prop for any social-media-worthy selfies you may take with your kids. To start, slice your apple or pear lengthwise so that you're left with a flat surface on both sides. Next, unroll the fun by draping Welch's Tropical Punch Fruit Rolls around the apple or pear lollipop in even stripes until the fruit appears orange. Cut out three triangles and a curved strip from the fruit rolls for eyes, a nose, and a grinning mouth, and secure each to your "pumpkin." As a finishing touch, affix edible leaves to the stem of the fruit.
03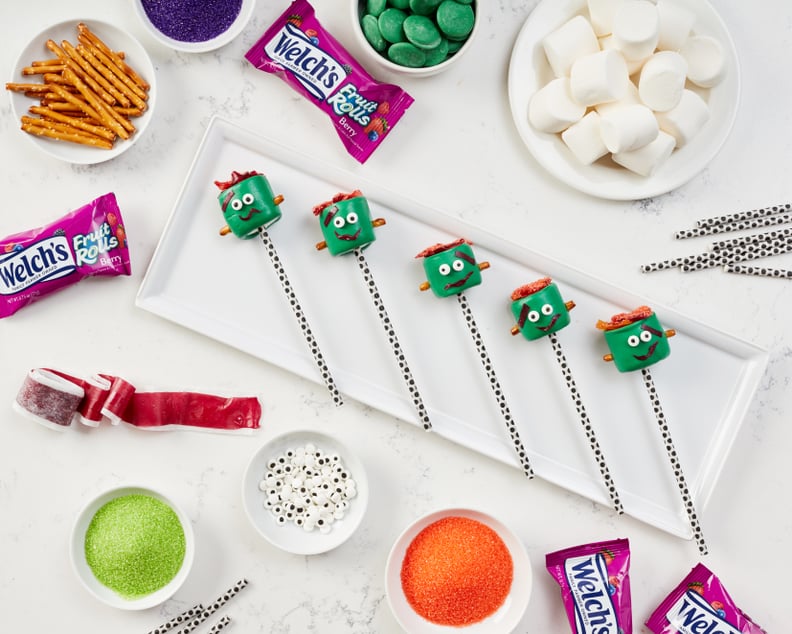 Fashion Frightening Frankenstein's Monster Marshmallows
Tap into your inner Dr. Frankenstein and create a monstrous marshmallow that kids will be delighted to devour. Prepare your operating table — er, kitchen — for the experiment by laying out marshmallows, pretzel sticks, multicolored sprinkles, edible eyes, polka-dotted skewers, and Welch's Fruit Rolls. Additionally, heat a microwave-safe bowl of green chocolate candies until liquid. Begin by sliding a marshmallow onto the top of each skewer until secure and dipping into the melted chocolate. Next, cut out shapes from the Fruit Rolls to create a lopsided mouth and "bandages" for your creature, securing each to the exterior of the chocolate-coated marshmallow. Secure two eyes to the marshmallow and use two small slices of pretzel to create the monster's neck bolts. Finally, dip small, twisted slices of your Fruit Rolls into the colorful sprinkles to create a festive topper for your pop!
04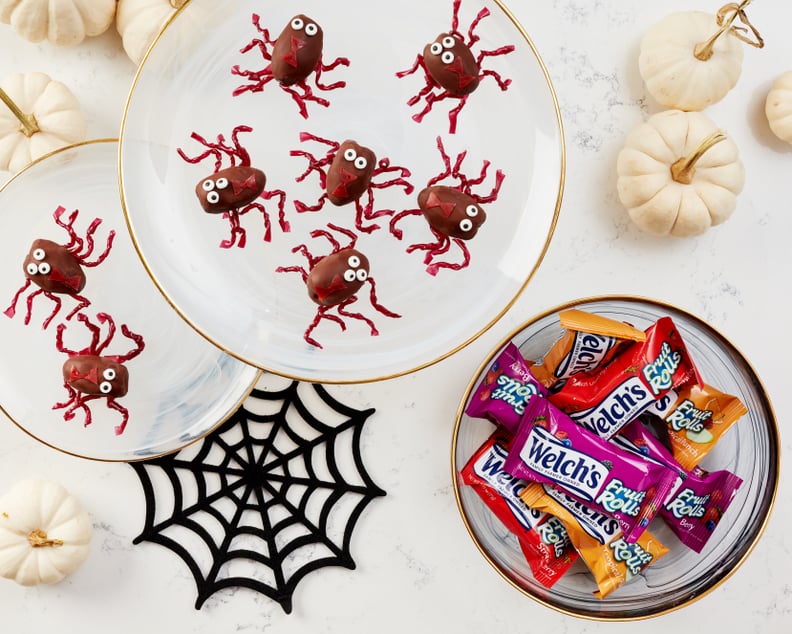 Cook Up Crave-Worthy Chocolate Spiders
Creepy, crawly, and yet completely scrumptious, these chocolate spiders are the perfect addition to your fearsome feast! To make the spiders, first dip stemless strawberries into a bowl of molten chocolate, ensuring that your little ones keep their fingers away from the heated bowl. While the chocolate is still malleable, gently press on the edible eyes. To fashion the spiders' legs, slice your Welch's Fruit Rolls into slim strips before twisting each "leg" and securing to the bottom of each spider.
05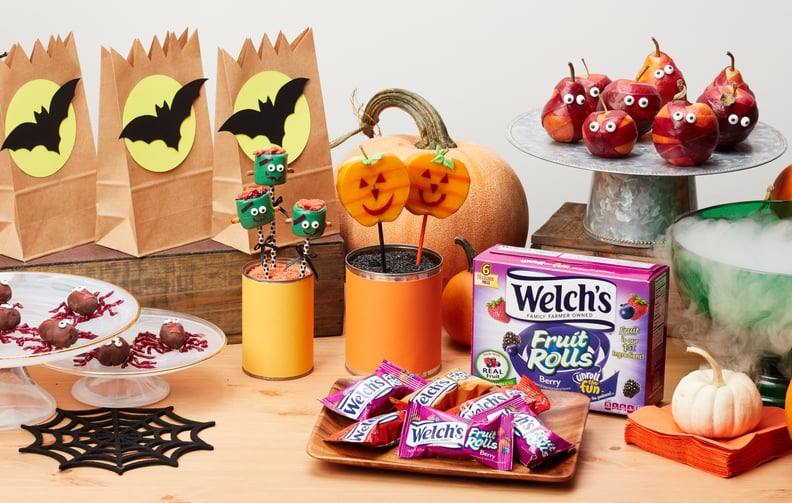 Create a Spooky Spread
With your assortment of scrumptious snacks prepared, the only thing left to do is create a spine-chilling spread! Incorporate your child's favorite Halloween elements into the mix with an assortment of pumpkins, bubbling cauldrons made magical with dry ice, and an assortment of pumpkins. Encourage guests to take home leftover treats by providing bat-embossed goodie bags.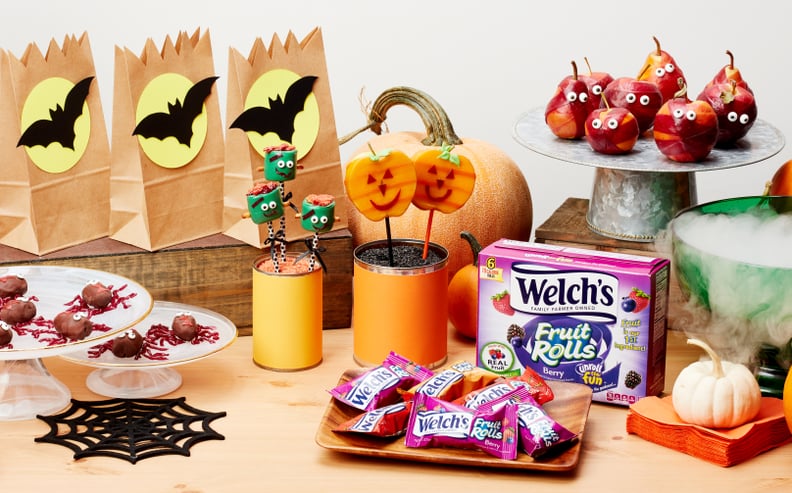 More from Welch's<small>®</small> Fruit Rolls
Save now on Welch's® Fruit Rolls here.